HK warned against confronting Beijing
Hong Kong Liaison Office Director Zhang Xiaoming (張曉明) has warned democracy campaigners in the former British colony against pushing for independence and confronting Beijing, Xinhua news agency reported.
Pro-democracy protesters in Hong Kong shut down major business districts for two-and-a-half months last year, with the "Umbrella movement" demanding open nominations in the next election of the territory's chief executive in 2017.
Beijing has said it will allow a vote, but only for pre-screened candidates.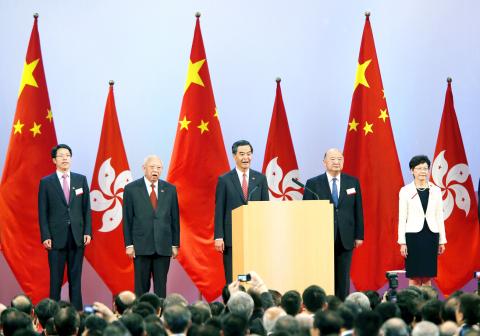 Hong Kong Liaison Office Director Zhang Xiaoming, left, former Hong Kong chief executive Tung Chee-hwa, second left, and Hong Kong Chief Executive Leung Chun-ying, third left, sing the national anthem after a flag-raising ceremony in Hong Kong on Oct. 1 last year.
Photo: Reuters
In his most extensive comments since police cleared the protesters from the territory's highways in mid-December, China's top official in Hong Kong made it clear that Beijing is moving toward tighter control of the global financial hub.
"We could not allow any attempt to reject the central authority's jurisdiction over Hong Kong under the pretext of a high degree of autonomy, to advocate 'Hong Kong independence,' or even to overtly confront with the central government through illegal ways," Zhang said on Wednesday at a reception attended by top officials, according to Xinhua.
There is no mainstream independence movement in Hong Kong, although some activists want a continued campaign of civil disobedience this year to force Beijing to accept fully democratic elections.
Banners seeking to humiliate Hong Kong and Chinese leaders, including Chinese President Xi Jinping (習近平), festooned streets and government buildings during last year's protests.
Democratic Legislative Council Legislator Emily Lau (劉惠卿) said Zhang's comments were "improper and inappropriate" for a mainland official and blurred the boundaries between Hong Kong and China's governance systems.
"It seems they want to interfere, they want to take the lead and it is very alarming," Lau said.
Zhang on Wednesday said it was necessary to rethink the relationship between the two and that Hong Kong's pro-democracy protests had proved its rule of law could be "fragile."
Zhang also suggested Beijing could take a renewed interest in patriotic education, a touchy subject that sparked protests in Hong Kong in 2012.
"Priority should be given to the history, culture and national conditions of China in the education of the young people so that they could fully understand that the destiny and future of Hong Kong are closely connected to those of the motherland," Zhang said, according to Xinhua.
About 4,000 people attended the reception where Zhang spoke, including Hong Kong Chief Executive Leung Chun-ying (梁振英), former Hong Kong chief executive Tung Chee-hwa (董建華), officials from state firms and foreign diplomats.
Comments will be moderated. Keep comments relevant to the article. Remarks containing abusive and obscene language, personal attacks of any kind or promotion will be removed and the user banned. Final decision will be at the discretion of the Taipei Times.