CAA to block new TransAsia air routes
UNDER INSPECTION: TransAsia Airways is facing partial or complete termination of its operational permit if an investigation uncovers violations of aviation regulations
The Civil Aeronautics Administration (CAA) yesterday said that TransAsia Airways Flight GE235, which crashed into the Keelung River on Wednesday, would prevent the carrier from participating in the allocation of international air traffic rights for one year.
CAA air transport division Director Han Chen-hua (韓振華) said that TransAsia has already been banned from being allocated international air traffic rights because of the TransAsia Airways Flight GE222 crash in Penghu County on July 23 last year.
Han said that the previous ban was due to be lifted on July 23 this year, however, Wednesday's incident means the airline would be unable to apply for air rights allocation for another year, adding that the new ban was effective as of Wednesday.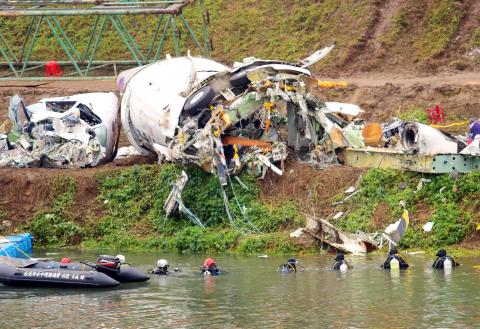 Rescue divers yesterday search the Keelung River in Taipei for remains of TransAsia Flight GE235 and missing passengers.
Photo: Sam Yeh, AFP
Han said that the airline faces partial or complete termination of its operational permit if an Aviation Safety Council investigation determines that the airline violated aviation regulations, adding that the ban will not apply to budget airline V Air (威航), a franchise subsidiary of TransAsia Airways.
Meanwhile, the administration said that a person can be certified as a civil aviation pilot if he or she has accumulated more than 1,500 flying hours and passed the relevant tests.
According to the administration, the flight's pilots Liao Chien-(廖建宗) and Liu Tse-chung (劉自忠) had accumulated 4,914 and 6,922 flying hours respectively.
Copilot Hong Bing-chung (洪炳衷) had accumulated 16,121 flying hours, the administration said, adding that he acted as an observer on the flight because he was upgrading skills acquired through operation of ATR 72-500 planes to operate the ATR72-600 aircraft.
Chinese Nationalist Party (KMT) legislators yesterday called for a complete suspension of TransAsia Airways' flights, rather than just those of ATR 72-600 models.
KMT caucus deputy whip Lin Te-fu (林德福) and legislator Wu Yu-sheng (吳育昇) told a news conference that the KMT caucus is calling on the CAA to halt all TransAsia Airways flights.
The two held a moment of silence for the victims before starting the conference.
Only six months and 10 days after the Flight GE222 crash in Penghu, another aircraft from the same airline company crashed, Lin said.
"This shows that there is a serious problem with [the airline company's] management and the KMT caucus demands a comprehensive inspection and a complete suspension of its flights," he said.
"Liao flew from Taipei to Kinmen and back, and Flight GE235 was his third flight on Wednesday. He informed ground crew of a problem [with the aircraft's engine] before the flight, but was asked to have it examined later, which was a serious flaw," Lin said.
Wu slammed TransAsia for what he said was the exploitation of its pilots, who, according to Wu, have "the least pay, the least year-end bonuses and the most pressure."
Part of the pressure comes from the shortage of staff for rotation, Wu said, adding that "10 of its chief pilots were poached by [China's] Sichuan Airline last year."
He also accused the airline company of having Liao, "a pilot with not so much experience," as the chief pilot, when "an examiner, who had more than 10,000 hours of flying experience, was sitting behind him."
Wu said TransAsia is "finance-oriented, rather than flight safety-oriented" and should have been subject to an overhaul last year.
"The CAA has asked to halt TransAsia flights using ATR 72-type aircraft, but we do not think that is enough. Why is it that only TransAsia ATR 72 models are plagued with problems, but not Uni Air's?"
He applauded Taipei and New Taipei City governments' rescue efforts and efficiency, "but with this kind of major aircraft accident, it should be the central government taking control."
As for the proposal that Taipei International Airport (Songshan airport) be relocated, as proposed by KMT Legislator Alex Tsai (蔡正元) and Democratic Progressive Party Legislator Pasuya Yao (姚文智), Wu said that what should be examined, following and due to this accident, is flight safety, the airline company's internal management, and the operation and maintenance of its fleet.
"The discussion of airport relocation is not the main issue right now," he said.
Comments will be moderated. Keep comments relevant to the article. Remarks containing abusive and obscene language, personal attacks of any kind or promotion will be removed and the user banned. Final decision will be at the discretion of the Taipei Times.