Search continues near crash site
DOWNSTREAM TACTICS: A diver said the operation could only move slowly due to low visibility on the river bed as the search extended downstream of the crash site
Search and rescue efforts at the crash site of TransAsia Airways (復興航空) Flight GE235 continued in cold and rainy weather in Taipei yesterday, with 12 of the 58 people onboard still unaccounted for as of press time last night.
The death toll rose to 31 yesterday.
The Civil Aeronautics Administration (CAA) said that one body was yet to be identified.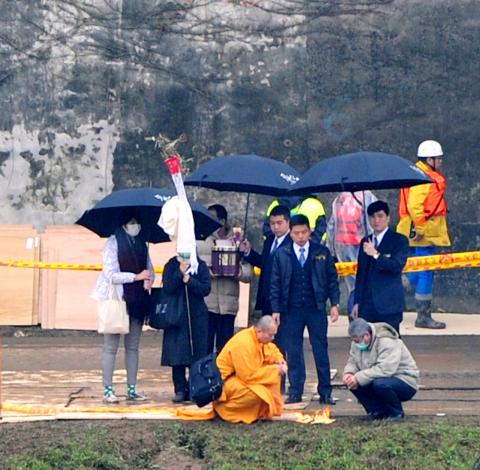 Relatives of passengers who died in Wednesday's TransAsia Airways crash perform a religious ceremony on the banks of Keelung River in Taipei yesterday.
Photo: CNA
Rescue efforts continued early yesterday morning after a brief halt from 1am to 6:30am due to safety concerns.
As of press time, the latest body pulled from the wreckage of the ATR-72 600 turboprop plane — which plunged into the Keelung River (基隆河) in Nangang District (南港) at about noon on Wednesday — was retrieved from the cabin.
Flight GE235 sent out a mayday message shortly after it took off from Taipei International Airport (Songshan airport) before clipping a guardrail of the Huandong Expressway — as well as a taxi on the roadway — with its left wing before crashing into the river just a few kilometers from the runway.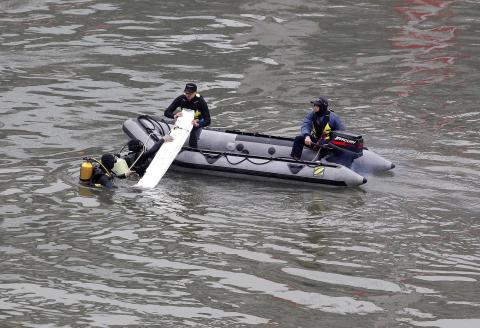 A rescue diver retrieves wreckage from TransAsia Airways Flight GE235 in the Keelung River in Taipei yesterday.
Photo: Pichi Chuang, Reuters
While the tail and nose of the aircraft were hoisted from the river last night, a wing remained stuck in mud. Parts of the plane's body have been found scattered as far as 6km downstream.
Sixty divers in 20 boats scoured the main wreckage site and 4km of downstream riverbed, while sonar and hooks were also used to search for wreckage or bodies.
A diver surnamed Kao (高) said the search operation could only move slowly because low visibility forced divers to feel their way across the river bed.
"The worry is that because bodies have not been found after a carpet search, they have already moved downstream," Taipei Mayor Ko Wen-je (柯文哲) said after an evening inspection of the crash site.
"Finding them tomorrow [today] will not be easy, because we do not know how far the search should be expanded downstream," Ko added.
He added that while an interception line had been stretched across the river downstream to catch any floating remains, it would be ineffective if bodies were submerged.
Armed forces have mobilized various units to assist in the search-and-rescue operation, as well as helping with the recovery of the airplane's fuselage.
The Republic of China (ROC) Army 53rd Engineering Corps from the Guandu Area Command arrived at the crash site with heavy-lift hoist vehicles and M3 amphibious rigs to construct temporary bridges to facilitate the operation, while divers from the ROC Navy Underwater Operations Unit with eight rubber rafts went into the river to search for airplane debris and bodies.
Over the past two days, 420 soldiers and officers have assisted in the operation, which also included the ROC Air Force 141 Squadron, 202nd Military Police Regiment, units from the Armed Forces Reserve Corps and medical staff from military hospitals across Taipei, the Ministry of National Defense said.
Twenty-two of the 31 people confirmed killed were from two Chinese tour groups that were on their way back home.
China's Xiamen Tourism Bureau deputy director Chen Guiling (陳桂林) arrived in Taiwan with travel agency operators to get first-hand information on the accident.
Meanwhile, 32 family members of the Chinese passengers also arrived in Taiwan to identify bodies.
The Aviation Safety Council said that it has finished decoding data on the flight and cockpit voice recorder, adding that details garnered from both black boxes could be released this afternoon.
Council director Thomas Wang (王興中) said that representatives of ATR 72 aircraft and engine manufacturers would arrive from France and Canada respectively to attend a meeting at the council this morning, in which they would verify the data from black boxes.
The French Bureau of Inquiry and Analysis for Civil Aviation Safety and the Canadian Transportation Safety Board would dispatch representatives to assist the council to investigate the cause of the crash, Wang said.
In light of the accident, the CAA has ordered both TransAsia and Uni Air (立榮航空) to conduct a special inspection of all their ATR 72 aircraft.
Uni Air has 12 ATR 72-600 planes, whereas TransAsia has six ATR 72-500 planes and four ATR 72-600s.
CAA Director General Lin Tyh-ming (林志明) yesterday said that TransAsia had finished examining all of its ATR 72 planes, adding that Uni said it would finish inspecting its aircraft tomorrow.
Due to the inspections, TransAsia canceled 30 domestic flights, including those between Taipei and Kinmen, between Taipei and Magong, between Taipei and Hualien, between Kaohsiung and Magong and between Kaohsiung and Kinmen.
Additional reporting by CNA
Comments will be moderated. Keep comments relevant to the article. Remarks containing abusive and obscene language, personal attacks of any kind or promotion will be removed and the user banned. Final decision will be at the discretion of the Taipei Times.