Lee urges amending Constitution
Former president Lee Teng-hui (李登輝) yesterday said he is in favor of lowering the threshold for constitutional amendments and the voting age, and suggested that a referendum on whether the Constitution should be amended to replace the current semi-presidential system of government with a parliamentary system be staged alongside next year's presidential election.
Lee made the remarks in a speech, titled "Constitutional reform is Taiwan's only way out," he delivered to the Legislative Yuan Press Club.
Calls from across party lines and from many civic groups for constitutional changes point to a rare opportunity to unite a divided public and put reform into practice, he said.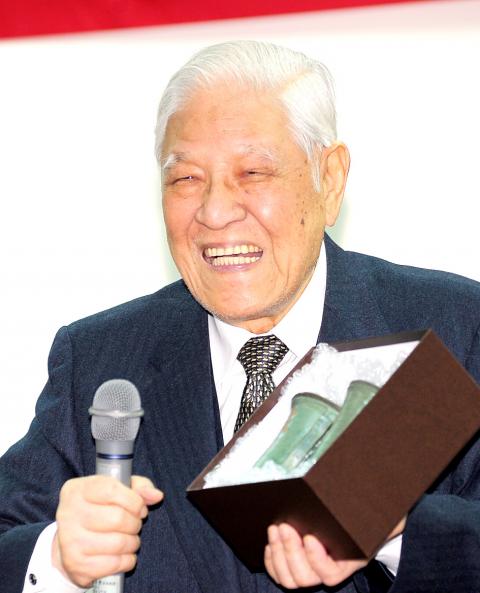 Former president Lee Teng-hui yesterday speaks to the Legislative Yuan Press Club at the Legislative Yuan in Taipei, saying he is in favor of lowering the threshold for constitutional amendment and the voting age.
Photo: CNA
Lee proposed a two-stage reformation process. The first stage should include reducing the threshold for constitutional reform, rectifying the Referendum Act (公民投票法) and lowering the voting age to 18 — among other proposed amendments. A referendum on the draft amendments could then be held to seek public endorsement.
The current threshold for amending the Constitution requires the support of one-quarter of the Legislative Yuan to put forward an amendment, three-quarters of the legislators to attend a meeting to deliberate the proposed amendment and then three-quarters of the attendees to approve the proposal.
If approved by lawmakers, the proposed amendment must be put to a referendum, which requires half of the entire electorate to vote in favor for it to be considered passed.
In terms of changing Taiwan's government structure, Lee said the number of Legislative Yuan seats must be increased and the legislative electoral system be overhauled, while clear lines of accountability between the president and premier must be drawn.
The president should be entitled to direct national defense and foreign affairs, including cross-strait relations, under the supervision of the legislature, Lee said.
He called for the legislators to pass draft amendments for such reforms in the first half of this year so that the proposals could then be put to a referendum next year to seek a public mandate.
The former president said he would personally facilitate talks between Chinese Nationalist Party (KMT) Chairman Eric Chu (朱立倫) and Democratic Progressive Party Chairperson Tsai Ing-wen (蔡英文) after the Lunar New Year holidays, as well as the leaders of other parties, to set out a timetable for constitutional reform.
Chu and Tsai are responsible for laying out specific claims to constitutional reform to bring about new changes, rather than taking advantage of the situation to further their political ambitions, Lee said.
Comments will be moderated. Keep comments relevant to the article. Remarks containing abusive and obscene language, personal attacks of any kind or promotion will be removed and the user banned. Final decision will be at the discretion of the Taipei Times.