Ko Wen-je talks colonialism, China
CULTURE GAP: The Taipei mayor said cross-strait cooperation is more important than discussing 'unification' in an online interview with 'Foreign Policy' magazine
Colonization is associated with progress in the Chinese-speaking world, Taipei Mayor Ko Wen-je (柯文哲) said in an interview published on Thursday on the Foreign Policy magazine Web site.
"For the [world's] four Chinese-speaking regions — Taiwan, Singapore, Hong Kong and Mainland China — the longer the colonization, the more advanced a place is," Ko said, adding that it was "embarrassing" that "Singapore is better than Hong Kong; Hong Kong is better than Taiwan; Taiwan is better than the mainland."
Ko did not elaborate, but Taipei City Government spokesman Sidney Lin (林鶴明) said the mayor's remarks were intended to highlight some of the positive influences of colonization, without denying the "historic scars" and "bad memories" left behind by colonizers.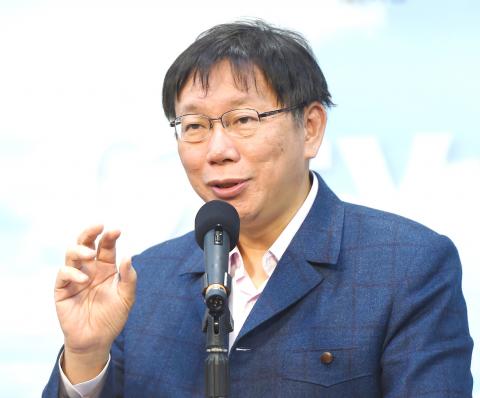 Taipei Mayor Ko Wen-je speaks to reporters at a news conference on Tuesday last week.
Photo: Fan Pin-chao, Taipei Times
While the "open door" brought by colonization influenced colonized societies in a variety of ways, colonizers also left infrastructure and institutions that had an undeniably positive affect, Lin added.
In the interview, Ko reiterated comments that the "cultural gap" between Taiwan and China had to be closed before there could be any talk of "reunification."
"When more than 99 percent of Chinese people close the doors while doing their business in bathrooms, we can talk about reunification [sic]," he said.
On cross-strait relations, he said: "Cooperation is more important than reunification," while speaking of a need to convince China that "a free and democratic Taiwan is more in China's interest than reunification."
"People talked about 'one country, two systems,' but maybe we should talk about 'two countries, one system' instead," he said.
Ko's celebrity and status as an independent politician have led to hopes that he might be able serve as a bridge between the Democratic Progressive Party (DPP) and China through his participation in the annual Taipei-Shanghai forum.
Whether his proposal for a "two countries, one system" formula would have a bearing on cross-strait relations is unknown.
Late last night, Lin said that Ko has an open attitude toward cross-strait city-to-city exchanges and upholds the principles that both sides should know, understand and respect each other while cooperating.
In response to Ko's proposal last week that the forum include other cities, Shanghai Mayor Yang Xiong (楊雄) said that further exchanges were welcome "on the foundation of the 1992 consensus."
While China insists that the so-called "1992 consensus" of "one China with different interpretations" must be the premise of any cross-strait talks, Ko said in December last year that the slogan was a 22 year-old "consensus without consensus," which should be replaced by what he termed a "2015 consensus."
He declined to define what such a consensus might be.
"Without taking any position on the 1992 consensus, it is impossible to expect Shanghai to cooperate," National Taiwan University associate professor of political science Chang Teng-chi (張登及) said. "The original hope was that there might be a possibility for Ko as an independent to have a greater flexibility to reinterpret the 1992 consensus by reiterating some part of it without 'recognizing' or 'totally denying it.'"
Major questions remain over the role Ko might be able to play, he said, adding Ko will face major hurdles due the necessities of managing the city government as well as his lack of understanding of the "very detailed and subtle" aspects of the cross-straits relationship.
Asked about Ko's colonization remarks, National Chengchi University Taiwanese History department professor Hsueh Hua-yuan (薛化元) said that imperialism in contemporary history often brought about systems and construction that are later utilized by the former colony.
It is hard to deny that colonists affected their former colonies and brought about the modernization of colonized areas, Hsueh said.
National Taipei University Department of Administration and Policy professor Hao Pei-chih (郝培芝) said that the comments reflect Ko's experience and views that being law-abiding represents advancement.
What is left for the former colony depends largely on the colonizer, Hao said, referring to how most former French colonies remain less developed, while those of England and Japan were more developed.
This story has been updated since it was first published.
Additional reporting by Tseng Wei-chen and Jake Chung, staff reporter with staff writer
Comments will be moderated. Keep comments relevant to the article. Remarks containing abusive and obscene language, personal attacks of any kind or promotion will be removed and the user banned. Final decision will be at the discretion of the Taipei Times.