Eric Chu opens KMT assets probe
HOT POTATO: The KMT chairman decided to postpone until next week a decision on a proposal that the party withdraw its appeal of a ruling in favor of Wang Jin-pyng
Despite the assertion by Vice President Wu Den-yih (吳敦義), when he was acting chairman of the Chinese Nationalist Party (KMT), that all of the party's assets were acquired through legitimate means, KMT Chairman Eric Chu (朱立倫) yesterday asked for an investigation of the issue, which is to be conducted by "impartial" public figures.
At the first meeting of the KMT's Central Standing Committee since his inauguration as chairman on Monday, Chu, who is also mayor of New Taipei City, said he has commissioned Jennifer Wang (王如玄), a lawyer and a former Council of Labor Affairs minister, and KMT Legislator Liao Cheng-ching (廖正井) to form a team of party members known for their impartiality and professionalism to look into the assets issue.
The team is to go through documents related to the party's assets and its financial status and produce a report, an idea that had been suggested to Chu throughout his campaign for chairman, he said.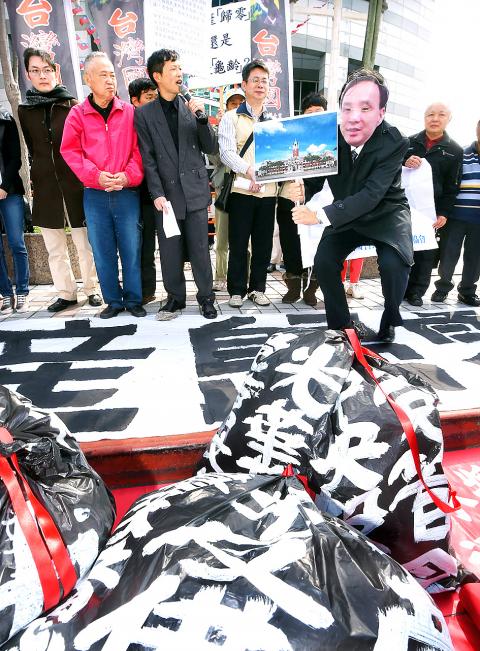 Pro-independence groups yesterday perform a skit in front of Chinese Nationalist Party (KMT) headquarters in Taipei calling on KMT Chairman Eric Chu to dispose of the party's illegally obtained assets.
Photo: Fang Pin-chao, Taipei Times
Chu has promised that any of the KMT's assets — which critics call "ill-gotten" because they were allegedly taken by the party from the Japanese colonial government, private businesses and individuals when the KMT took control of Taiwan after World War II — found to be illegally acquired by the party will be returned to the nation.
Chu's pledge came despite Wu telling a committee meeting at the end of last month that there were no assets obtained through improper means following a briefing by then-KMT Administration Committee head Lin Te-jui (林德瑞).
Aside from the party's assets, Chu asked KMT Vice Chairman Hau Lung-bin (郝龍斌) to revamp the National Policy Foundation, the party's think tank, to "function as it is supposed to" and KMT Vice Chairperson Huang Min-hui (黃敏惠) to lead a team to discuss how to reshape the party.
Chu said he is aiming to turn the KMT into a highly effective self-made party dedicated to volunteerism.
At the meeting, committee member Lin Rong-te (林榮德), with more than 20 cosigners, proposed that the party withdraw its appeal of the ruling in favor of Legislative Speaker Wang Jin-pyng (王金平) retaining his party membership.
The KMT, then led by President Ma Ying-jeou (馬英九), revoked Wang's membership amid allegations that he had used his influence to try and affect the outcome of a legal case in 2013.
The Special Investigation Division of the Supreme Prosecutors' Office accused Wang of meddling in a breach of trust lawsuit on behalf of Democratic Progressive Party caucus whip Ker Chien-ming (柯建銘) by urging two high-ranking judicial officials to influence a prosecutor into refraining from appealing Ker's not-guilty verdict.
Chu decided to postpone a decision on Lin's proposal until new chairperson of the Central Evaluation and Discipline Committee, KMT Legislator Huang Chao-shun (黃昭順), presents a plan to the committee next week to reform the evaluation and discipline system.
Throughout Chu's campaign, he hinted at the possibility that the party would rescind its decision to revoke Wang's membership in an effort to boost morale.
Comments will be moderated. Keep comments relevant to the article. Remarks containing abusive and obscene language, personal attacks of any kind or promotion will be removed and the user banned. Final decision will be at the discretion of the Taipei Times.