Councilors not guilty in 'ballot-flashing' case
In a landmark ruling that is expected to have wide political ramifications, the Taiwan High Court handed down a "not guilty" verdict to 10 then-New Taipei City councilors who "flashed ballots" to show observers their votes in the city council's 2010 speaker election.
The ruling upheld the decision by the New Taipei City District Court in May last year, which found the 10 Democratic Progressive Party (DPP) councilors, including Lee Wan-yu (李婉鈺) and Sheng Fa-hui (沈發惠), who were charged with disclosure of state secrets and related offenses arising from the case, not guilty.
Yesterday's ruling is seen by senior DPP officials and some civic groups as a positive development, as they have long advocated for changes to institute "recorded voting," or "roll call voting," instead of the current "secret ballots" in local councils.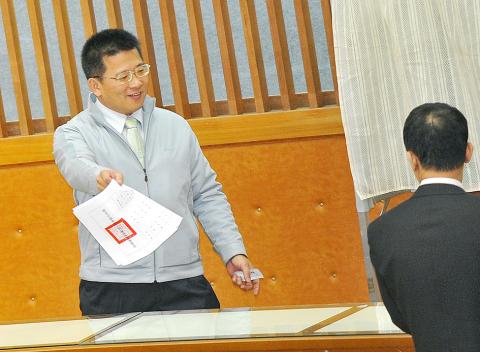 A New Taipei City councilor displays his ballot prior to voting in the election of council speaker and deputy speaker on Dec. 25, 2010.
Photo: Liu Hsin-de, Taipei Times
They see "recorded voting" as a better political reform measure to counter potential bribery and vote-buying, and to monitor councilors who vote against the majority of their constituents' wishes.
The High Court ruling states that city and county council speakers and deputy speakers have job functions that entail important political and administrative policies, and previous court decisions cited Article 132 of the Criminal Code, which covers public officials' disclosure of documents or information of a secret nature on matters outside of national defense.
In this decision, the judges said that in the case of the election of speaker and deputy speaker by councilors, the voting and balloting process in itself is not concerned with national political and administrative policies, and as such, the "ballot flashing" was not in violation of Article 132, and therefore the councilors were found not guilty.
The decision is final and cannot be appealed.
Following the High Court's decision, Supreme Prosecutors' Office Prosecutor-General Yen Ta-ho (顏大和) cited the different rulings between the 2010 council speaker election in Greater Kaohsiung and the then-Taichung City election in 1994.
Yen said he would make an "extraordinary appeal" to the Supreme Court on the not-guilty ruling in the "ballot flashing" case of Greater Kaohsiung councilors in the 2010 council speaker election, because he noted the court found Taichung City councilors guilty in a similar situation in 1994.
DPP spokesperson Huang Di-ying (黃帝穎) and legal counsel Wellington Koo (顧立雄) urged the judiciary to focus on bribery and vote-buying in local council elections, and to not waste resources going after councilors who cast the ballots.
Comments will be moderated. Keep comments relevant to the article. Remarks containing abusive and obscene language, personal attacks of any kind or promotion will be removed and the user banned. Final decision will be at the discretion of the Taipei Times.