Council rebuts Ko's criticism of '1992 consensus'
Mainland Affairs Council (MAC) Minister Wang Yu-chi (王郁琦) yesterday lashed out at Taipei mayor-elect Ko Wen-je (柯文哲) for saying that the "1992 consensus" is outdated and that new ideas are needed to conduct cross-strait exchanges.
Ko made the remarks during an interview published on Tuesday by the Central News Agency in which he proposed replacing the "1992 consensus" with the "four mutuals" — mutual knowledge, mutual understanding, mutual respect and mutual cooperation.
Wang responded that the "1992 consensus" is an essential and practical part of cross-strait exchanges, adding that Ko should learn more about the matter before commenting on it.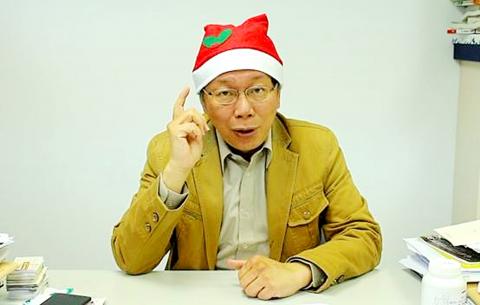 Taipei mayor-elect Ko Wen-je speaks in Taipei yesterday, calling on people to support the Genesis Social Welfare Foundation's end-of-year social welfare activities.
Photo: Chen Ping-hung, Taipei Times
"As a mayor[-elect] of a local government, Ko does not have to make remarks on cross-strait exchanges, but if he really wishes to comment on this, he should first take an in-depth look into the backdrop against which the '1992 consensus' was created and at its effect on cross-strait exchanges today," Wang said.
The "consensus" refers to an alleged tacit agreement reached in 1992 that both Taiwan and China belong to one China, with each side having their own interpretation of what "one China" means.
Although the Chinese Nationalist Party (KMT) government claimed that the consensus was agreed upon during the first cross-strait conference in Singapore in 1992, former MAC minister Su Chi (蘇起), who was involved in the 1992 meeting, later said he made up the term.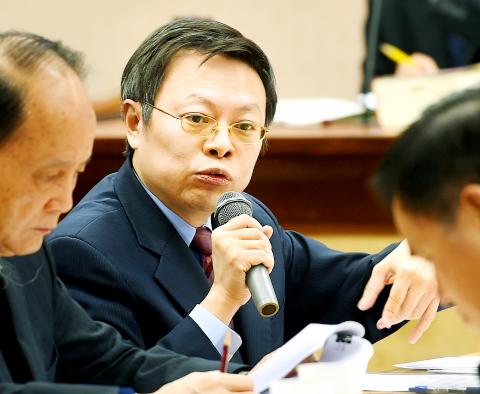 Mainland Affairs Council Minister Wang Yu-chi speaks during a meeting in Taipei yesterday in which he criticized Taipei mayor-elect Ko Wen-je's remarks that the "1992 consensus" is outdated.
Photo: Fang Pin-chao, Taipei Times
Wang yesterday said that the "1992 consensus" is certainly "ambiguous," but it is that ambiguity which gives Taiwan and China a buffer zone when dealing with politically sensitive issues.
"I would say that it is because of the '1992 consensus' that cross-strait relations have been able to progress so much since President Ma Ying-jeou (馬英九) took office in 2008. We can see how bad things got during the Democratic Progressive Party administration, when the government refused to recognize the 'consensus,'" Wang said.
Responding to Wang's remarks, Ko said the "1992 consensus" has been around for 22 years and yet cross-strait relations are still unclear.
"We need some new ideas in dealing with cross-strait relations," he said.
However, Ko added that, as a mayor, he has no authority to deal with cross-strait issues, but had been "merely making the remarks [in the interview] as a citizen of the nation, so if Wang thinks he is better at that, he can deal with cross-strait exchanges however he wants."
Comments will be moderated. Keep comments relevant to the article. Remarks containing abusive and obscene language, personal attacks of any kind or promotion will be removed and the user banned. Final decision will be at the discretion of the Taipei Times.