Ma knew about donation: Clara Chou
ANOTHER SALVO: The media personality said she was questioning the president's 'moral integrity' over the alleged donation and called on him to clarify the issue
Allegations that President Ma Ying-jeou (馬英九) and his campaign team received an off-the-books political donation from Ting Hsin International Group (頂新集團) continued yesterday as media personality Clara Chou (周玉蔻), in a new revelation, accused the Ma administration of being Ting Hsin's gatekeeper and identifying Ma himself as the person who had received a NT$200 million (US$6.34 million) donation from the company.
Chou said Ma had received the secret donation from Ting Hsin through a confidant and took it to be within legal boundaries for campaign fund-raising.
He might have thought that as the money was used solely for campaign activities and did not end up in his pocket, it was not corruption, Chou said, but added that the move showed seriously flawed moral integrity.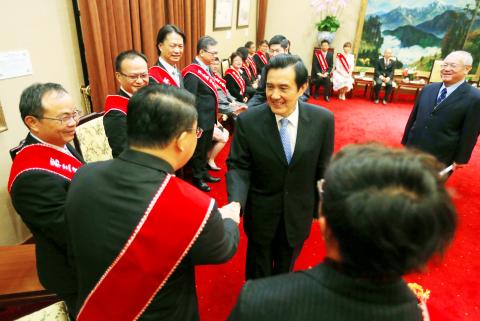 President Ma Ying-jeou, second right, meets prize-winning owners of small and medium-sized enterprises at the Presidential Office in Taipei yesterday.
Photo: CNA
Chou wrote an open letter to Ma on Facebook on Monday, naming Benny Hu (胡定吾), Ma's friend and a board member of Taipei Financial Center Corp (TFCC, 台北金融大樓), the firm that operates Taipei 101, as a key person involved in the donation, suggesting that the president have a "long conversation" with him.
Later the same day, the Chinese Nationalist Party (KMT) filed a lawsuit against Chou for claiming that the KMT received a secret NT$200 million donation from Ting Hsin.
The Presidential Office late on Monday evening released a statement denying the accusations and demanding that Chou provide proof rather than making allegations, saying it suspected that Chou used the term "Ma's team" to shun legal responsibility.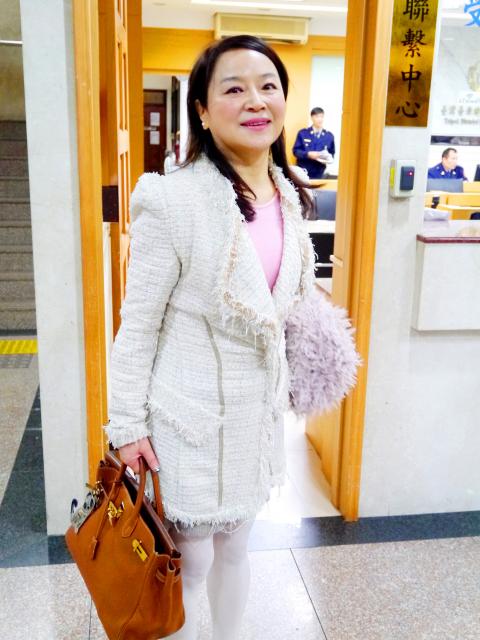 Radio host Clara Chou arrives at the Taipei District Court yesterday for a hearing on the case in which she was sued by former Chinese Nationalist Party (KMT) Taipei mayoral candidate Sean Lien for alleging he lived a lavish lifestyle during his college years at Columbia University in New York. Lien's lawyer dropped the charge yesterday.
Photo: Chang Hsiao-Ti, Taipei Times
In response, Chou published an article yesterday directly identifying "Ma's team" with the president himself.
"Hu is the top aide of the Wei (魏) family, which owns Ting Hsin; Ma is Hu's guardian angel ["men shen (門神)"]; the Ma administration then became Ting Hsin's gatekeeper," Chou said in the article.
She said that according to a "reliable source," Ma knew about the donation and that Hu was the go-between for Ma and Ting Hsin who wore "white gloves" — referring to a middleman who launders money behind a legitimate front, trusted by both parties.
She also accused Ma, the head of the team, of receiving the clandestine donation.
In the article, Chou said that Ma once said "the money was for the election; it was public expenditure, not corruption."
However, this was self-hypnosis, Chou said, adding that Ma's team was referring to Ma himself, and that Ma believed that if both Ting Hsin and those within his team denied a donation had been received nothing could be exposed.
Chou called Monday's Presidential Office statement "dodgy" and talk of investigating in accordance with the law without mercy "empty talk and self-deception" if Ma does not initiate an investigation.
"How do you investigate in accordance with the law when neither the president nor the judicial system have done anything?" she said, calling on Ma to explain the matter and take the initiative to begin an investigation.
"As far as I know, these off-the-books donations have firewalls built in" that make them beyond legal reach, Chou said.
Chou said she was questioning Ma's "moral integrity" and called on the president to clarify the issue.
Later yesterday, Presidential Office spokesperson Ma Wei-kuo (馬瑋國), in response to Chou's new allegations, accused her of "distorting the facts and making malign accusations," and said that while the president has always respected freedom of speech, it is regretful that Chou has continued to defame the president with false allegations.
The president would not exclude the possibility of taking legal action to defend the reputation of his office, the spokesperson said.
Additional reporting by Wang Yu-chung
Comments will be moderated. Keep comments relevant to the article. Remarks containing abusive and obscene language, personal attacks of any kind or promotion will be removed and the user banned. Final decision will be at the discretion of the Taipei Times.