Strong disapproval of Ma led to KMT's rout: survey
One of the main reasons behind the Chinese Nationalist Party's (KMT) disastrous defeat in the nine-in-one elections on Saturday last week is the public's strong disapproval of President Ma Ying-jeou (馬英九) and Premier Jiang Yi-huah's (江宜樺) performances, particularly among the younger generation, a Taiwan Thinktank survey said yesterday.
The telephone-based poll was conducted among 1,069 Taiwanese older than 20 on Sunday and Monday to gauge voting behavior in the nation's largest-ever local elections.
The survey found that more than 74 percent of respondents are dissatisfied with Ma's performance as president, up from 66.8 percent recorded in a similar poll conducted by the think tank in June. It also found that Ma's approval rating sank to just 9.7 percent from 21.7 percent in June, with just 5.7 percent of people aged between 20 and 29 saying they are satisfied with Ma's work over the past six years.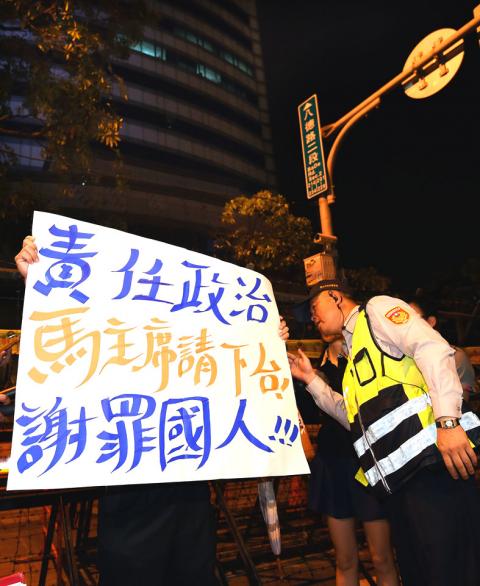 A self-identified Chinese Nationalist Party (KMT) supporter holds a sign outside the party's headquarters in Taipei on Saturday calling on President Ma Ying-jeou to step down as chairman.
Photo: Chien Jung-fong, Taipei Times
Jiang received nearly the same approval rating from respondents in that age group — 9.8 percent — far lower than the average figure of 14.2 percent given by all those surveyed.
David Huang (黃偉峰), an assistant research fellow at Academia Sinica's Institute of European and American Studies, said youth turnout had been about 60 percent in previous elections, but increased to 74 percent in Saturday's polls.
"The increase is particularly meaningful when compared with the overall voter turnout of 67.5 percent. Who those extra 14 percent of young people voted for and whether they decided to participate in the election as a form of protest against the Ma administration are questions worth exploring," Huang told a press conference held to release the poll results in Taipei.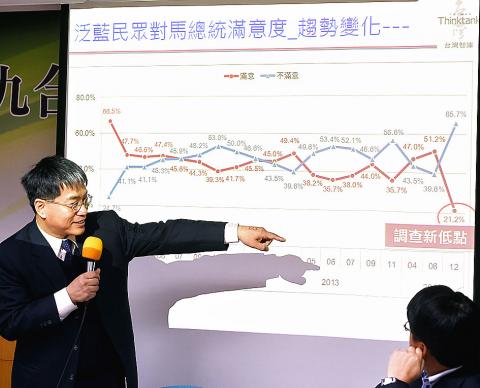 Taiwan Thinktank deputy chief executive Lai I-chung shows reporters in Taipei yesterday a chart of survey results on pan-blue supporters' approval and disapproval of President Ma Ying-jeou's administration over time.
Photo: Fang Pin-chao, Taipei Times
Huang said that while about 64 percent of the survey participants said they made up their minds about which candidate to back based on information from television news shows, the percentage of people consulting content on news and social networking sites increased.
Taiwan Thinktank deputy chief executive Lai I-chung (賴怡忠) said the elections were apparently a vote of no confidence in the Ma administration, citing the 25.1 percent of respondents who said their discontent with the central government was an important factor in their decision at polling stations.
"It is also worth noting that nearly 53 percent of those polled attribute the KMT's defeat in the local elections to the public's disapproval of [what are perceived as] the Ma administration's China-leaning and corporation-centered policies, with about 51 percent saying it would take more than Ma stepping down as KMT chairman for the party to regain public support," Lai said.
Lai said the election results also signify the end of the KMT's traditional campaigning methods, as evidenced by the 63.5 percent of respondents who said they found ineffective the party's threat that a victory by independent Taipei mayoral candidate Ko Wen-je (柯文哲) would destroy the Republic of China.
Nearly 64 percent of respondents said the public frenzy over Ko has made them more willing to consider voting for independent candidates in the future, the survey showed. Sixty-nine percent said the election results will be conducive to Taiwan's democracy, while 46.4 percent think they will benefit the nation's economy.
Comments will be moderated. Keep comments relevant to the article. Remarks containing abusive and obscene language, personal attacks of any kind or promotion will be removed and the user banned. Final decision will be at the discretion of the Taipei Times.