Eric Chu survives with razor-thin majority
CLOSE CALL: The narrow margin of Chu's victory in New Taipei City was surprising, but as he was the only KMT member to hold on to his municipality, his stock will rise
New Taipei City Mayor Eric Chu (朱立倫) of the Chinese Nationalist Party (KMT) won a second term yesterday, with a narrow victory over his Democratic Progressive Party (DPP) challenger, former premier Yu Shyi-kun (游錫堃), by a razor-thin margin of 959,302 votes to 934,774, or 50.06 percent of the vote to 48.78 percent
Although Chu has retained his mayoral post and his stock looks set to rise in the KMT's senior hierarchy, the closeness of the result nevertheless came as a surprise to most political observers.
In the near future, Chu could be a force to be reckoned with and a major influence in the party, because he is the only KMT member to hold on to his municipality.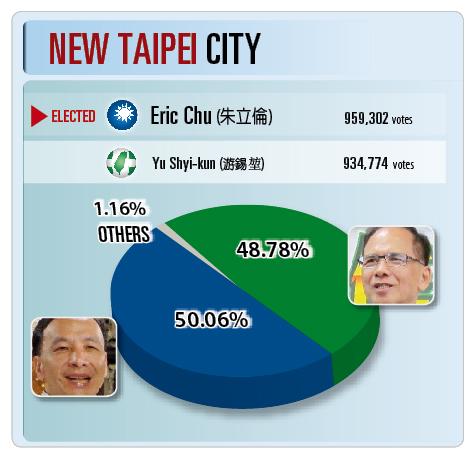 GRAPHIC: TT
Initial numbers from exit polls had both the KMT and DPP camps on the edge of their seats. Yu went in front in the early results, then it was Chu's turn to go ahead as the lead changed several times.
The tight race proceeded through the early evening with no clear winner, as poll results trickled in from the 12 electoral districts in the nation's most populous municipality.
Chu began to grab a narrow lead just before 7pm and he held on for the victory with the results announced after 9pm.
However, Yu almost snatched victory from Chu, a mayor widely seen as having considerable support among the electorate, and with the resources and the organizational advantages of being the ruling party in New Taipei City.
When the race began, Yu knew he had to fight an uphill battle, as most surveys had Chu possessing a large double-digit lead. Besides tabling well-received urban renewal and housing policies to redevelop the municipality, in the final weeks Yu narrowed the gap by advocating food safety and consumers' rights.
He received a lot of support from civic groups and local communities after targeting the food scandals of the past few years, particularly by seeking compensation for consumers by launching a class-action lawsuit against Ting Hsin International Group (頂新集團), the food conglomerate which was involved in several of the adulterated food scandals and which was alleged to have made a large profit by benefiting from a land rezoning deal in New Taipei City's Sanchong District (三重). Yu criticized Chu for approving the deal.
By comparison, in the 2010 New Taipei City mayoral election Chu had prevailed over DPP Chairperson Tsai Ing-wen (蔡英文) by a margin of 1,115,536 votes to 1,004,900, 52.61 percent to 47.39 percent.
Comments will be moderated. Keep comments relevant to the article. Remarks containing abusive and obscene language, personal attacks of any kind or promotion will be removed and the user banned. Final decision will be at the discretion of the Taipei Times.