Premier quits after landslide KMT defeat
THEIRS TO LOSE: Premier Jiang Yi-huah said the party's crushing loss reflected public unhappiness with government policies, but Ma still vowed that the KMT will rise again
Premier Jiang Yi-huah (江宜樺) stepped down yesterday after the Chinese Nationalist Party's (KMT) larger-than-expected defeat in yesterday's nine-in-one elections dealt a stiff blow to President Ma Ying-jeou (馬英九), who has staked his reputation on fostering closer ties with Beijing.
Jiang announced his resignation last night to take responsibility for the KMT's loss of key posts. The party lost the Taipei mayorship it has held for 16 years its candidate, Sean Lien (連勝文), was beaten by independent Ko Wen-je (柯文哲), who was backed by the Democratic Progressive Party (DPP).
The DPP also wrested control of Greater Taichung and Taoyuan from the KMT.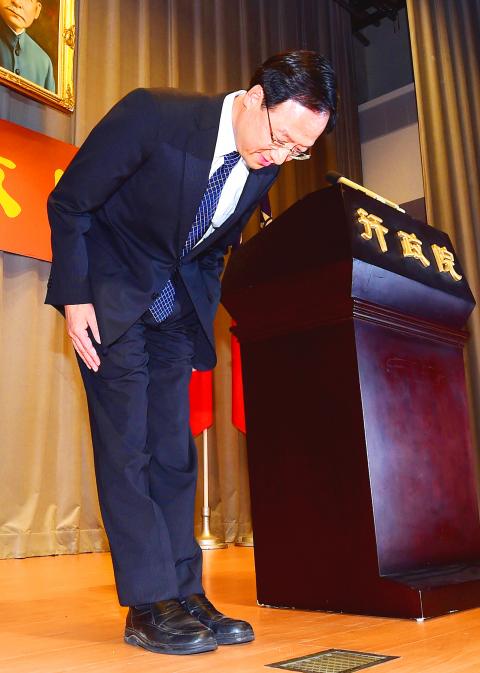 Premier Jiang Yi-huah bows at the Executive Yuan in Taipei after announcing his resignation yesterday over the Chinese Nationalist Party's (KMT) heavy losses in the nine-in-one elections.
Photo: Lo Pei-der, Taipei Times
Jiang told a press briefing that Ma has accepted his resignation and would soon announce his replacement, as well as other new members of the Cabinet.
"Today's election results show that the people are dissatisfied with the administration's policies," Jiang said. "The people have spoken clearly through their votes. I have decided to assume political responsibility."
Later yesterday, Ma, who is also KMT chairman, bowed to apologize for the results and vowed reforms.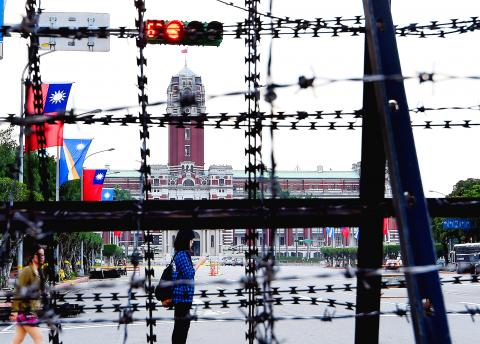 People yesterday walk past a razor-wire barrier that was placed along Ketagalan Boulevard near the Presidential Office Building in Taipei in anticipation of potential post-election disturbances.
Photo: Chu Pei-hsiung, Taipei Times
"I apologize to all [KMT] supporters for disappointing them. I have approved Premier Jiang's resignation. At this moment, my responsibility is to put forward proposals to respond to people's demands," Ma told a press conference at 9pm.
However, Ma said the KMT would not be knocked down easily.
"It's time to wipe away our tears and get back on our feet to continue to fight for Taiwan and for the Republic of China," Ma said. "We have no reason to be pessimistic. What we should do now is think about how to advance reform. The party will continue to move the country forward and open it up."
Before Ma arrived at the KMT's headquarters in Taipei at 8pm, several party members gathered outside the building to demand that he resign as chairman.
Among the protesting KMT members was Sung Hung-lieh (宋宏烈), the son of Sung Shih-hsuan (宋時選), a late KMT heavyweight who was part of former president Chiang Ching-kuo's (蔣經國) staff. Sung Hung-lieh said that Legislative Speaker Wang Jin-pyng (王金平) should take over the party chairmanship.
The unprecedented defeat will make it hard for the KMT to hold onto the presidency in 2016 and the heavy losses point to an electorate that is turning increasingly against Ma's forging of closer ties with China, political observers said.
Beijing refrained from giving an opinion about the results, saying only that it hopes peaceful bilateral relations will be sustained.
"We have taken note of the election results. It is hoped that compatriots on both sides of the [Taiwan] Strait will cherish the hard-earned fruits of cross-strait relations and work together to safeguard and continue to push forward the peaceful development of cross-strait ties," China's Taiwan Affairs Office spokesman Ma Xiaoguang (馬曉光) said yesterday.
Additional reporting by CNA
Comments will be moderated. Keep comments relevant to the article. Remarks containing abusive and obscene language, personal attacks of any kind or promotion will be removed and the user banned. Final decision will be at the discretion of the Taipei Times.