Prosecutors clear Ko's team: sources
NOT STAGED: Taipei mayoral candidate Ko Wen-je's campaign team have been ruled out, while private detective Lin Chun-hung is to be charged, sources said
Prosecutors have ruled out the possibility that independent Taipei mayoral candidate Ko Wen-je's (柯文哲) campaign team staged an alleged case of wiretapping, sources from the Taipei District Prosecutors' Office said yesterday.
Prosecutors reached the conclusion after a meeting was held yesterday between Peng Sheng-shao (彭盛韶), an assistant at Ko's campaign office, and private detective Lin Chun-hung (林俊宏), who was called in by Ko's team to sweep the office for recording devices earlier this month, sources said.
The latest development came after Ko's campaign team on Tuesday, in a bid to refute accusations that it had staged the alleged wiretapping of the office, made public the communications Peng had with Lin.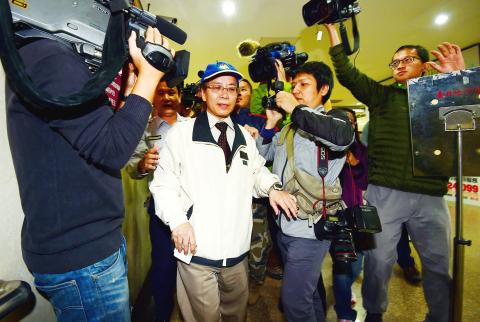 Chang Ching-sen, independent Taipei mayoral candidate Ko Wen-je's head adviser, is pictured at the Taipei District Prosecutors' Office yesterday in connection to his involvement in an alleged wiretapping case.
Photo: Lo Pei-der, Taipei Times
After Chinese Nationalist Party (KMT) Legislator Alex Tsai (蔡正元), director of KMT Taipei mayoral candidate Sean Lien's (連勝文) campaign, gave information pertaining to Ko's schedule, policies and a list of his advisers to reporters last month, Ko's camp suspected its campaign office had been bugged. The team reported the case to police on Nov. 4 when a suspicious wire was found in the telephone switchboard room which could have been used to tap the telephone lines.
Lin, who along with private detective Wu Te-yi (吳德義) was called in by Peng to carry out a sweep of the office that day, later reportedly told prosecutors that he planted the wire because he found out that the building did not have any surveillance cameras and he thought the wire would highlight the security deficiency to residents of the building and win him a contract to install cameras.
Sources from the Taipei District Prosecutors' Office said that both Wu and Peng would be cleared of all charges, while Lin would be charged with fraud and breach of trust.
Aside from Peng, Wu and Lin, Ko's head campaign adviser Chang Ching-sen (張景森) was also summoned by the Taipei District Prosecutors' Office for questioning regarding the case.
After about two hours of cross-examination by prosecutors, the four were allowed to leave.
Chang had requested earlier this week the opportunity to provide an account of the incident to prosecutors.
Later yesterday, he said that while he was waiting to speak with prosecutors, Lin had apologized to him for causing the controversy.
In related developments, Tsai said he would sue Hit FM radio host Clara Chou (周玉蔻) and the station after Chou said that he was the key figure in the alleged wiretapping case.
During an interview with Ko yesterday morning, Chou said she heard from her friends that Lin could have been bought off to make the statement that he planted the wire to tap the telephone lines of Ko's campaign office.
Chou said it could have been Tsai who bribed Lin.
By offering Lin a sum of money to make the statement, Tsai could then accuse Ko's camp of staging the wiretapping incident to frame the Lien campaign team, Chou said.
Later yesterday, Chou said she had learned about Tsai's alleged role in the case from Wu Tsu-chia (吳子嘉), a political commentator who runs the my-formosa.com news Web site.
Separately, the Democratic Progressive Party (DPP) questioned whether there had been politically motivated interference in the prosecutors' investigation of the suspected wiretapping case.
DPP spokesperson Huang Di-ying (黃帝穎) raised the question after the Chinese-language Next Magazine reported yesterday that Taipei District Prosecutors' Office Chief Prosecutor Yang Chih-yu (楊治宇) directly intervened in the investigation to have charges brought against Peng.
The report was referring to prosecutors' questioning of Peng on Saturday, initially as a witness, but later in the day as a defendant, despite prosecutors having found no evidence that proved Peng was involved in the alleged wiretapping.
Additional reporting by Shih Hsiu-chuan and Loa Iok-sin
Comments will be moderated. Keep comments relevant to the article. Remarks containing abusive and obscene language, personal attacks of any kind or promotion will be removed and the user banned. Final decision will be at the discretion of the Taipei Times.