KMT's Alex Tsai files wiretapping suit
BUGGING BROUHAHA: After Tsai released information about Ko Wen-je's schedule and policies last month, Ko's camp alleged that its office had been wiretapped
Chinese Nationalist Party (KMT) Legislator Alex Tsai (蔡正元) yesterday sought to hold independent Taipei mayoral candidate Ko Wen-je (柯文哲) and four of his campaign team responsible for "spreading rumors" that he was involved in the alleged wiretapping of Ko's campaign office.
Tsai, campaign director for KMT Taipei mayoral candidate Sean Lien (連勝文), filed lawsuits with the Taipei District Prosecutors' Office against Ko, as well as Yao Li-ming (姚立明), Lee Ying-yuan (李應元), Chang Ching-sen (張景森) and Chien Yu-yen (簡余晏), members of Ko's campaign team.
"The gang of five" have violated the Criminal Code and the Civil Servants Election and Recall Act (公職人員選舉罷免法) by forging evidence of alleged wiretapping, aggravated defamation by alleging Lien camp's involvement and using illegal means to prevent Lien from being elected, Tsai said.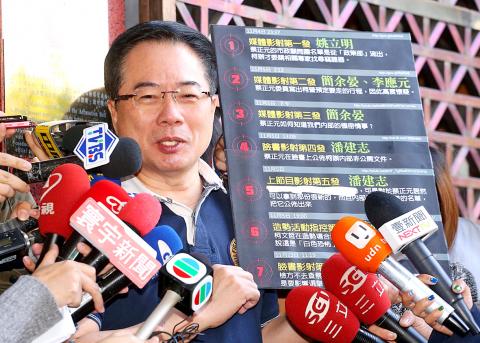 Chinese Nationalist Party (KMT) Legislator Alex Tsai, campaign manager for KMT Taipei mayoral candidate Sean Lien, talks to reporters outside the Taipei District Prosecutors' Office yesterday about allegations of wrongdoing by the campaign staff of Lien's independent rival, Ko Wen-je.
Photo: CNA
After Tsai gave information pertaining to Ko's schedule, policies and a list of Ko's advisers to the media last month, Ko's camp alleged that its campaign office had been bugged and reported the case to police when a suspicious wire was found in the telephone switchboard which could be used to tap the phone lines.
While an investigation by prosecutors is still ongoing, Lin Chun-hung (林俊宏) — who along with Wu Te-yi (吳德義) was called in by Peng Sheng-shao (彭盛韶), an assistant at Ko's campaign office, to carry out a sweep of the office for recording devices — reportedly told prosecutors that he planted the wire during the sweep of the office because he found that the building did not have any surveillance cameras.
Lin reportedly said that he thought the wire would highlight the security deficiency to residents of the building and win him a contract to install surveillance cameras.
Prosecutors listed Peng as a defendant in the case on Saturday.
Both Wu and Peng said they were on the ninth floor of the building and knew nothing about Lin planting the wire while he was checking the switchboard on the third floor.
Based on media reports, Tsai said the alleged wiretapping at Ko's office was staged by Ko's campaign team.
"The wiretapping at Ko's campaign office was fabricated. What is true is that it was done to frame [the Lien campaign team]," Tsai said.
The KMT legislative caucus yesterday ran ads in two Chinese-language newspapers — the China Times and the United Daily News — urging Ko to apologize for his team's previous allegations suggesting that Lien's campaign team was behind the alleged wiretapping of his office.
Responding to news of the lawsuit, Ko called on the judiciary to remain neutral when handling the case, while urging Tsai to explain from where he got the information he leaked to the media.
"I hope — I'm saying that I hope, not that I trust — that the judiciary will remain neutral when investigating the case and I will try to trust the judiciary," Ko said yesterday afternoon.
"My campaign team and I have nothing to hide, we actually want prosecutors to accelerate the probe and be more efficient finding out the truth," he said.
He said that with the truth being unclear, the matter could be interpreted in different ways, and he does not understand why prosecutors turned down an offer by policy director Chang Ching-sen (張景森) to be questioned in an attempt to clarify the situation as quickly as possible.
Yao, on the other hand, said he does not trust the judiciary.
"It's very strange that the two people from the detective agency, Wu and Lin, have disappeared since they were released on bail, while a lawyer surnamed Wang (王) [who introduced the two to Ko's campaign team] has also been out of contact and no one knows what they have said," Yao said. "If they are the bad guys, they should be pursued."
Yao also echoed Ko by saying that he does not understand why prosecutors did not want to question Chang, when Chang had taken the initiative to contact the prosecutors.
"I am worried that Chang may be summoned by prosecutors on Nov. 28 [Friday], a day before the election, and that prosecutors would request his detention that day, so that on election day Chang would be still in court or in detention, and would have no opportunity to defend himself in public," Yao said.
Ko said he would still like to know how Tsai got hold of classified information about his campaign.
"He should not file a lawsuit against us until he answers this question," Ko said.
Comments will be moderated. Keep comments relevant to the article. Remarks containing abusive and obscene language, personal attacks of any kind or promotion will be removed and the user banned. Final decision will be at the discretion of the Taipei Times.