Thousands stroll with Ko
With their pets and families in tow, tens of thousands of people packed the Taipei MRT's Taipei Zoo Station yesterday to join independent Taipei mayoral candidate Ko Wen-je (柯文哲) and his wife, Peggy Chen (陳佩琪), for a walking event.
Under an almost cloudless blue sky, about 30,000 people flocked to the station near Taipei Zoo in the morning sunshine, not to see the facility's popular pandas or new additions, but to walk along the nearby Jingmei River (景美溪) trail for the event organized by Ko's campaign to rally support ahead of next week's nine-in-one elections.
Although the Ko camp had estimated that between 15,000 and 20,000 people would take part, nearly 30,000 turned up, far exceeding expectations.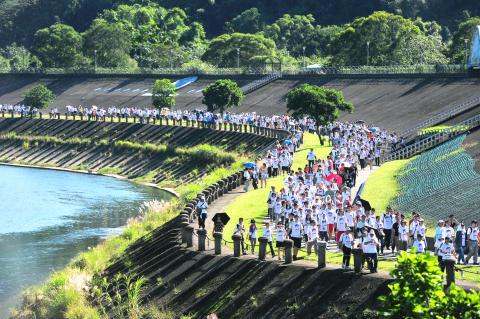 Independent Taipei mayoral candidate Ko Wen-je and his wife Chen Pei-chi are joined by supporters during a walking activity in the Daonan Riverside Park in Taipei's Wenshan District yesterday.
Photo: Chien Jung-fong, Taipei Times
Many participants brought their pets along, and though these were mostly dogs, one man did bring his pet snake, wearing it around his neck as he walked the trail.
Another group had their Welsh corgis with them and chanted "Corgis support Ko P," using the Mandarin term for Welsh corgi, ke ji (柯基), which resembles Ko's nickname "Ko P" (柯P).
The "P" stands for "professor."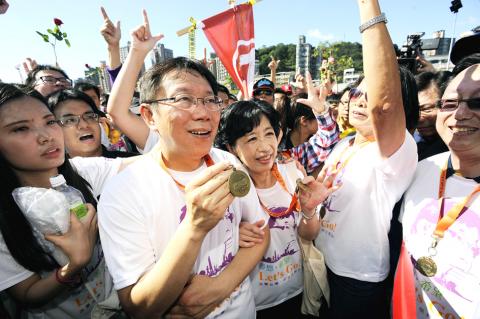 Independent Taipei mayoral candidate Ko Wen-je, center, and his wife, Peggy Chen, second right, hold up the medals they received after finishing a walk along the Jingmei River in Taipei's Wenshan District yesterday.
Photo: Chen Chih-chu, Taipei Times
A pair of sisters surnamed Tang (唐) said they came from Greater Kaohsiung for the walk, adding that though they are unable to cast votes for Ko since they are not registered Taipei residents, they still wanted to show their support for the candidate.
"This is a very different kind of campaign event: We are not here for free food, or because we are being paid; we actually had to pay a fee to sign up," the sisters said.
Prior to the start of the event at 9am, Ko gave a bouquet of 99 white roses to his wife, triggering cheers from supporters, since Ko and his wife reportedly argued last week over a post on her Facebook page.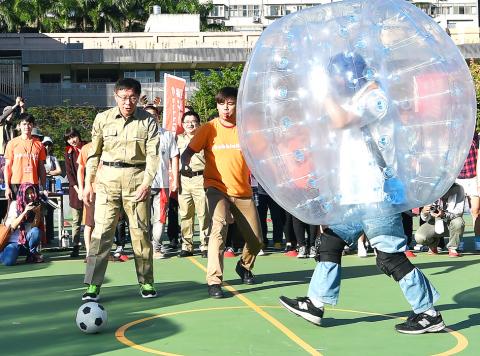 Independent Taipei mayoral candidate Ko Wen-je, front left, wears a high-school student uniform while participating in a game of "bubble" soccer during a campaign event in Taipei yesterday.
Photo: Chu Pei-hsiung, Taipei Times
Asked if she is happy now, Chen said: "I hope you guys will make me happier on Nov. 29 [election day]."
Ko's campaign has also organized a carnival parade in Taipei for today, which is to assemble in Liberty Square at 1pm before departing at 2pm.
Comments will be moderated. Keep comments relevant to the article. Remarks containing abusive and obscene language, personal attacks of any kind or promotion will be removed and the user banned. Final decision will be at the discretion of the Taipei Times.