Taipei gay pride parade draws tens of thousands
POLITICAL PROMENADE: Amid the levity of costumes and bare skin, the march aimed to raise awareness of groups facing discrimination, organizers told reporters
Waving rainbow flags, tens of thousands of people thronged the streets of Taipei yesterday in one of the largest annual lesbian, gay, bisexual and transgender (LGBT) pride parades in Asia.
The parade took on a jubilant tone as participants shouted their support for the legalization of same-sex marriage and demanded that the government better protect the rights of the nation's LGBT communities.
Up to 70,000 people attended the rally, including several thousand foreign participants, main organizer the Taiwan LGBT Pride Community said.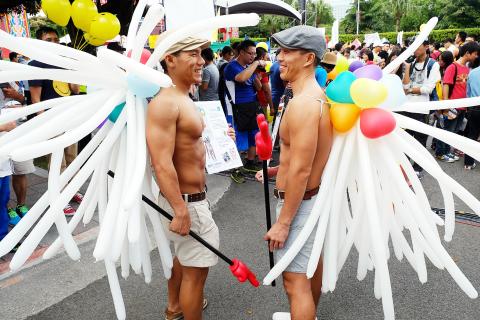 Participants wear balloons yesterday during the annual LGBT Pride parade in Taipei.
Photo: AFP
As participants marched through the capital, muscular thighs in swimming trunks jostled alongside feathery headdresses and velvet gowns. Small groups dressed up in different themes brushed shoulders with one another, with US superheroes marching with men in Japanese kimonos.
However, the majority of promenaders wore everyday clothing, expressing solidarity with the cause in a low-key fashion as they marched, capturing their flashier counterparts with cellphones and cameras.
A number of participants hailed from overseas, such as K. Temura from Japan, who said he and his friends visited specifically to attend the parade — which is famous in Japan — and to visit gay cultural hotspots, such as the Red House in the city's Ximending District (西門町).
Lucile Chaize and Margaux Motta, both from France, said the atmosphere was relatively quiet compared with the gay pride parade in Paris.
"In Paris, you would see a lot more nearly naked men out on the streets. Here it is a lot quieter, but I feel like gay people are more broadly accepted in Taiwan, with people being less judgemental," Motta said.
Alex Orellana, a student from Los Angeles, said he saw Taipei as "the San Francisco of the East," with its embracing and accepting atmosphere, adding that the gay community in Taipei seemed more open to outsiders, unlike in North American cities, where people tend keep to tight-knit circles.
The theme of this year's event — "Walk in Queer Shoes" — called on the public to not only give their support to gay and lesbian communities, but also empathize with other groups facing gender-based or sexual discrimination, including cross-dressers, sex workers and people with sexually transmitted diseases.
One participant, who preferred to be known as Yangyang (陽洋), said he thought of the theme in a positive way. Dressed in a men's blazer and a women's black skirt, Yangyang said the government needed to allocate more resources to setting up restrooms for transgendered people.
Others held different opinions about the theme.
"I feel like the parade is not well-linked to the current drive for gay marriage," said a man nicknamed Snox, whose T-shirt matched his partner's, with both reading: "We would like to get married."
"A lot of people have the stereotype that gay men are promiscuous; a push for marriage could combat that view," Snox said, adding that he and his partner have been planning for marriage for several years.
As gay rights advocates marched on, an anti-gay rights coalition led by Christian groups voiced their fierce opposition at a press conference at the Legislative Yuan, calling on the government to shelter children from the parade, as it was "ripe with public displays of indecency."
However, other religious groups supported the parade, with members of the Tong-Kwan Lighthouse Presbyterian Church, a gay Christian organization, marching in the crowd.
"I think [the anti-gay groups'] deep-seated prejudices and stubborn views prevent them from seeing people with differences," a member of the church surnamed Lu (呂) said. "They might hold subconscious fears related to sexual morality."
Legislation to legalize same-sex marriage in Taiwan has already experienced multiple failed attempts since 2003.
A proposed draft amendment to the Civil Code, launched by Democratic Progressive Party Legislator Yu Mei-nu (尤美女), is set to be evaluated by the legislature's Judiciary Committee before the end of the year.
Comments will be moderated. Keep comments relevant to the article. Remarks containing abusive and obscene language, personal attacks of any kind or promotion will be removed and the user banned. Final decision will be at the discretion of the Taipei Times.