HK protesters slam 'police brutality' as clashes flare
Hong Kong pro-democracy protesters accused police of using excessive force against them after violent clashes yesterday, as a senior politician said weeks of rallies have reached a "critical moment."
Dozens of police equipped with riot gear pushed into a crowd of angry demonstrators in the Mong Kok district early yesterday, striking at them repeatedly with batons.
Twenty people were injured in a fourth night of clashes between protesters demanding free elections for the semi-autonomous territory and police trying to restore traffic to the major Mong Kok thoroughfare that the demonstrators have brought to a standstill.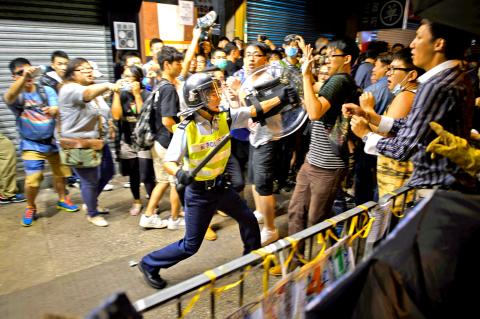 A police officer holding a baton advances toward pro-democracy protesters as they clash on a street in Hong Kong's Mong Kok district early yesterday.
Photo: AFP
The spike in violence comes after three weeks of largely peaceful pro-democracy rallies and road blockades that paralyzed key parts of the Asian financial hub.
At a press conference at the Mong Kok camp yesterday, organizers blasted police for a response that left protesters with head wounds, fractures and bruises, with others carried away on stretchers.
Police said in a statement they used "minimum force" as protesters "suddenly attempted to charge" their cordon lines.
Talks between student protest leaders and government officials are still set to go ahead tomorrow, but with little common ground between the two sides, there are slim hopes of a breakthrough.
China insists that candidates for the 2017 vote for Hong Kong's leader must be approved by a pro-Beijing committee — a condition protesters decry as "fake democracy."
Hong Kong Chief Executive Leung Chun-ying (梁振英) has warned that Beijing authorities have no intention of backing down.
Hong Kong Secretary of Finance John Tsang (曾俊華) yesterday urged demonstrators to retreat.
"I was young before and I have taken part in various student movements," he wrote on his blog. "Retreating is not an easy decision. It takes a lot of bravery. I still believe that you can take the courage to make right decisions at this critical moment."
Protest leaders told the crowds in Mong Kok that a three-day "cooling off period" could help lower simmering tensions between police and demonstrators.
"Those who are sick and tired, please go home for 72 hours to have a cooling-off period," said Ed Chin (錢志健) of Occupy Central, one of the main protest organizers.
Christian pastor Fung Chi-wood (馮智活) said that the police, for their part, should pledge a lighter-handed approach.
Some protesters at Mong Kok wore hard hats and makeshift protective gear fashioned out of household items. Posters stuck up around the camp read: "Calm down. Don't forget our original purpose."
The government information service said 20 people involved in protest activities had been injured between 10pm and 6am overnight from Saturday to yesterday, but would not specify how many were demonstrators or police officers, the extent of the injuries, or if they all took place in the Mong Kok area.
One volunteer medic said she had seen four people with head injuries with "serious bleeding," as well as a back fracture.
"They hit us without any reason when we were standing behind the roadblock. I was hit by a police stick four or five times," protester Jackie said as he sat at a local hospital with his head bandaged. "There was no aggressive action on our side."
Comments will be moderated. Keep comments relevant to the article. Remarks containing abusive and obscene language, personal attacks of any kind or promotion will be removed and the user banned. Final decision will be at the discretion of the Taipei Times.