Japan's Abe irks China, S Korea with shrine offering
Japanese Prime Minister Shinzo Abe sent a ritual offering to Tokyo's Yasukuni Shrine yesterday, prompting sharp rebukes from China and South Korea, even as Abe seeks meetings with their leaders to improve strained ties.
The shrine, which honors 30,304 Taiwanese who died in World War II among 2.5 million other war dead, is seen by critics such as China and South Korea as a symbol of Japan's past militarism, because it honors wartime leaders convicted by an Allied tribunal as war criminals, along with millions of war dead.
A group of Japanese lawmakers paid their respects at the shrine yesterday, the beginning of an autumn festival, while Abe sent a small masakaki tree, witnesses said.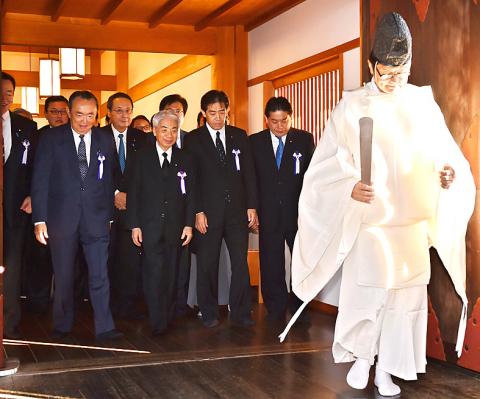 Japanese lawmakers follow a Shinto priest (R) during a visit to the controversial Yasukuni shrine yesterday.
Photo: AFP
There was no sign of Cabinet ministers, although NHK public television said Japanese Minister of Health Yasuhisa Shiozaki sent an offering. A ruling party lawmaker tweeted that three ministers planned to visit today.
China expressed "serious concern" after Abe's offering.
"China reiterates that only by Japan earnestly and squarely facing, deeply reflecting upon its history of invasion and clearly distancing itself from militarism, can China-Japan relations realize healthy and stable development," Chinese Ministry of Foreign Affairs spokesman Hong Lei (洪磊) said in a statement.
South Korea said it deplored Abe's offering to the shrine, which it called "the symbol of glorification of Japan's colonization and invasive war."
"Japan should move forward to a bright future based on serious reflection on the past, not locking itself in the dark past," a South Korean Ministry of Foreign Affairs spokesman said.
Expectations have been growing that Abe will be able to meet Xi for icebreaking talks next month at an APEC summit in Beijing.
Comments will be moderated. Keep comments relevant to the article. Remarks containing abusive and obscene language, personal attacks of any kind or promotion will be removed and the user banned. Final decision will be at the discretion of the Taipei Times.