Hong Kong riot police, protesters clash in streets
FRESH ANGER: Hundreds of protesters tried to break through police lines last night to reclaim territory cleared early yesterday, which led to severe scuffles
Hong Kong riot police used pepper spray and baton-charged crowds of pro-democracy protesters last night as tension escalated after a pre-dawn clearance of a major protest zone in the Chinese-controlled financial hub.
Crowds of protesters headed to the gritty and congested Mong Kok district after work and school last night, across the harbor from the heart of the civil disobedience movement near government headquarters, to try to reclaim sections of an intersection that police had cleared in a surprise raid early yesterday morning.
Hundreds of protesters tried to break through police lines and they used open umbrellas to shield themselves from pepper spray. In the melee, police used batons and scuffled violently with activists.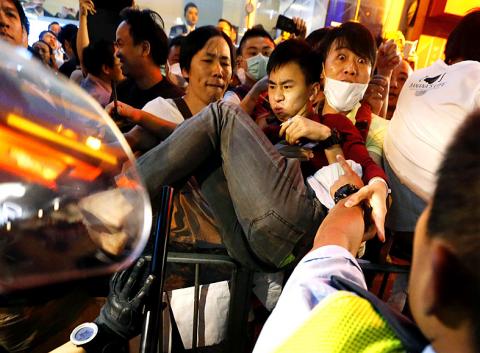 A protester is carried away by other protesters over a fence as he is charged by riot police during a confrontation at Mong Kok shopping district in Hong Kong yesterday.
Photo: Reuters
Police hauled off several protesters as others shouted insults and chanted "open the road."
The protesters, led by a restive generation of students, have been demanding that the China's rulers live up to constitutional promises to grant full democracy to the former British colony, which returned to Chinese rule in 1997.
Before dawn yesterday, hundreds of police officers staged their biggest raid yet on a pro-democracy protest camp, charging down student-led activists who had held the intersection in one of their main protest zones for more than three weeks.
The operation came while many protesters were asleep in dozens of tents or beneath giant, blue-striped tarpaulin sheets.
The raid was a gamble for the 28,000-strong police force, who have come under criticism for aggressive clearance operations with tear gas and baton charges and for the beating of a handcuffed protester on Wednesday.
Storming into the intersection with helmets, riot shields and batons at the ready from four directions, the 800 officers caught the protesters by surprise. Many retreated without resisting.
"The Hong Kong government's despicable clearance here will cause another wave of citizen protests," radio talk-show host and activist Wong Yeung-tat (黃洋達) said earlier.
Comments will be moderated. Keep comments relevant to the article. Remarks containing abusive and obscene language, personal attacks of any kind or promotion will be removed and the user banned. Final decision will be at the discretion of the Taipei Times.