Court detains four men amid widening inquiry
CONSPIRACY? Prosecutors said they thought that a Taiwanese man who runs an oil supply firm in Vietnam used fake labels that Ting Hsin Oil managers accepted
Three parties linked to a food safety scandal involving Ting Hsin Oil and Fat Industrial Co's (頂新製油實業) are to be held incommunicado, the Changhua District Court ruled yesterday.
Former Ting Hsin Oil general manager Chang Mei-feng (常梅峰), company quality management division director Tsai Chun-yung (蔡俊勇) and Vietnam-based oil manufacturer Dai Hanh Phuc Co proprietor Yang Chen-yi (楊振益), who is Taiwanese, are being held after a request from the Changhua District Prosecutors' Office.
"The Changhua District Prosecutors' Office sought the three men's detention on charges of obtaining money by false pretense, forgery and violating the Act Governing Food Safety and Sanitation (食品安全衛生管理法)," Changhua District Court spokesman Lee Ching-ching (李進清) told reporters yesterday after the detention hearing.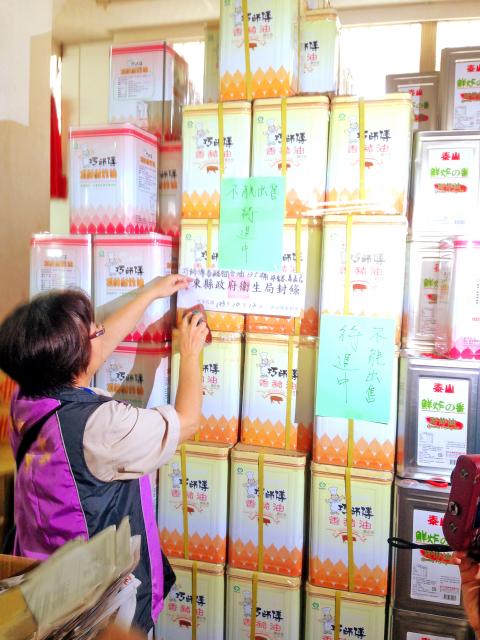 A Pingtung County Government Department of Health official seals stored edible oils supplied by Ting Hsin International Group at a company site in Pingtung County yesterday.
Photo: Lo Hsin-chen, Taipei Times
Lee said the judge decided to place the suspects in incommunicado detention because there could be other potential accomplices and that the suspects are considered to be at risk of committing crimes if they are released.
Prosecutors said they suspect that Yang knowingly gave fake product certificates created by a local notary to Ting Hsin Oil for his company's animal feed oil, but that Chang and Tsai continued to purchase oil from Yang, despite knowing that the certificates were fake.
"We do not rule out the possibility that higher levels of management at Ting Hsin Oil also knew about [the illegal dealing]. If necessary, we will summon [former] Ting Hsin Oil chairman Wei Ying-chun (魏應充) for questioning," prosecutors said.
Instant noodles from Ting Hsin International remain unsold at a store in Taipei yesterday.
Photo: CNA
The Chiayi District Prosecutors' Office later yesterday also requested that Yung Cheng Oil Co owner Tsai Chen-chou (蔡鎮州) be detained, citing concerns that he could destroy evidence showing that his company sold animal feed oil to Hsin Hao Co, which is suspected of supplying questionable oil to Cheng I Food Co.
The court complied with the additional detention request last night, prosecutors said.
Ting Hsin Oil, a subsidiary of the Ting Hsin International Group (頂新集團), produced and sold 54 lard and lard-based edible oil products, and some or all of them might have contained animal feed oil.
Separately yesterday, the FDA released a list of six food products that were found to have been manufactured with the 54 kinds of Ting Hsin Oil lard-based products potentially contaminated with animal feed oil.
Four of the food items were produced by food and seasonings manufacturer Ve Wong Corp (味王) and two were from Kuai Kuai Co (乖乖), a popular snack brand among young children.
"The list is expected to get much longer as the administration and local health authorities' investigation proceeds," FDA Interim Director-General Chiang Yu-mei (姜郁美) told a press conference.
Ting Hsin Oil had acquired a total of 3,216 tonnes of lard from Dai Hanh Phuc since 2012 — including 871 tonnes this year — which were falsely labeled as "fit for human use" by a local notary, according to data provided by the Food and Drug Administration (FDA).
The FDA estimates that Ting Hsin Oil produced a total of 3,646 tonnes of lard-based oil possibly contaminated with animal feed oil last year and this year.
As for the latest developments on the oil scandal involving Cheng I Food Co (正義股份), another subsidiary of Ting Hsin International Group, FDA Northern Center for Regional Administration Director Feng Jun-lan (馮潤蘭) said as of 3pm yesterday, about 272 tonnes of Cheng I's potentially tainted oil or foodstuffs made from it have been pulled off shelves.
"So far, 222 types of food products from 56 companies have been found to be tainted with Cheng I's adulterated oil," Feng said.
Feng said the deadline for all tainted products to be removed from nationwide shelves was yesterday midnight, adding that stores that failed to comply could face a fine ranging from NT$60,000 to NT$50 million (US$2,000 to US$1.6 million).
Among the 56 entities affected are Ve Wong Corp, I-Mei Foods Co (義美食品), Laurel Enterprises Co (桂冠實業), Chinese fast-food chain Dicos, Taipei hotel Four Points by Sheraton, Wei Chuan Food Corp (味全) and 124-year-old bakery chain Jiu Zhen Nan (舊振南).
Comments will be moderated. Keep comments relevant to the article. Remarks containing abusive and obscene language, personal attacks of any kind or promotion will be removed and the user banned. Final decision will be at the discretion of the Taipei Times.