Greater Kaohsiung mayor hits back at Ma's allegations
President Ma Ying-jeou's (馬英九) comments that allegedly made fun of Greater Kaohsiung were unfair criticism, due to inappropriate central government planning and lack of central government funding for the municipality, Greater Kaohsiung Mayor Chen Chu (陳菊) said yesterday on Facebook.
Chen's comments were in response to Ma's speech on Wednesday in support of the Chinese Nationalist Party's (KMT) candidate for the city's mayoral election, Yang Chiu-hsing (楊秋興), in which Ma said that Chen's administrative team lacked the will to promote the Mass Rapid Transit (MRT) system in Greater Kaohsiung.
Ma said that Kaohsiung residents prefer riding scooters to taking the MRT, which explains why their life expectancy is four years less than that of residents of Taipei, because taking the MRT reduces exposure to air pollution and the chance of traffic accidents.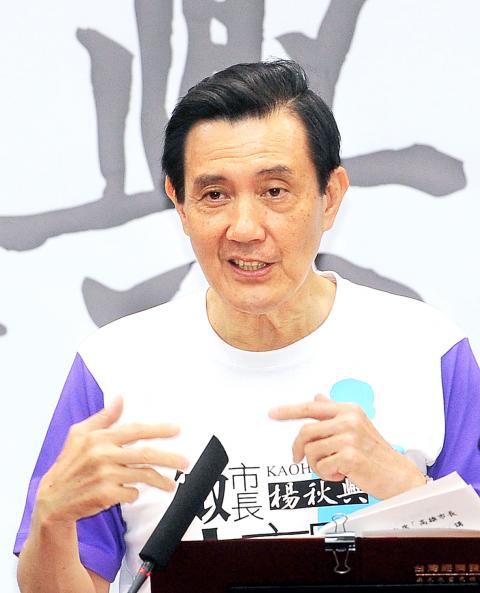 President Ma Ying-jeou said on Wednesday that Kaohsiung residents prefer riding scooters to taking the MRT, which explains why their life expectancy is four years less than that of residents of Taipei.
Photo: Taipei Times
Ma also said that the severe flooding Kaohsiung experienced in 2008 was due to the city not conforming to central government policy to build flood gates, adding that Chen has yet to show her concern over affairs involving the recent Kaohsiung gas pipeline explosions.
Greater Kaohsiung Information Bureau Director-General Ting Yun-kung (丁允恭) said that while it was not unexpected that Ma would stump for his party's mayoral candidate, the municipality could not accept distortions of the truth.
The gas pipeline explosions are a sensitive subject for Kaohsiung, and Ma's comments and use of it as a tool to campaign for the upcoming elections is not only unbecoming of his position, but also shaming the residents of Greater Kaohsiung, he said.
The explosions killed 30 people and injured more than 300 on the night of July 31 and the morning of Aug. 1, and caused multiple businesses in the affected areas to go temporarily out of business due to extensive damage to the infrastructure.
Democratic Progressive Party (DPP) legislators representing the municipality yesterday also complained and said Ma was citing information from the year 2000.
At that time Chen had not yet been elected as mayor, the legislators said, adding that Ma's comments had however hurt Vice President Wu Den-yih (吳敦義), who had been mayor of then-Kaohsiung City from 1990 to 1998.
DPP Legislator Lee Kun-tse (李昆澤) said the ground under Taipei is filled with MRT tunnels, while Kaohsiung is riddled with underground fuel lines, and that the KMT is responsible for blocking attempts to build more MRT lines.
The KMT government has long been slighting Kaohsiung, Lee said, adding that he did not see how Ma still had any grounds to criticize the municipality.
DPP Legislator Chen Chi-mai (陳其邁) referred to an earlier photograph of former Executive Yuan secretary-general Lin Yi-shih (林益世) taking Ma campaigning on his scooter.
Lin was forced to transport Ma on his scooter because there was no MRT in Kaohsiung's Gangshan District (岡山) at the time, Chen Chi-mai said.
Chen Chi-mai also said that the primary contributors to Kaohsiung's pollution were all state-owned industries — China Steel Corp (CSC, 中鋼), CPC Corp, Taiwan (CPC, 中油) and Taiwan Power Co (Tai-power, 台電).
KMT spokesperson Charles Chen (陳以信) responded by saying that the DPP was misquoting information and criticizing the nation's head of state on trumped-up charges.
Ma's original intent was to remind Kaohsiung that it could do better and should place the lives of its residents higher on its list of priorities, Charles Chen said, adding that Ma's call was an effort to promote public transport and reduce air pollution.
Additional reporting by Tseng Wei-chen
Comments will be moderated. Keep comments relevant to the article. Remarks containing abusive and obscene language, personal attacks of any kind or promotion will be removed and the user banned. Final decision will be at the discretion of the Taipei Times.