HK protest numbers dwindle while talks make slow progress
Small groups of pro-democracy demonstrators remained on Hong Kong's streets yesterday, after protest leaders agreed to talks with the government and some students returned to school for exams.
Talks between the government and student leaders are progressing at a snail's pace, although even protest leaders are now acutely worried that further disruption could alienate supporters.
The mass protests for fully free elections have brought parts of the territory to a standstill for more than a week and while many remain supportive of the movement, they also want to resume their daily lives.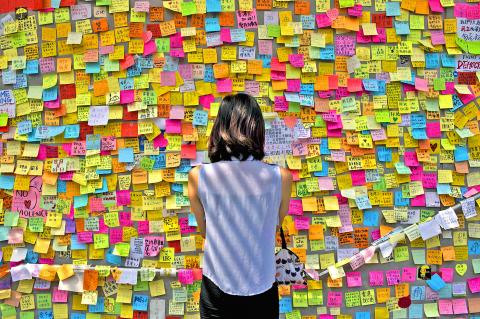 A woman looks at messages of support for the pro-democracy movement in Hong Kong, as protesters blocked areas around government headquarters yesterday.
Photo: Reuters
A second round of "preparatory talks" was held late on Monday night in a bid to set conditions for formal negotiations. Students had already agreed to talks with Hong Kong Chief Secretary Carrie Lam (林鄭月娥), but called them off on Friday after what they described as "organized attacks" on protesters at the Mong Kok demonstration site.
Yet a Hong Kong delegate to China's National People's Congress said the protests could not overturn Beijing's August decision to vet candidates for the territory's 2017 leadership elections.
"I don't see why the National People's Congress Standing Committee would change its decision... It was a nationwide decision and the decision has to face the country's 1.3 billion people," Rita Fan (范徐麗泰) told reporters.
Yesterday was another day of traffic mayhem, with diversions causing jams and commuter frustration, and the reopening of primary schools adding to the chaos.
The few protesters that remain are still determined to make their point, though unsure of the result.
"To be honest, I don't have confidence that we can succeed, but whether we succeed or not, I am giving my best. I also learned that we can speak out when it is needed," said Dickson Yeung, 20.
Demonstrator numbers grew throughout the day, but remained low at protest sites as well as outside the central government offices. Yet despite dwindling crowds, today's opening of the Legislative Council was postponed to next week.
"I am not assured that there is a quiet and safe environment in the surroundings for a meeting to be held," Legislative Council President Jasper Tsang (曾鈺成) said.
Pro-democracy lawmakers slammed the cancelation.
"You can't dodge it forever. Even if you postpone it for three weeks, public anger will not go away," Civic Party leader Alan Leong (梁家傑) told reporters.
Comments will be moderated. Keep comments relevant to the article. Remarks containing abusive and obscene language, personal attacks of any kind or promotion will be removed and the user banned. Final decision will be at the discretion of the Taipei Times.