HK protesters demand chief steps down
CONTAGIOUS DISSENT: In a worrying sign for Beijing, the protests spread to Macau yesterday, while thousands also gathered at Liberty Plaza in Taipei
Thousands of pro-democracy protesters thronged the streets of Hong Kong yesterday, some of them jeering China's National Day celebrations, while students threatened to ramp up demonstrations if the territory's pro-Beijing leader did not step down.
There was little sign of momentum flagging on the fifth day of the "Occupy Central" protest, whose aim has been to occupy sections of the territory, including around the Central financial district, in anger at a Chinese decision to limit voters' choices in a 2017 leadership election.
Many had feared police would use force to move crowds before yesterday's celebrations marking the anniversary of the foundation of the People's Republic of China in 1949. Those fears proved unfounded and police stayed in the background.
A woman holds a placard at one of the pro-democracy protest sites in Hong Kong yesterday.
Photo: AFP
The crowds have brought large sections of the Asian financial hub to a standstill, disrupting businesses from banks to jewelers. There were no reports of trouble yesterday, but witnesses said the number of protesters swelled in the evening.
Student leader Lester Shum (岑敖暉) issued an ultimatum to Hong Kong Chief Executive Leung Chun-ying (梁振英): Step down or else face wider protests.
"We will escalate the action if C.Y. Leung doesn't resign by tonight or tomorrow night. We will occupy more government facilities and offices," Shum told reporters, without elaborating. "I believe the government is trying to buy more time. They want to use tactics, such as sending some people to create chaos, so that they would have a good reason to disperse the crowd."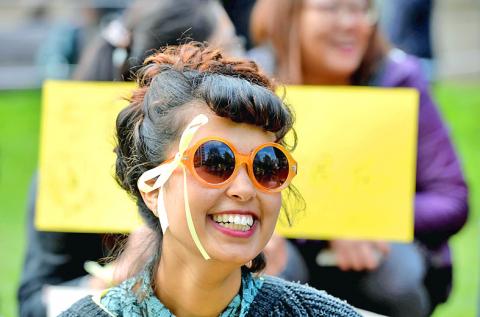 A protester smiles in Melbourne, Australia, yesterday at a silent demonstration to show support for the pro-democracy movement in Hong Kong.
Photo: AFP
Riot police had used tear gas, pepper spray and baton charges at the weekend to try to quell the unrest, but tensions have eased since then as both sides appeared ready to wait it out, at least for now.
The protests are the biggest in Hong Kong since China resumed its rule of the former British colony in 1997. They pose one of the biggest political challenges for Beijing since it violently crushed pro-democracy protests in Tiananmen Square in 1989.
A government source with ties to the chief executive said Leung and his advisers planned to soften their approach.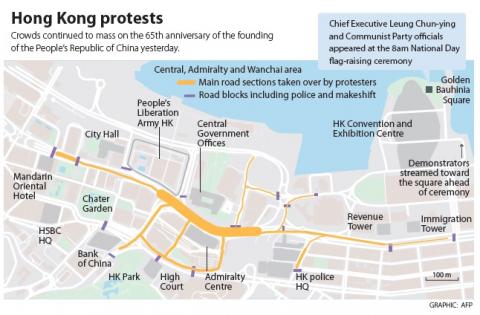 "It may take a week or a month, we don't know. Unless there's some chaotic situation, we won't send in riot police... we hope this doesn't happen," the source said.
China has dismissed the protests as illegal, but in a worrying sign for the Chinese Communist Party leadership in Beijing, the pro-democracy protests have spread to neighboring Macau.
Yesterday, the Hong Kong demonstrations moved into Tsim Sha Tsui, a shopping area popular with mainland Chinese visitors. It would normally be doing roaring trade during the National Day holiday.
Underlining nervousness among some activists that provocation on National Day could spark violence, protest leaders urged crowds not to disturb the flag-raising ceremony on the Victoria Harbour waterfront.
The event went ahead peacefully, although scores of students who ringed the ceremony at Bauhinia Square booed as the national anthem was played.
A beaming Leung shook hands with supporters waving the Chinese flag, even as protesters who want him to stand down chanted: "We want real democracy."
"We hope that all sectors of the community will work with the government in a peaceful, lawful, rational and pragmatic manner... and make a big step forward in our constitutional development," Leung said in a speech.
Rights groups said that a number of mainland Chinese activists supporting the protests had been detained or intimidated by police.
Mainland Chinese visiting Hong Kong had differing views on the demonstrations.
"For the first time in my life, I feel close to politics," said a tourist from Beijing surnamed Yu. "I believe something like this will happen in China one day."
However, a woman surnamed Lin, from the southern Chinese city of Shenzhen, said the protesters' demands for a democratic election were "disrespectful to the mainland."
"Even though the government has brought a lot of development to Hong Kong, they don't acknowledge this," Lin said.
Comments will be moderated. Keep comments relevant to the article. Remarks containing abusive and obscene language, personal attacks of any kind or promotion will be removed and the user banned. Final decision will be at the discretion of the Taipei Times.