China dismisses claim it breached Taiwan airspace
'ROUTINE FLIGHT': China said in a statement 'there was no occurrence of any abnormality' after Taiwan had to scramble fighters to intercept two of its planes
China has rejected Taiwan's claim that two Chinese military aircraft had breached Taiwan's air defense identification zone four times, saying that it was a "routine flight" in "the relevant airspace."
Taiwanese fighter jets were scrambled on Monday to intercept two Chinese military aircraft, which were identified as Yun-8 transport aircraft, and the Chinese planes left without incident, Air Force Combat Command Chief of Staff Major General Hsiung Hou-chi (熊厚基) told a news conference in Taipei on Tuesday.
"Our military aircraft carried out a routine flight on the 25th in the relevant airspace, there was no occurrence of any abnormality," the Chinese Ministry of National Defense said in a faxed statement late on Tuesday.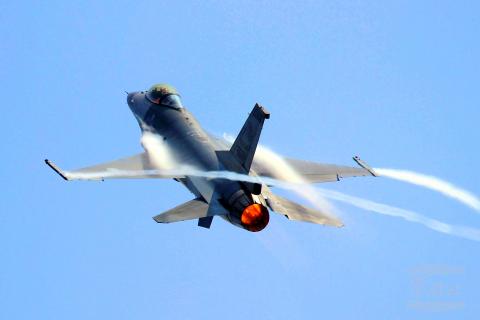 A handout photo made available by the Military News Agency on Tuesday shows a Taiwan Air Force F-16 fighter jet flying over the Ching Chuan Kang Air Base in Taichung, western Taiwan, 17 August. On Tuesday, Taiwan Air Force confirmed that China`s warplanes entered Taiwan air space twice on Monday on their way to the South China Sea.
Photo: EPA
The incident risks hurting relations between China and Taiwan.
While relations have improved under President Ma Ying-jeou (馬英九), deep political and military suspicions remain.
The breach of Taiwanese air space comes a week after the Pentagon lodged a diplomatic complaint with China about the conduct of a Chinese fighter jet, which it said came within meters of a US Navy patrol plane near Hainan Island.
China has said the criticism was groundless and its pilot maintained a safe distance from the US plane.
Additional reporting by staff writer
Comments will be moderated. Keep comments relevant to the article. Remarks containing abusive and obscene language, personal attacks of any kind or promotion will be removed and the user banned. Final decision will be at the discretion of the Taipei Times.