UN says MH17's downing may constitute war crime
The downing of Malaysian airliner MH17 may constitute a war crime, the UN said yesterday, as explosions and fighting blocked a new attempt by Dutch and Australian police to reach the crash site in insurgent-held east Ukraine.
The unarmed international mission was forced to turn around as heavy bombardment rocked towns close to the site, where the remains of some of the 298 victims still lie more than 10 days after the disaster.
Ukraine's military confirmed that its forces were engaged in fierce battles against rebels nearby, saying its troops had entered into towns including Shakhtarsk, just 10km away.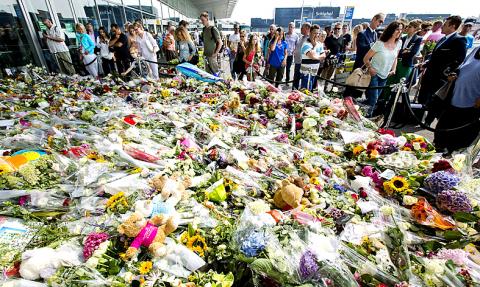 Travelers stop to view the thousands of floral tributes placed in memory of the victims of Malaysia Airlines flight MH17 at Schiphol Airport, near Amsterdam, the Netherlands, on Sunday.
Photo: EPA
More than 1,100 people have been killed in the violence engulfing east Ukraine in the past three months, the UN said, a toll that does not include the nearly 300 crash victims.
UN High Commissioner for Human Rights Navi Pillay condemned the "horrendous shooting down" of the Malaysian passenger jet in rebel-held territory, and demanded a "thorough, effective, independent and impartial investigation."
"This violation of international law, given the prevailing circumstances, may amount to a war crime," she said.
The Red Cross has said Ukraine is now in civil war — a classification that would make parties in the conflict liable to prosecution for war crimes.
The West has accused rebels of shooting down the plane using a missile system that Washington believes was supplied by Russia.
However, a Dutch-led investigation into the crash has made little headway due to the intensifying fighting in the insurgent-held zone.
A reporter in Shakhtarsk said artillery fire could be heard in the town and plumes of black smoke billowed into the sky, while a car was seen driving away with the sign "children" written in red on its front and back.
A couple was also seen leaving the town on foot with a young boy, as the woman shouted: "Let's go, let's go."
The Ukrainian military confirmed that its forces "had entered into" Shakhtarsk and nearby Torez, and that "battles were continuing for the complete liberation" of the town of Snizhne.
If Kiev regains control of these locations, it could cut off access to the main rebel bastion Donetsk from the border with Russia, which stands accused by the West of funneling arms to the insurgents.
Comments will be moderated. Keep comments relevant to the article. Remarks containing abusive and obscene language, personal attacks of any kind or promotion will be removed and the user banned. Final decision will be at the discretion of the Taipei Times.