Yeh, Chao face charges of corruption
BRIBERY AND GRAFT: Former Taoyuan County deputy commissioner Yeh Shih-wen, in whose house millions in cash was found, allegedly took bribes from developers
Former Taoyuan County deputy commissioner Yeh Shih-wen (葉世文) and Farglory Land Development Co (遠雄建設) chairman Chao Teng-hsiung (趙藤雄), one of Taiwan's most successful real-estate tycoons, were indicted yesterday on corruption charges involving two government-sponsored low-cost housing projects, prosecutors said.
In addition to Yeh and Chao, who have been detained for nearly two months, three other suspects are facing related charges. One of the three is alleged to have played the part of intermediary and has been cooperating with prosecutors.
Prosecutors said that during the investigation into one of the cases, Chao admitted paying a bribe of NT$16 million (US$532,561) to Yeh through the intermediary to win a NT$1.3 billion construction contract in the northern county in April.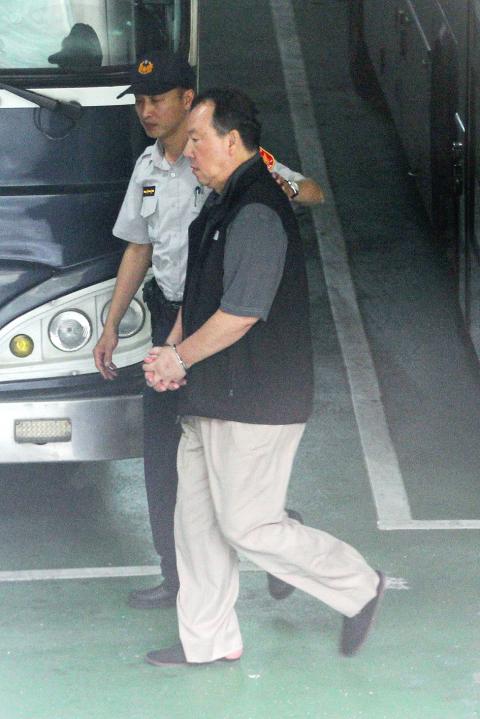 Former Taoyuan County deputy commissioner Yeh Shih-wen, front, is being escorted by police in this undated photo. Yeh has been charged by the Taipei District Prosecutors Office with accepting bribes in connection to an affordable housing project in Taoyuan County's Bade City.
Photo: CNA
Yeh, 66, is also being investigated for possible bribe-taking in two other development projects.
He was head of the Construction and Planning Agency (CPA) under the Ministry of the Interior, where he allegedly earned a reputation for questionable ethics, before being appointed Taoyuan County deputy commissioner in July last year.
He was sacked on May 30, when investigators conducting searches at his home and office found cash worth millions of dollars.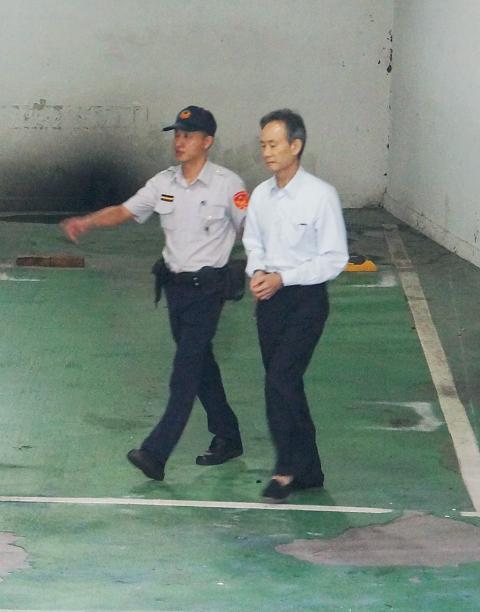 Farglory Land Development Co chairman Chao Teng-hsiung, right, is escorted by a police officer to a hearing at the Taipei District Prosecutors Office in Taipei yesterday morning.
Photo: Chien Lee-chung, Taipei Times
Yeh, Chao, former National Taipei University of Technology Professor Tsai Jen-hui (蔡仁惠) and Farglory vice president Wei Chun-hsiung (魏春雄) were indicted under the Anti-Corruption Act (貪污治罪條例).
The indictment said Chao has never thought about giving back to society despite using what is the equivalent of social funds and thought only to bribe county officials and seek personal profit. It added that to date he has only said that he is unaware of, or he does not remember, crucial details of the alleged dealings.
The prosecutors recommended that the court give Chao a heavier sentence due to him having shown no sign of being contrite over his actions.
As far as Yeh is concerned, the indictment said he has betrayed the state's trust in him after it placed him in a position of power.
A man who had been the Construction and Planning Agency head and later became a deputy county commissioner should have displayed greater self-control and ethics, the indictment said.
Yeh has forgotten the responsibilities of his office and has also abused the power entrusted to him by the public when he asked Far Glory for bribes totaling NT$59.5 million, it added.
By asking for bribes Yeh has caused Far Glory to attempt to recoup those losses from housing prices and has severely damaged the sterling image of incorruptible civil servants in the public's mind, as well as their trust in government employees, it said.
Prosecutors asked the court to give Yeh a heavier sentence.
The prosecutors asked the court to grant Tsai immunity for cooperating with the authorities in their investigation into the alleged crimes.
A fifth person, Yeh's girlfriend, Chen Li-ling (陳麗玲), was named as the former official's co-defendant for allegedly using undue influence to blackmail a developer into an agreement to give them free furniture worth NT$7.5 million when they bought a house.
Yeh is facing another charge, also under the Anti-Corruption Act, of having NT$30 million in his possession of which he could not give a credible account.
Yeh may have pocketed a total of nearly NT$100 million in illegal gains, the prosecutors said.
Chao was late yesterday granted bail of NT$30 million, but at the time of going to press it was not clear whether he had been released.
Comments will be moderated. Keep comments relevant to the article. Remarks containing abusive and obscene language, personal attacks of any kind or promotion will be removed and the user banned. Final decision will be at the discretion of the Taipei Times.