Israel intensifies ground offensive, civilian deaths rise
Israel yesterday stepped up its land offensive in Gaza with artillery, tanks and gunboats, and warned it could "significantly widen" an operation Palestinian officials said was killing ever greater numbers of civilians.
Palestinian health officials said 27 Palestinians, including a baby, two children and a 70-year-old woman, had been killed since Israel sent ground forces into the densely populated strip of 1.8 million Palestinians on Thursday.
The Israeli military said it killed 17 Palestinian gunmen, while 13 surrendered and were taken for questioning after the infantry and tank assault began in the Islamist Hamas-dominated territory.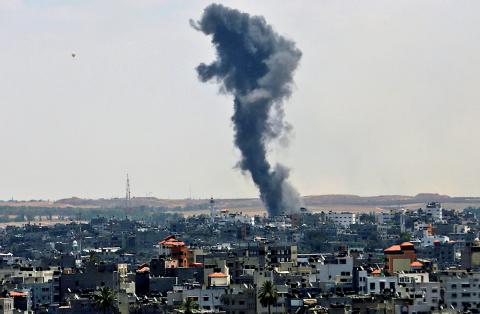 Black smoke rises from an explosion after an attack by Israeli aircraft in the east of Gaza City, Gaza Strip, yesterday.
Photo: EPA
One Israeli soldier was killed and several others were wounded in the operations, in which some 150 targets, including 21 concealed rocket launchers and four tunnels, have been attacked, the military said.
The land advance followed 10 days of barrages against Gaza from air and sea, hundreds of rockets fired by Hamas into Israel and failed Egyptian attempts to secure a ceasefire.
Rocket salvoes, many of them intercepted by the Iron Dome anti-missile shield system, continued yesterday against southern Israel, police said, causing no casualties.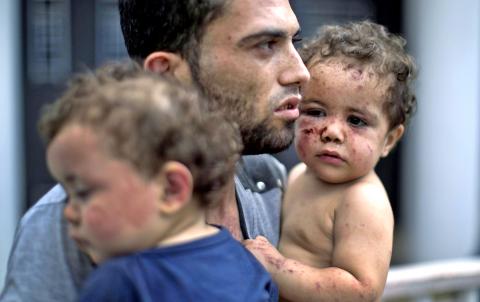 A Palestinian man holds his daughters, Shada and Lama al-Ejla, who were injured in an Israeli tank attack, as he leaves al-Shifa hospital yesterday in Gaza City.
Photo: AFP
"We chose to start this operation after we exhausted other options and reached the conclusion that without it we could pay a much higher price," Israeli Prime Minister Benjamin Netanyahu told reporters before a special Cabinet session at Tel Aviv military headquarters. "The main goal is to restore quiet."
"My instructions ... to the Israeli army, with the approval of the security Cabinet, is to prepare for the possibility of a widening, a significant widening of the ground operation," he said.
He did not say what form a broadened offensive might take. Israel says its forces have focused so far on seeking out tunnels Palestinian militants might use for cross-border raids.
One such infiltration was narrowly thwarted on Thursday, with the army saying it had repelled 13 Hamas gunmen after they emerged from a tunnel close to an Israeli farming community.
To back up regular forces, Israel said it was calling up 18,000 military reservists, adding to 30,000 already mobilized.
Hamas spokesman Sami Abu Zuhri responded with defiance to the Israeli escalation.
"Netanyahu is killing our children and will pay the price. The ground invasion doesn't frighten us and the occupation army will sink in Gaza's mud," he said.
Hamas wants Israel and Egypt, whose military-backed government is at odds with the Palestinian Islamists, to lift border restrictions that have deepened Gaza's economic hardship and unemployment.
Pope Francis yesterday telephoned Israeli President Shimon Peres and West Bank-based Palestinian President Mahmoud Abbas to express his "very grave concerns" over the conflict in Gaza, the Vatican said.
"A small group of fanatics are the cause of suffering in Gaza. Israel is doing everything to lower the flames and minimise civilian casualties," Peres replied, according to a statement from the president's office.
In all, 260 Palestinians, most of them civilians, have been killed since the fighting, which has destroyed or damaged hundreds of homes, began on Tuesday last week, Gaza officials said.
Comments will be moderated. Keep comments relevant to the article. Remarks containing abusive and obscene language, personal attacks of any kind or promotion will be removed and the user banned. Final decision will be at the discretion of the Taipei Times.