Israel pledges new truce today, but Hamas disagrees
Israel yesterday said it had agreed on a truce with Hamas to end 10 days of violence in Gaza, although the reported deal was denied by the Islamist movement.
News of a fresh attempt to end the worst bloodshed in the Gaza Strip in five years came during a five-hour humanitarian truce, under which both Israel and Hamas militants had agreed to hold their fire.
As relative calm returned to the skies over Gaza for the first time since Tuesday last week, Palestinian President Mahmoud Abbas was due to meet with his Egyptian counterpart, Abdel-Fattah al-Sisi, as Cairo pushed regional efforts to broker a new ceasefire deal. An earlier Egyptian attempt to end hostilities collapsed on Tuesday, with Hamas claiming it had not been included in the negotiations.
Palestinians carry the body of Hamas militant Basheer Abeda'll, who medics said was killed by an Israeli air strike that took place before a five-hour humanitarian truce, during his funeral in Rafah in the southern Gaza Strip yesterday.
Photo: Reuters
Speaking on condition of anonymity, an Israeli official said the Jewish state and Hamas "have agreed on a ceasefire" that would begin at 3am GMT today.
However, Hamas shot down the report.
"The news about a ceasefire is incorrect. There are continuing efforts, but no agreement until now," Hamas spokesman Sami Abu Zuhri said in Gaza.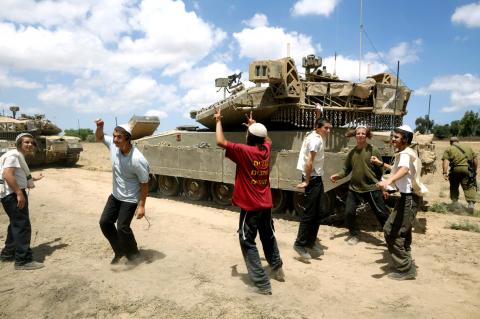 Young Orthodox Jews yesterday dance to support the soldiers at an army deployment area near Israel's border with the Gaza Strip.
Photo: AFP
Despite the diplomacy, there seemed little appetite from either side to end their confrontation, which has so far claimed the lives of 231 people in Gaza and one person in Israel.
During the five-hour humanitarian lull, which had been requested by the UN, militants in Gaza fired three mortar shells at southern Israel. And shortly after it ended at 12pm GMT, another Gaza rocket crashed near the southern port city of Ashkelon, the army said.
In a separate incident, an Israeli soldier was lightly injured by an explosion near the fence, with the army firing back across the border, the army said.
The two sides had agreed to temporarily suspend hostilities, with a senior UN official saying the Kerem Shalom crossing in southern Gaza would be opened to allow in medical aid. It also gave Gazans a chance to leave their homes and stock up on supplies, or pick up belongings from homes which they had evacuated.
In Gaza City, the streets immediately filled with honking cars and traffic jams, and outside banks, hundreds of people massed by ATMs to withdraw money to buy supplies.
"It's not enough. People need to go out and get supplies and to get their belongings. It should have been from 7am until dusk," Mohamed Nasr said.
"We've been stuck in our houses during this war, because of the violence. It's like living under curfew," he said.
Just moments before the humanitarian truce began at 7am GMT, Israeli tank fire killed three people in southern Gaza, Palestinian medics said.
The Israeli army also foiled a "major terror attack" by a group of 13 militants who managed to enter southern Israel by tunnel and were seen heading toward Sufa kibbutz near the fence, Israeli army spokesman Lieutenant Colonel Peter Lerner told reporters.
They were targeted in an air strike, which killed one and sent the others fleeing back into the tunnel, he said.
The raid was claimed by Hamas, which said its militants had carried out a successful "mission" into Israel.
Comments will be moderated. Keep comments relevant to the article. Remarks containing abusive and obscene language, personal attacks of any kind or promotion will be removed and the user banned. Final decision will be at the discretion of the Taipei Times.