HK leader seeks 'patriotic' reform in paper to China
Despite recent mass pro-democracy protests, Hong Kong Chief Executive Leung Chun-ying (梁振英) yesterday called for limited electoral change in the territory, saying in a report to China that voters want a "patriotic" chief executive.
Discontent has flared in the semi-autonomous territory over what is seen as increasing interference by Beijing, notably its insistence that it vet candidates before the next leadership election in 2017.
In the report submitted to China's National People's Congress (NPCSC), or parliament, Leung said that "there is a need to amend the method for selecting the CE [chief executive] in 2017 in order to attain the aim of universal suffrage."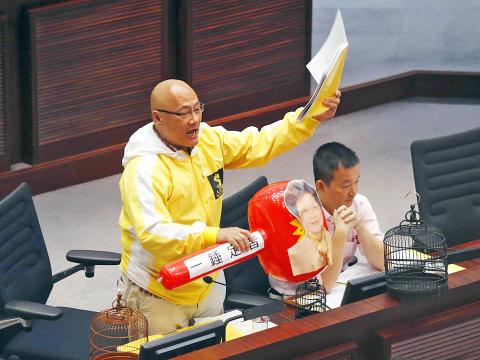 Pro-democracy lawmaker Albert Chan shouts while holding an electoral reforms consultation report and a plastic hammer featuring a portrait of Hong Kong Chief Secretary Carrie Lam, during a meeting with Lam on proposing electoral reforms at the Legislative Council in Hong Kong yesterday.
Photo: Reuters
Leung said universal suffrage in the 2017 poll "will be an important milestone of the democratic development of Hong Kong's political system, with significant real impact and historic meaning."
Currently, the leader is chosen by a 1,200-strong pro-Beijing committee. China says voters can elect the next chief executive, but candidates must be picked by a nominating committee, raising fears among democracy advocates that only pro-Beijing figures will be allowed.
Saying he was citing findings of an official public consultation period on reform, Leung's report said "mainstream opinion" was that a nominating committee should choose candidates, in line with the city's mini-constitution, known as the Basic Law.
Reflecting another Chinese stipulation, he added that "the community generally agrees that the CE should be a person who 'loves the Country and loves Hong Kong.'"
He later told a news conference that the difficulties in forging a local consensus were not to be underestimated, but said: "Hong Kong people are rational and pragmatic."
"What is important is that if the international standards do not comply with the Basic Law and the decisions of the NPCSC we have to follow the Basic Law and the NPCSC decision," he said.
Pro-democracy activists are pushing for the public to select candidates, which China has ruled out.
The Occupy Central group and its allies have said that they will take over the territory's Central District if public nomination is refused.
An informal poll organized by Occupy last month saw almost 800,000 choose from three options, all of which included public nomination of candidates, while a a pro-democracy march on July 1 attracted tens of thousands.
Pro-democracy lawmaker Frederick Fung (馮檢基) said he felt "angry" about the report, which he said "does not fully reflect the yearnings of the Hong Kong people."
Democratic Party chairwoman Emily Lau (劉慧卿) told reporters: "Our fear is that if Beijing is misled by inaccurate information, then they may make some very wrong decisions," while activist Johnson Yeung (楊政賢) said the government had "ignored the huge consensus of Hong Kong people and ... selectively listened to opinions from the pro-government groups."
Leung insisted that the report reflected a variety of views.
He admitted there were divergent opinions on how the next leader should be elected, including "considerable views" that civil nomination should be included, but added that "professional bodies of the legal sector and other members of the public" had said that would not be in line with the Basic Law.
Leung's report has been sent to the NPCSC's Standing Committee, which meets next month and must approve any reforms.
There were angry scenes at the Hong Kong Legislative Council yesterday when the government's second-in-command, Hong Kong Chief Secretary of Administration Carrie Lam (林鄭月娥), announced the findings of the public consultation, which polled more than 120,000 individuals and groups.
Lawmaker Leung Kwok-hung (梁國雄) threw an inflatable hammer and a birdcage with the words "civil nomination" written in Chinese inside it at Lam.
Fellow legislator Albert Chan (陳偉業) ripped up a copy of the report, shouting "Fake report, fake consultation," as he was removed.
Outside, a handful of pro-democracy protesters were out-numbered by hundreds of elderly activists from pro-Beijing groups, many waving red Chinese national flags.
The submission of Leung Chun-ying's report is the first in a five-step process on electoral reform.
"The Standing Committee of the National People's Congress has final say on whether to revise the election methods of Hong Kong SAR's [special administrative region] chief executive in 2017 and its Legislative Council in 2016," the Xinhua news agency's Web site cited the Chinese parliament as saying yesterday after receiving the report.
Comments will be moderated. Keep comments relevant to the article. Remarks containing abusive and obscene language, personal attacks of any kind or promotion will be removed and the user banned. Final decision will be at the discretion of the Taipei Times.