Pingpu activists demand government recognition
Pingpu Aboriginal activists yesterday demanded that the government immediately grant official recognition to Pingpu tribes, saying that their aim is not to take a share of already scarce state resources allotted to Aboriginal matters, but to be recognized as Aborigines.
"We Pingpu Aboriginal tribes have our own cultures and languages. There's no reason for the Council of Indigenous Peoples to refuse to grant us official recognition as Aborigines," Taiwan Association for Rights Advancement for Pingpu Plains Aboriginal Peoples chairman Jason Pan (潘紀揚) of the Pazeh people told a news conference at the legislature yesterday.
Pan said the council has previously expressed concern that if granted recognition, Pingpu Aborigines may take too many resources from the other officially recognized Aboriginal groups, but stressed that "this is not the point."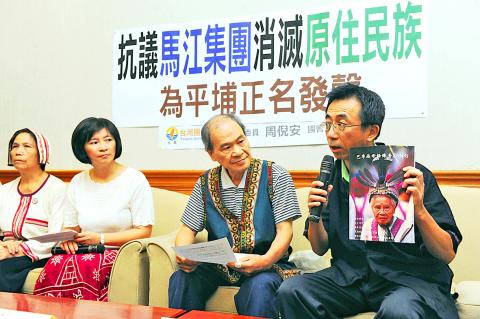 Jason Pan, right, chairman of the Taiwan Association for Rights Advancement for Pingpu Plains Aboriginal Peoples, speaks at a press conference in Taipei yesterday held by activists urging the Council of Indigenous Peoples to officially recognize Pingpus as Aborigines.
Photo: Lo Pei-der, Taipei Times
"We don't mean to take a share of the resources; we just want to be recognized for who we are," he said.
Pan said that despite the council's repeated promises to grant them official recognition, first made more than six years ago, nothing has been done so far.
Kaxabu Aborigine Pan Pao-feng (潘寶鳳) said the Kaxabu language is closely related to the language of the Saisiyat and the Atayal, which are both officially recognized Aboriginal communities.
"Linguistic studies show that the Kaxabus are part of the Austronesian family in Taiwan. It makes no sense that while Saisiyats and Atayals are recognized, we are not," Pan Pao-feng said.
"The Kaxabu language has been classified by UNESCO as an endangered language; the language and culture may eventually become extinct without an official status," Pan Pao-feng said.
The Pingpus are Aborigines who traditionally lived in the lowland areas of Taiwan.
Advocates say that their cultures and languages have been severely threatened through their close and frequent interaction with Han people, warning that many tribes having already lost their identities, while others, including the Siraya, Pazeh, Kaxabu and Ketagalan, are struggling to gain official status as Aborigines.
The council did not directly address the call for official recognition, but it issued a press statement defending the administrative practice to separate "Aborigines" and "Pingpus" as a historic one, since it has been in place since the Qing Dynasty.
It said that despite not granting Pingpus official recognition, the council has put a lot of effort into protecting and preserving their cultures and languages.
Comments will be moderated. Keep comments relevant to the article. Remarks containing abusive and obscene language, personal attacks of any kind or promotion will be removed and the user banned. Final decision will be at the discretion of the Taipei Times.