Keelung speaker vows to stay in race
MAYORAL AMBITION: Huang Ching-tai said he would mobilize city residents to support his staying in the campaign, one day after the KMT pulled his nomination
Keelung City Council Speaker Huang Ching-tai (黃景泰) yesterday said he would still run in the city's mayoral race, regardless of the Chinese Nationalist Party (KMT) withdrawing its nomination of him as its candidate.
The KMT had "failed to distinguish right from wrong," he said yesterday morning.
The party on Wednesday said it was withdrawing Huang's nomination after approving a member's motion calling for him to be replaced because of concern that his alleged involvement in corruption would damage the party's election prospects.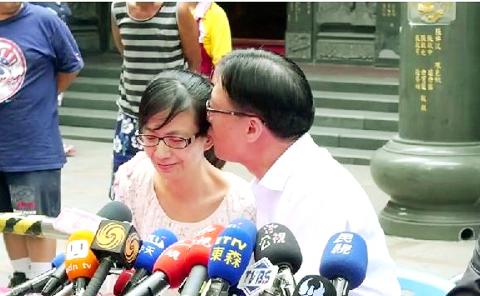 In this screengrab from a television news report, Keelung City Council Speaker Huang Ching-tai kisses his wife, Chen Chiu-ling, as he thanks her for her support at a press conference in Keelung yesterday.
Photo: Lu Hsien-hsiu, Taipei Times
It cited Huang's "tarnished reputation" and declining public support in several opinion polls.
Huang is facing allegations of influence peddling and bribery in a number of construction projects. He was released on NT$2 million (US$66,790) bail last month. If he had been detained, he could have lost his KMT membership.
However, Huang said he is determined to run for Keelung mayor "to help the pan-blue camp secure the only region that [could claim] victory in the Greater Taipei area."
"I am forever a friend of the KMT, and I want to voice my support for [KMT Taipei mayoral candidate] Sean Lien (連勝文), who is now behind in the polls," Huang said.
He said that he would "mobilize at least 50,000 voters" to offer their signatures in support of him continuing his campaign before noon on Friday next week.
"I have spent 20 years working for local residents and I believe the number of my supporters significantly exceeds the number of votes needed for a candidate to be elected," he said.
Huang also thanked prosecutors for "clarifying the source of the NT$5 million [cash found in his office] and the NT$2 million from the KMT, which were campaign funds from friends and political donations respectively."
"The influence peddling allegations have been misdirected, as it is unquestionable that representatives are supposed to, within legal bounds, safeguard people's rights," he said.
Asked whether he was upset about the KMT's decision, Huang accused the party of not being able to distinguish right from wrong and violating its own regulations on nominations and procedural justice.
He also called on the KMT to "be consistent in upholding its standards" — after reporters mentioned KMT Miaoli County commissioner candidate Hsu Yao-chang (徐耀昌), who has been sentenced to nine years in prison, and KMT Taitung County Commissioner Justin Huang (黃健庭), who is seeking re-election and against whom prosecutors are seeking a 10-year prison term.
KMT spokesperson Charles Chen (陳以信) responded to Huang Ching-tai's criticism by saying that there has been "no problem concerning the procedure [withdrawal of his nomination]."
Chen said the party's resolution was simply about the withdrawal, and did not "pertain to [his] party membership or his innocence."
"The party has never employed double standards when it comes to party discipline," Chen said. "Any member who has been found guilty of corruption will be punished."
However, Chen did not comment on Hsu's and Justin Huang's cases.
Meanwhile, Hsu said his case was "different from Huang Ching-tai's," and said the Keelung speaker had lost the party's nomination due to the KMT's evaluation of his election prospects.
"[Huang's] 18 percent support in the opinion polls cannot compare to my 56 percent," Hsu said.
The party is reportedly eyeing KMT Legislator Hsieh Kuo-liang (謝國樑) to run for Keelung mayor even though the lawmaker has said he has no intention to do so.
President Ma Ying-jeou (馬英九), who is also KMT chairman, summoned Hsieh for a talk yesterday. At press time, there was no further information about the meeting.
Comments will be moderated. Keep comments relevant to the article. Remarks containing abusive and obscene language, personal attacks of any kind or promotion will be removed and the user banned. Final decision will be at the discretion of the Taipei Times.