Sunflowers altered dynamics: Schriver
UNSWERVING: The Chinese president is creating a new agenda and set of activities leading to unification, a former US deputy assistant secretary of state for Asia said
The Sunflower movement's besieging of the Legislative Yuan in March and April has changed the dynamics of cross-strait relations, former US deputy assistant secretary of state for Asia Randall Schriver told a Washington conference on Friday.
Schriver, who last week in Beijing met with China's Taiwan Affairs Office Minister Zhang Zhijun (張志軍), said that China's "ultimate goal of unification" was not going to change.
All cross-strait trade and other agreements were "less meaningful" to Beijing than to Taipei and were always regarded as a means to an end, he said.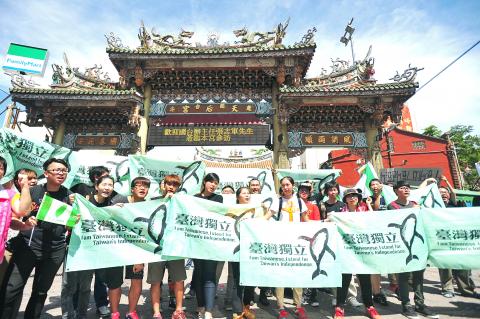 Members of Taiwan March hold up banners yesterday at Tianhou Temple in Changhua County's Lugang Township. China's Taiwan Affairs Office Minister Zhang Zhijun canceled a visit to the temple yesterday.
Photo: Liao Yao-tung, Taipei Times
Schriver said that Chinese President Xi Jinping (習近平) was in the process of creating a new agenda and set of activities leading to unification.
Currently the president of the Project 2049 Institute, Schriver said that he was basing his remarks on "impressions and feelings" he picked up in conversations with Zhang and other officials in Beijing.
In a conference on the Sunflower movement organized by the Formosan Association for Public Affairs (FAPA) and the Project 2049 Institute, Schriver predicted that China would try to make a breakthrough in the highly sensitive political area with Taiwan before the end of President Ma Ying-jeou's (馬英九) term in office.
At the same time, Beijing is carrying out "extensive groundwork" in preparation for dealing with the next Taiwanese president, Schriver said, be they from the Chinese Nationalist Party (KMT) or Democratic Progressive Party (DPP).
"I think China would be satisfied if at the end of Ma's term they could say a process had been agreed, meetings had started and there was conversation between the two sides on political issues," Schriver said.
He said that might sound "modest," but if talks were under way about political issues and the future status of the nation, it would be very significant to China.
"I believe they are preparing in a serious way to deal with a DPP government should it come about," Schriver said.
He said that Beijing had increased its contacts with the DPP and that he sensed it had developed "more of a comfort level" with the party and that there was an understanding that the DPP would return to power at some point.
"It's going to happen someday; it's inevitable, and they have to be prepared that it might be sooner rather than later," he said.
The former US Department of State official said should the DPP return to power, Beijing was also exploring policy areas and the substance of what might be possible.
Schriver said that he was "pretty sure" the military buildup on the Chinese side would continue even if cross-strait relations continued to improve.
Polls showed that Taiwanese were moving further away from China, he said, and Beijing viewed the Sunflower movement as evidence of that.
"Even if they don't want to say it aloud, I think that means the military buildup will continue," Schriver said.
On the US side, he said, there was some ambivalence.
"It is very important from the US perspective that Taiwan's democracy remains strong, healthy and vibrant. It is probably the most important reason that people care about Taiwan and want to support Taiwan," he said.
Schriver said the Sunflower movement was evidence of a strong democracy, but there was concern in Washington about what the movement would mean for the future of cross-strait relations.
"Rising tensions in the Taiwan Strait are not something we look forward to," Schriver said.
He said that if the movement made Beijing uncomfortable, causing it to respond in ways that increase tensions, "that would be problematic for the US."
The Sunflower conference was opened by FAPA president Mark Kao (高龍榮) who said that under the Ma administration, Taiwan seemed to be "drifting" toward China.
Even so, Patrick Cronin, senior director of the Asia program at the Center for a New American Security, said he had a "distinct sense" that Xi was growing increasingly impatient about Taiwan.
This week's visit to Taiwan by Zhang may not just be to find out how to win the hearts and minds of Taiwanese, but also to make sure that Beijing understands the Sunflower movement and that future activities do not come as a surprise.
"Beijing has zero tolerance for surprises from Taiwanese politics," Cronin said. "They have no interest in growing democratic reform right now and so Taiwan is a huge threat to China."
Cronin said it was too early to say if the Sunflower movement would have a lasting effect on security implications for Taiwan.
"Anything that moves away from China's core objectives is something that absolutely is not to be tolerated," he said.
There was nothing to suggest that China was going to invade Taiwan, but Beijing was not going to let up on the threat of military action, Cronin said.
He added that Taiwan needed to muster a credible asymmetric defense against growing Chinese capabilities and needed to convince China's People's Liberation Army that it would be very costly to launch a physical invasion of the nation.
"China is going to continue to put a stranglehold on Taiwanese politicians, whomever wins the next election," Cronin said.
He said that Xi wanted to accelerate a political framework deal with Taiwan, and then hold Ma's successor accountable to it.
"It leaves me very pessimistic about the security situation across the strait," Cronin said.
Schriver said China did not have unlimited patience, raising the risk of the use of force at some point.
Comments will be moderated. Keep comments relevant to the article. Remarks containing abusive and obscene language, personal attacks of any kind or promotion will be removed and the user banned. Final decision will be at the discretion of the Taipei Times.