Changhua police clear way for Zhang
INTIMIDATION? Police ordered people eating nearby a temple Zhang was scheduled to visit to leave and a group of men beat one protester before the visit was canceled
Protesters against China's Taiwan Affairs Office (TAO) Minister Zhang Zhijun (張志軍) yesterday said that police and "gangster-like people" tried to clear the way for Zhang's planned arrival at Lukang Tianhou Temple in Changhua County by setting off firecrackers, using violence and ordering customers to leave nearby eateries.
Zhang was scheduled to attend a ceremony to install a statue of Matsu from a temple in Kunshan in China's Jiangsu Province, which he promised last year to give to Changhua's Tianhou Temple as a gift to Taiwan. The ceremony was canceled at the last minute.
The square in front of the temple and the nearby streets, which are a popular tourist destination, were packed at about noon with tourists, as well as protesters against Zhang.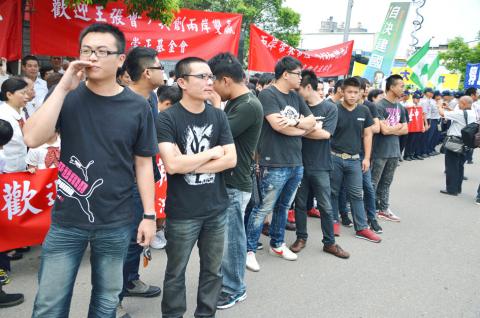 Men dressed in black are gathered outside Hui-ming School in Greater Taichung yesterday.
Photo: Chang Jui-chen, Taipei Times
People were asked by police officers to stay at a distance from the temple to allow clear passage for Zhang, who was scheduled to arrive at 1:50pm.
With a bloody face, a wound on his forehead and blood-stained clothing, Liang Po-chou (梁伯洲) told reporters at the square in front of the temple that he was assaulted by five or six people using steel blowpipes.
Liang said he was there with his father, Changhua County Councilor Liang Chen-hsiang (梁禎祥) of the Democratic Progressive Party, and other people trying to show Zhang posters with slogans against the cross-strait service trade agreement and slogans that the future of Taiwan is a matter for 23 million Taiwanese people to decide.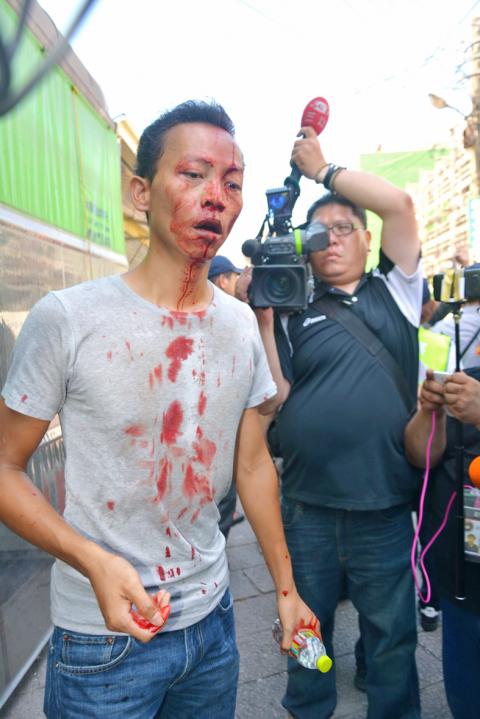 A bloodied Liang Po-chou, son of Democratic Progressive Party Changhua County Councilor Liang Chen-hsiang, talks to reporters in front of the Tianhou Temple in Lugang in Changhua County yesterday after he was assaulted by five or six people using steel blowpipes.
Photo: Chang Tsung-chiu, Taipei Times
The "gangster-like people" began beating him when he was trying to argue with executive officers of the temple because he was angry that they asked staff to set off firecrackers on the streets in an attempt to disperse people who refused to leave, Liang said.
Reporters were notified at about 1:30pm that Zhang's trip to the temple was canceled.
It followed the cancelation of two other stops scheduled earlier yesterday — a meeting with fishermen at Chienchen Fishing Port in Greater Kaohsiung and a visit to the Wufeng Lin Family Gardens (霧峰林家花園) in Greater Taichung, announced at 2:24am yesterday.
According to a source at the Mainland Affairs Council (MAC), the council had a midnight meeting with Zhang after his informal gathering with MAC Minister Wang Yu-chi (王郁琦) on Friday at the Sizihwan Sunset Beach Resort, where he was nearly splashed with paint by protesters, and decided to cancel the first two of yesterday's activities.
Zhang visited the Hui-ming Elementary School for the Blind in Greater Taichung at noon, where he had a chat with Taichung Mayor Jason Hu (胡志強), his only official meeting yesterday, before he headed to Taiwan Taoyuan International Airport.
During his stay in Taiwan, men with gang tattoos wearing black were seen on many occasions — when he arrived at Taoyuan airport on Wednesday and visited New Taipei City, Greater Taichung and Greater Kaohsiung. They appeared in groups holding banners and chanting slogans to welcome him before his arrival at events.
Yesterday, outside the Hui-ming Elementary School for the Blind several dozen black-clad men gathered who said that they belonged to a cross-strait pigeon-lovers' association.
They were called to move to Lukang Tianhou Temple after Zhang's arrival at the school.
Zhang delivered a short speech at the school.
He said he made a wish when he was at Fo Guang Shan Monastery (佛光山) on Friday and that he hoped that both sides of the Strait can resolve long-term issues gradually with "wisdom and familial affection and jointly make contribution to revival of the [Zhonghua] Minzu [中華民族; Chinese ethnic group]."
Comments will be moderated. Keep comments relevant to the article. Remarks containing abusive and obscene language, personal attacks of any kind or promotion will be removed and the user banned. Final decision will be at the discretion of the Taipei Times.