China respects Taiwan's choice: Zhang
'UNACCEPTABLE': Chen Chu said she told Zhang Zhijun that Taiwanese object to a comment by the TAO that Chinese have a say on Taiwan's future
China's top Taiwan policymaker yesterday said that Beijing respects the "social system and lifestyle" that Taiwan has "chosen" as well as the "values and ideas" Taiwanese have embraced, but stopped short of saying whether it also respects the right of Taiwanese to make their choices about the nation's future.
Taiwan and China have taken different paths in development, but they still share a common history, China's Taiwan Affairs Office (TAO) Minister Zhang Zhijun (張志軍) told reporters after his 40-minute closed-door meeting with Greater Kaohsiung Mayor Chen Chu (陳菊) at a hotel in the city.
"We understand that Taiwanese cherish the social system and lifestyle that they have chosen. The mainland [China] respects the social system, values, ideas and lifestyles Taiwanese have chosen," Zhang said when he gave the press a rundown of his conversation with Chen.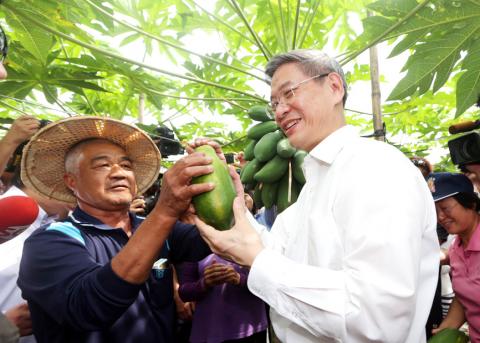 China's Taiwan Affairs Office Minister Zhang Zhijun, right, talks to a papaya farmer in Greater Kaohsiung yesterday.
Photo: CNA
Asked about Zhang's remarks at a separate setting, Chen relayed what Zhang said at their meeting.
"He [Zhang] was of the opinion that mainland China has repeatedly said on various occasions that it respects the lifestyle of the Taiwanese within the current liberal democratic system," she said.
Chen said she told Zhang that he should regard the protests he has encountered in Taiwan as "normal," because they are part of Taiwan's democratic system, adding that she appreciated Zhang's understanding of the situation.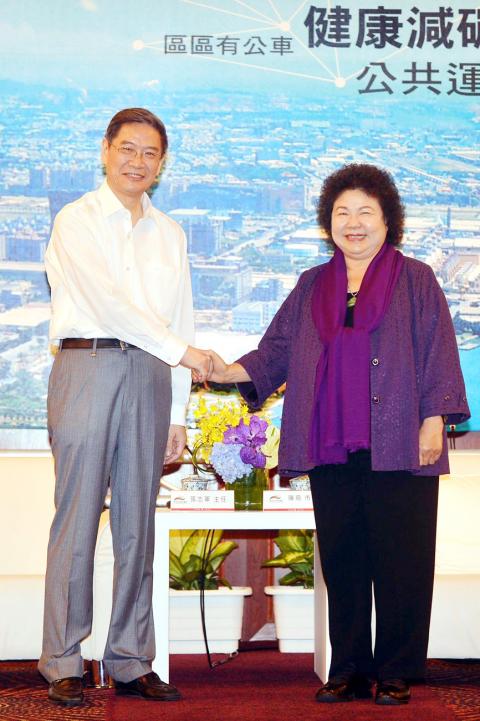 A handout picture released by the Greater Kaohsiung Government shows Greater Kaohsiung Mayor Chen Chu, right, shaking hands with China's Taiwan Affairs Office Minister Zhang Zhijun at their meeting in Kaohsiung yesterday.
Photo: AFP
Asked whether Zhang's remarks suggest that Beijing would revise the statement TAO spokesperson Fan Liqing (范麗青) made prior to Zhang's arrival — that the future of Taiwan should be decided by all Chinese, including "compatriots" in Taiwan — Chen said the question was not addressed at the meeting.
"But I told him that the recent remarks made by the TAO were not acceptable to the ruling and opposition parties in Taiwan," said Chen, a member of the Democratic Progressive Party.
Zhang's remarks echoed what Chinese President Xi Jinping (習近平) said in February when he met with former vice president and Chinese Nationalist Party (KMT) chairman Lien Chan (連戰) in Beijing.
Zhang also told reporters that Beijing welcomes people from all walks of life in Taiwan to engage in the peaceful development of cross-strait relations, regardless of which city or county they come from, and no matter what their political affiliation or religious beliefs are.
Asked about the prospects of the DPP conducting exchanges with Chinese authorities after Zhang's visit, Chen said: "What the future holds for us will take its course."
"What we need to do now is to foster mutual understanding and respect for each other," she said.
"As to whether there will be more high-level exchanges between the two sides, I can only say: Each side has extended an olive branch and is more likely to get to know each other," Chen said.
Several DPP members, including former legislator Julian Kuo (郭正亮), have sought to freeze the "Taiwan independence clause" in its charter to remove what they see as a barrier to engagement with China.
Kuo, along with other academics, was at a closed-door meeting with Zhang on Thursday night in Taipei. He said that when he asked Zhang whether the Chinese Communist Party would be willing to engage in talks with the DPP if the party puts the clause on ice, Zhang replied that when they look at a party, they look beyond its charter to its policies and actions.
Chen said the clause was not brought up in her meeting.
Chen added that she told Zhang that China could consider increasing the number of cross-strait flights between Kaohsiung International Airport and cities in China.
They also talked about exports of Taiwanese agricultural and aquatic products to China and the opening of Taiwan to Chinese tourists, with Chen saying that nepotism and cronyism have plagued some businesses, which benefit only politicians, rather than fishermen, small businesses and ordinary people.
In Taipei, the Black Island National Youth Front and Democracy Kuroshio called on Chen, a former prisoner of conscience, to value human rights and take public demands into account.
"Be sure not to sacrifice Taiwan's hard-won democracy for the sake of economic growth," they said.
Zhang also met Mainland Affairs Council Minister Wang Yu-chi (王郁琦) for a chat over tea last night.
Wang said Zhang proposed that Taipei and Beijing begin political talks to resolve long-term disagreements.
Wang said he responded that the time was not ripe for political talks given the lack of public consensus on the issue. He added that he told Zhang that China should extend more olive branches to address long-term issues that concern Taiwanese.
Additional reporting by Alison Hsiao
Comments will be moderated. Keep comments relevant to the article. Remarks containing abusive and obscene language, personal attacks of any kind or promotion will be removed and the user banned. Final decision will be at the discretion of the Taipei Times.