China defiant as US warns over sea row
An unrepentant China yesterday defended its actions in disputed Asian waters amid warnings of war with Vietnam, as Washington voiced "serious concern" after riots left two Chinese workers dead and more than 100 injured.
Vietnam has been shaken by its worst anti-China unrest in decades following Beijing's deployment of an oil rig in contested South China Sea waters, which triggered ramming incidents involving Vietnamese and Chinese vessels.
As tensions mounted, a top Chinese general warned that Beijing "cannot afford to lose an inch" of what it considers its territory.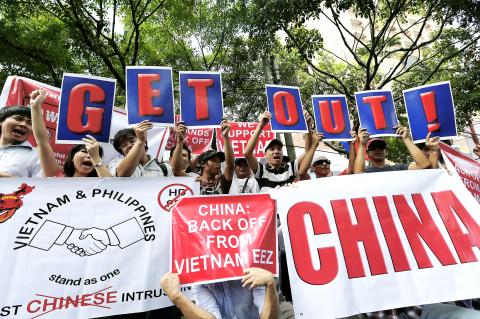 Filipino and Vietnamese nationals hold placards and shout anti-China slogans during a protest outside the Chinese consulate in Makati, Philippines, yesterday.
Photo: EPA
China has accused Hanoi of "connivance" with protesters who have targeted hundreds of foreign-owned factories in Vietnam, as long-simmering enmity between the communist rivals boiled over.
Two Chinese citizens were killed and more than 100 injured, Beijing's foreign ministry said, expressing "serious concern."
China's state-run Global Times turned up the rhetoric with a strident editorial supporting the use of "non-peaceful" measures against Vietnam and the Philippines.
"The South China Sea disputes should be settled in a peaceful manner, but that doesn't mean China can't resort to non-peaceful measures in the face of provocation from Vietnam and the Philippines," it said.
"Many people believe that a forced war would convince some countries of China's sincerely peaceful intentions," the paper added.
An Agence France-Presse photographer who was taken by Vietnamese authorities to the scene of the maritime standoff saw dozens of Chinese ships, including naval vessels, facing off against Vietnamese ships near the oil rig.
Whenever Chinese vessels approached, the Vietnamese ships broadcast messages saying: "We are warning you — you are entering Vietnamese sea waters, violating our exclusive economic zone and the law of the sea."
At one point, what appeared to be a Chinese surveillance plane flew overhead. On land, calm seemed to have returned to flashpoint industrial zones across Vietnam yesterday after riot police were deployed to restore order.
Meanwhile, US Vice President Joe Biden on Thursday "underscored the United States' serious concern about China's unilateral actions in waters disputed with Vietnam" at a meeting with a top Chinese general at the White House, his office said in a statement.
"The vice president reaffirmed that while the United States does not take a position on the competing territorial claims, no nation should take provocative steps to advance claims over disputed areas in a manner that undermines peace and stability in the region," the statement said.
Chinese Ministry of Foreign Affairs spokeswoman Hua Chunying (華春瑩) reacted frostily to Biden's comment, saying it amounted to "intentionally taking a biased position."
General Fang Fenghui (房峰輝), chief of the general staff of the People's Liberation Army, said Beijing would continue to operate the rig.
"We do not make trouble. We do not create trouble. But we are not afraid of trouble," he said.
"For the territory, which has been passed down by our ancestors into the hands of our generation, we cannot afford to lose an inch," he said.
The general also pointed the finger at US President Batack Obama's strategic shift toward Asia, saying it had encouraged countries such as Vietnam, Japan and the Philippines to make trouble with Beijing.
Additional reporting by Reuters
Comments will be moderated. Keep comments relevant to the article. Remarks containing abusive and obscene language, personal attacks of any kind or promotion will be removed and the user banned. Final decision will be at the discretion of the Taipei Times.