Turkey races to save trapped miners
HOPES FADING: It is thought that the up to 120 workers still trapped in the collapsed mine have gas masks, but it is unclear how long they will last as the death toll hit 238
About 120 workers are still thought to be trapped in a coal mine in western Turkey where a collapse killed 238 miners in one of the country's worst industrial disasters, Turkish Prime Minister Tayyip Recep Erdogan said yesterday.
Erdogan arrived to inspect the site in the town of Soma in Manisa Province where an electrical fault caused an explosion the previous day, leading parts of the mine to collapse. Most of the deaths have been caused by carbon monoxide poisoning and three days of national mourning have been declared.
Meanwhile, Turkish police fired tear gas and water cannons at around 800 protesters in Ankara who accused the government and the mining industry of negligence.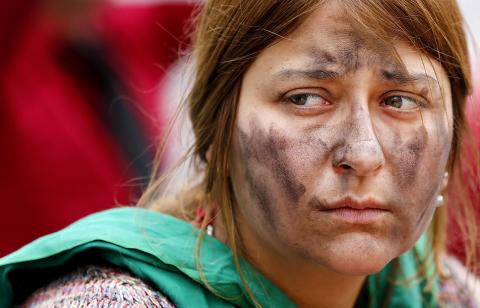 An activists has her face stained with black color as people stage a demonstration for the victims of the Soma mine explosion, in Istanbul, Turkey yesterday.
Photo: EPA
The protesters, mostly students, hurled stones at the police and shouted anti-government slogans as they tried to march to the Turkish Ministry of Energy, a reporter said.
Fires and toxic gases were complicating the rescue efforts of 400 rescue workers, said Turkish Minister of Energy Taner Yildiz said.
"I must say that our hopes about rescue efforts inside [the mine] are fading," he added.
The miners are all thought to have gas masks, but it was not clear how long they would last.
Earlier reports said 787 workers were underground when the blast occurred. Yildiz said 363 had been saved as of early yesterday.
Only a handful of miners were seen pulled from the collapsed mine in the morning, many of them already dead, a reporter said.
As victims were taken away on stretchers, friends and relative desperate for news of their loved ones tried to pull away the sheets covering their corpses.
Harun Unzar, a colleague of the missing miners said he had lost a friend previously, "but this is enormous."
"All the victims are our friends," he said as he wept.
Comments will be moderated. Keep comments relevant to the article. Remarks containing abusive and obscene language, personal attacks of any kind or promotion will be removed and the user banned. Final decision will be at the discretion of the Taipei Times.