Separate polls put Ma's approval rate under 18 percent
President Ma Ying-jeou's (馬英九) approval rating has fallen by more than half since he assumed office in 2008, according to a survey released by Taiwan Indicators Survey Research (TISR) yesterday ahead of the sixth anniversary of his presidency on Tuesday next week.
The survey showed Ma's latest approval rating at 17.9 percent, down 19.9 percentage points from June 2008, a month after he was sworn in for his first term, while his disapproval rating increased by more than 1.5 times from 46.2 to 71.1 percent over the same period.
The number of those polled who deem the president untrustworthy has also risen since Ma was first elected, climbing from 55.4 percent in June 2008 to 62.2 percent.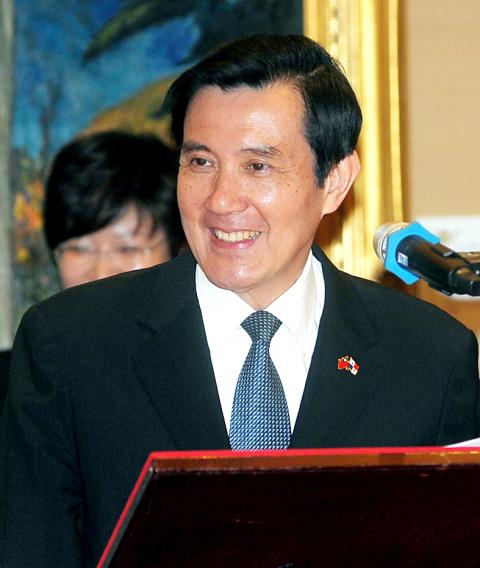 President Ma Ying-jeou smiles as he talks to Panamanian visitors yesterday at the Presidential Office Building in Taipei.
Photo: CNA
On a scale of 1 to 100, respondents in TISR's poll gave Ma a failing grade of 44.3 points for his performance as head of state over the past six years. A further breakdown of the results shows that even those who identified themselves as supporters of the Chinese Nationalist Party (KMT) that Ma heads as chairman "flunked" the president, giving him an average score of 59.7.
The survey participants who said they are pan-green supporters or swing voters scored Ma's performance at 32.8 and 41.1 points respectively, the results show.
Respondents' dissatisfaction was not confined to Ma, with most Cabinet members also failing to impress the majority of those polled.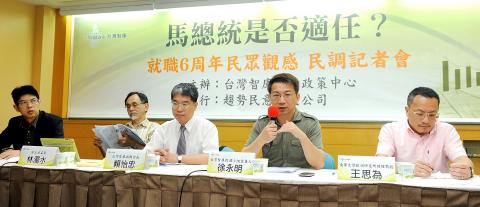 Panelists listen as Soochow University professor Hsu Yung-ming, second right, speaks at a press conference organized by Taiwan Thinktank in Taipei yesterday to discuss a poll on President Ma Ying-jeou's performance.
Photo: Wang Min-wei, Taipei Times
As many as 76 percent of participants ranked Atomic Energy Council Minister Tsai Chuen-horng's (蔡春鴻) achievements in office as the least remarkable, followed by those of Council of Agriculture Minister Chen Bao-ji (陳保基) at 72.1 percent and of Minister of the Interior Chen Wei-zen (陳威仁) at 69.6 percent.
Only two of the Cabinet's 12 members had approval ratings above 20 percent: Minister of Culture Lung Ying-tai (龍應台) (24.6 percent) and Minister of Justice Luo Ying-shay (羅瑩雪) (21.2 percent).
Respondents said they are most unsatisfied with the work of Minister of Transportation and Communications Yeh Kuang-shih (葉匡時) and Minister of Economic Affairs Chang Chia-juch (張家祝), who were given the highest disapproval ratings at 35.8 and 35 percent respectively.
The survey was conducted from Wednesday to Friday last week through a random telephone sampling of 1,001 people aged 20 and older. It has a confidence level of 95 percent and a margin of error of 3.1 percentage points.
A separate survey conducted by Taiwan Thinktank put Ma's approval rating at nearly the same level as TISR's poll on 17.4 percent and yielded a slightly higher disapproval rating of 72.8 percent.
As many as 64.8 percent of respondents in the think tank's poll said Ma had not done a good job, Taiwan Thinktank deputy executive Lai I-chung (賴怡忠) told a press conference yesterday.
Soochow University professor Hsu Yung-ming (徐永明) said the think tank poll shows Ma's integrity is being questioned by the public, as 69. 5 percent of respondents said the president would not protect Taiwanese interests in cross-strait talks.
Meanwhile, 53.8 percent of those polled by the think tank said they trusted former Democratic Progressive Party (DPP) chairperson Tsai Ing-wen (蔡英文), Hsu added.
Asked if the DPP could gain ground in the seven-in-one elections in November, former DPP Legislator Lin Cho-shui (林濁水) said Ma's incompetence would hurt the KMT's showing in the electoral contests.
The Taiwan Thinktank poll was conducted from April 26 to April 28, taking 1,230 samples with a margin of error of 2.8 percentage points.
Comments will be moderated. Keep comments relevant to the article. Remarks containing abusive and obscene language, personal attacks of any kind or promotion will be removed and the user banned. Final decision will be at the discretion of the Taipei Times.