Five death-row inmates at four prisons executed
Five prisoners on death row were executed yesterday, the Ministry of Justice announced last night.
The executions were carried out after Minister of Justice Luo Ying-shay (羅瑩雪) on Monday signed the orders authorizing the death sentences to be carried out.
"Convict Teng Kuo-liang (鄧國樑) was executed in Taipei Prison in the evening, Liu Yen-kuo (劉炎國) in Taichung Prison, brothers Tu Ming-hsiung (杜明雄) and Tu Ming-lang (杜明郎) in Tainan Prison, and Tai Wen-cheng (戴文慶) in Hualien Prison," Deputy Minister of Justice Chen Ming-tang (陳明堂) told a press conference in Taipei.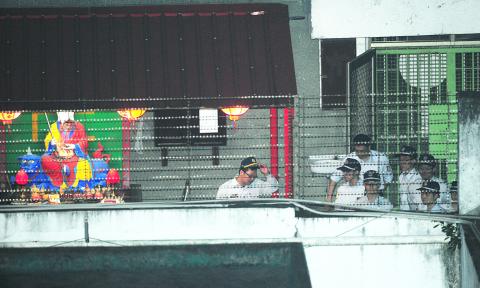 Staff members of the Taipei Detention Center in New Taipei City's Tucheng District pray last night to the Ksitigarbha bodhisattva after the execution of convicted murderer Teng Kuo-liang at the adjacent Taipei Prison.
Photo: Lo Pei-der, Taipei Times
Chen said the five men had been found responsible for 11 deaths, the injuring of four people and more than 30 robberies.
"In each case there were at least two people killed, and five at most," he said, adding that the convicted men had tortured and killed their victims with extremely cruel methods, leaving the victims' families with unforgettable sorrow.
Chen said opinion polls have shown that between 70 percent and 80 percent of the public supports Taiwan retaining the death penalty.
Executions do not violate the International Covenant on Civil and Political Rights because the covenant does not deny the legitimacy of countries which have not abolished the death penalty to carry out executions, and it only requests the countries to carry out executions carefully and limit the executions to cases of serious crimes, he said.
According to the ministry, Tai was sentenced for raping two female taxi drivers in May 2001 after he had been granted a two-day leave from Hualien Prison where he was serving a sentence for a previous crime. He killed one of the women, surnamed Hsieh (謝), with a knife.
Teng received the death penalty for killing a woman and her 10-year-old son in July 2009. He gave the woman drinks containing sedatives before he hit her on the head with a wooden knife and pushed her and her son into a river.
He then jumped into the water and stabbed them to death, according to the Supreme Court ruling, which found that Teng had used extraordinary cruelty in the killing of his victims because of a dispute over a small debt.
The Tu brothers were found guilty of the murders of a Taiwanese businessman, three of his Taiwanese employees and a Chinese woman in China while they were in Guangdong Province with their father in 2011.
Liu Yen-kua (劉炎國) was convicted of shooting dead a police officer in 1997 when he stormed into an illegal casino in the then-Taichung County.
Chen said there are still 47 convicts on death row nationwide.
Comments will be moderated. Keep comments relevant to the article. Remarks containing abusive and obscene language, personal attacks of any kind or promotion will be removed and the user banned. Final decision will be at the discretion of the Taipei Times.