DPP, activists sue MOE over curriculum changes
A group of Democratic Progressive Party (DPP) legislators and pro-Taiwan advocates yesterday took the Ministry of Education (MOE) to court over its controversial changes to high-school textbook guidelines, filing a lawsuit against Minister of Education Chiang Wei-ling (蔣偉寧) for document forgery at the Taipei Prosecutors' Office.
Lawyer Huang Di-ying (黃帝穎) said that Chiang on Jan. 27 convened a ministry meeting to review the proposed changes, at which it was concluded that a panel composed of high-school teachers and experts who had discussed the proposal earlier agreed with the "minor adjustments" to high-school textbook guidelines in the fields of language and social studies, which cover three disciplines: history, geography and civics.
However, Huang said that according to various media reports, the 43-member panel actually decided against endorsing the proposed alterations during the meeting.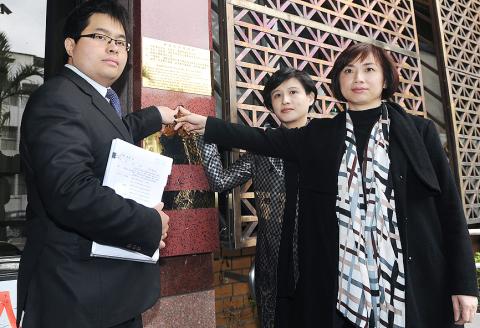 Lawyer Huang Di-ying, left, and Democratic Progressive Party legislators Cheng Li-chiun, center, and Ho Hsin-chun, ring the doorbell at the Taipei District Prosecutors' Office yesterday to present their lawsuit against Minister of Education Chiang Wei-ling over changes to the high-school curriculum guidelines.
Photo: Liao Chen-huei, Taipei Times
"That means that Chiang has violated Article 213 of the Criminal Code, which states that a public official who causes injury to the public with the entry of a public document which he knows to be false can be imprisoned from one to seven years," the lawyer said.
DPP legislators Cheng Li-chiun (鄭麗君) and Ho Hsin-chun (何欣純) urged investigators to seize the audio recording and minutes of the Jan. 27 meeting, which Chiang has refused to turn over.
Many teachers, historians and members of the pan-green camp and the public have voiced strong opposition to the adjusted textbook outlines over what they say is its hidden agenda of "de-Taiwanization and Sinicization" aimed at catering to "Greater China perspective" of the administration of President Ma Ying-jeou (馬英九).
The DPP caucus is planning to submit a proposal seeking to nullify the adjustments at the start of the legislative session today, Cheng said, adding that the public should keep pressuring the ministry until it suspends the initiative.
Ho said that the legislature's Education and Culture Committee would also demand that the minister step down and be held responsible for the proposal.
The DPP also filed a complaint with the Control Yuan last week over what it termed the Ministry of Education's "administrative errors."
Comments will be moderated. Keep comments relevant to the article. Remarks containing abusive and obscene language, personal attacks of any kind or promotion will be removed and the user banned. Final decision will be at the discretion of the Taipei Times.