MAC Minister Wang in historic meeting
NO SURPRISES: The issue of a potential meeting between Ma Ying-jeou and Chinese President Xi Jinping at an APEC summit in Beijing was not raised at the meeting
Taiwanese and Chinese officials yesterday held the first direct and the highest-level talks since 1949, when the Chinese Nationalist Party (KMT) fled to Taiwan following its defeat by the Chinese Communist Party in the Chinese Civil War.
The historic meeting between Mainland Affairs Council (MAC) Minister Wang Yu-chi (王郁琦) and his counterpart, Taiwan Affairs Office (TAO) Minister Zhang Zhijun (張志軍), in the Chinese city of Nanjing, which agreed to establish a communication channel for future engagement, marked the first time in 65 years that government ministers from across the Taiwan Strait had held talks in their official capacities, despite more than a dozen agreements having been signed during President Ma Ying-jeou's (馬英九) two terms in office.
Wang, who led a 20-member delegation on a four-day visit to China, told a press conference after a three-hour closed-door meeting at the Purple Palace Nanjing Hotel that his ministry and the TAO had agreed to establish a direct and regular communication platform and reached a consensus in principle on several issues.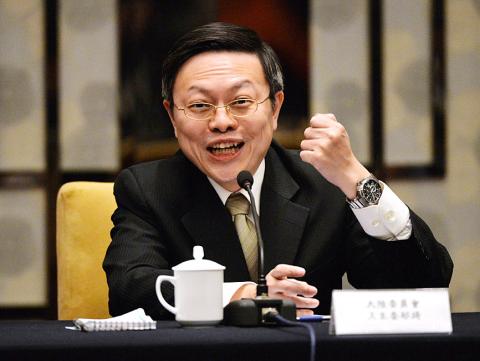 Mainland Affairs Council Minister Wang Yu-chi briefs reporters after a meeting with his Chinese counterpart in Nanjing, China, yesterday.
Photo: AFP
The communication channel would go hand-in-hand with the current semi-governmental mechanism between the Straits Exchange Foundation (SEF) and the Association of Relations Across the Straits (ARATS), as they are complementary rather than adversarial, Wang said.
The issue of a potential meeting between Ma and Chinese President Xi Jinping (習近平) at an APEC summit in Beijing later this year, which has drawn suspicion from the opposition parties in Taiwan, was not raised at the meeting, nor was the sensitive topic of China's demarcation of an East China Sea air defense identification zone, Wang said.
The minister said that he had "no regrets" about not discussing the potential Ma-Xi meeting because "it was not on the agenda in the first place."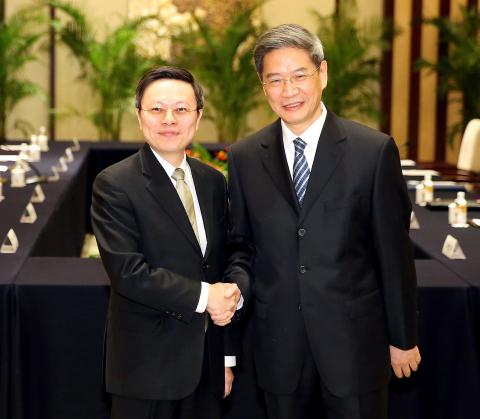 Taiwan's Mainland Affairs Council Minister Wang Yu-chi, left, shakes hands with China's Taiwan Affairs Office Director Zhang Zhijun before their meeting in Nanjing yesterday.
Photo: CNA
The Legislative Yuan had put Wang on a tight leash by passing a resolution prohibiting the minister from signing any written document during his visit.
The first highlight of the meeting came before the talks started as hundreds of reporters tried to anticipate how the officials would address each other, a barometer for a breakthrough in bilateral relations.
Wang referred to Zhang as "TAO Minister Zhang Zhijun," while Zhang simply addressed Wang as "Minister Wang Yu-chi," leaving out the name of Wang's ministry, before the two shook hands and made their opening statements.
However, China's state-owned Xinhua news agency referred to Wang as the "responsible official of Taiwan's Mainland Affairs Council" in its Chinese-language reports and as "Taiwan's mainland affairs chief" in its English-language coverage.
Both officials reiterated in their statements that the so-called "1992 consensus" serves as the foundation of bilateral engagement, which would be strengthened under the current framework in the future.
"It's not been easy for us to be sitting at the same table today," Wang said.
At the meeting, they agreed to seek a solution on health insurance coverage for Taiwanese students studying in China, pragmatically plan for the establishments of SEF and ARATS offices in each other's territory and study the feasibility of allowing humanitarian visits to detained nationals once the offices have been established.
Taiwan raised the issue of reciprocal exchange of news information, but did not protest China's refusal to issue visas to two Taiwanese reporters who wished to travel to cover the visit.
Wang also brought up Taiwan's hope for parallel progress between economic integration with China and the rest of the world, without receiving a positive response from the Chinese side.
In his opening statement, Zhang said cross-strait relations "cannot afford to suffer from another decline" after they have dramatically improved since May 2008 — when Ma took office.
A Xinhua report said the meeting has reached "positive consensus" on many fronts, including an insistence on the "1992 consensus," opposition to independence for Taiwan and strengthening exchanges.
The report urged follow-up agreements under the Economic Cooperation Framework Agreement (ECFA) and to study the feasibility of bilateral cooperation on regional economic integration.
Zhang also accepted Wang's invitation for a return visit, it said.
Wang is scheduled to visit the Sun Yat-sen Mausoleum today, before delivering a speech at Nanjing University on youth exchanges across the Taiwan Strait.
He is due to attend a forum and hold talks with Chinese think tanks tomorrow, before wrapping up the trip and returning to Taipei on Friday.
Comments will be moderated. Keep comments relevant to the article. Remarks containing abusive and obscene language, personal attacks of any kind or promotion will be removed and the user banned. Final decision will be at the discretion of the Taipei Times.