Police open fire on Cambodian factory workers
VIOLENCE: Rights groups have condemned the use of 'extreme lethal force,' but the strikes are a major challenge to Prime Minister Hun Sen's government
Cambodian military police yesterday opened fire with assault rifles to quell a protest by stone-throwing garment factory workers demanding higher pay in a crackdown a human rights group said killed four people.
Chaos during nationwide strikes erupted for a second day as security forces were deployed to halt a demonstration by thousands of workers, who refused to move and threw bottles, stones and gasoline bombs at an industrial zone in Phnom Penh.
The clash represents an escalation of a political crisis in Cambodia, where striking workers and anti-government protesters have come together in a loose movement led by the opposition Cambodia National Rescue Party (CNRP).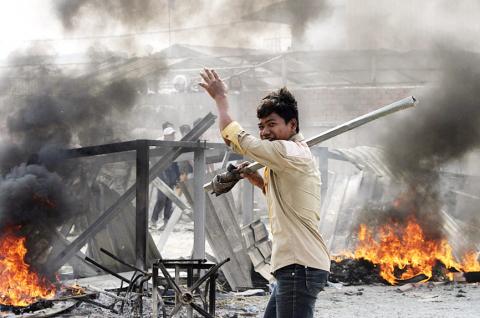 A Cambodian worker carrying a metal rod reacts after clashes broke out between striking garment factory workers and riot police during a protest in Phnom Penh yesterday.
Photo: Reuters
Unions representing disgruntled garment workers have joined opposition supporters protesting against the government of Cambodian Prime Minister Hun Sen to demand a re-run of an election in July last year that the opposition says was rigged.
Military police confronting the protesters fired live ammunition, journalists said, and bullet casings were later seen scattered across the ground at the scene.
The clashes took place at Canadia Industrial Park, home to dozens of factories that make clothing for Western brands.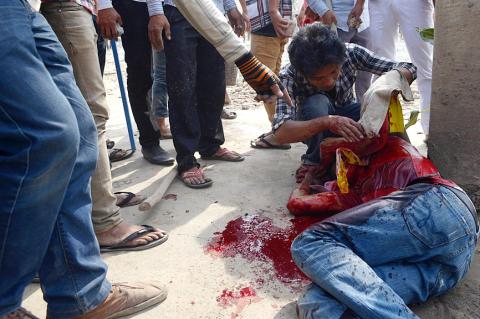 A Cambodian garment worker, right, yesterday lies wounded in front of a Phnom Penh factory during clash with military police after a protest in support of demands for higher wages turned violent.
Photo: AFP
Human rights group LICADHO described the incident as "horrific" and lambasted military police, adding that their own investigation and surveys of hospitals had found four people were killed and 21 wounded.
"We condemn this appalling use of extreme lethal force by security forces," LICADHO director Naly Pilorge said in a statement. "Security forces must now put an immediate end to the use of live ammunition against civilians."
Spokesmen for the national police and military police said they could not verify the number of casualties.
The CNRP, led by former Cambodian finance minister Sam Rainsy, has courted about 350,000 garment workers from nearly 500 factories across the country by promising to nearly double the monthly minimum wage to US$160 if it wins a re-run of the July election, which Hun Sen is refusing to hold.
The government is refusing to raise the wage beyond US$100 a month and has ordered factories to reopen to prevent damage to an industry worth US$5 billion a year.
TAIWANESE FIRMS
Taiwanese garment makers Eclat Textile Co (儒鴻) and Makalot Industrial Co (聚陽) shut down their Cambodian factories for a week starting on Thursday last week and relocated their production to factories in neighboring countries.
The temporary shutdown was suggested by the Garment Manufacturers Association in Cambodia, the two firms said in filings to the Taiwan Stock Exchange yesterday.
They both said the strike would have little impact on their revenue and earnings.
"We reopened our factories on Jan. 2, and some workers have come back to work. But, we will close the factories again, for the safety reasons, if things turn violent," Makalot public relations manager Mavis Chiu (邱美惠) said by telephone yesterday.
Makalot made 2.33 million units of apparel in Cambodia in 2012, accounting for 25 percent of its total production for that year, according to the company.
Eclat said its factory shutdown will reduce its production by 140,000 pieces of apparel, but that its clients have agreed to postpone their orders.
Eclat said its production capacity in Cambodia was about 450,000 pieces of apparel a month, accounting for 5 percent of its total production.
Additional reporting by Camaron Kao
Comments will be moderated. Keep comments relevant to the article. Remarks containing abusive and obscene language, personal attacks of any kind or promotion will be removed and the user banned. Final decision will be at the discretion of the Taipei Times.