ASE to gift NT$100m a year for environmental cause
POLLUTION: The chip packager's chairman denied that the firm intentionally discharged wastewater into a river and said it was committed to its social responsibilities
Advanced Semiconductor Engineering Inc (ASE, 日月光半導體) chairman Jason Chang (張虔生) yesterday apologized for the company's recent wastewater pollution incident and said ASE would donate up to NT$3 billion (US$101 million) over the next 30 years to help promote environmental protection in the nation.
Chang made the remarks after staying behind the scenes for seven days since ASE was fined NT$600,000 by Greater Kaohsiung's Environmental Protection Bureau on Tuesday last week for discharging toxic wastewater from its biggest plant, known as K7, into the Houjin River (後勁溪).
"ASE will not dodge the responsibility that it must take, nor will the company cover up any employee's wrongdoing that deserves punishment," Chang said at a press conference.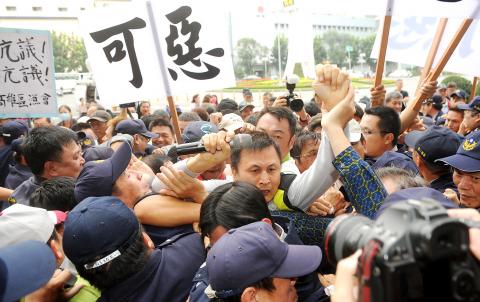 Fishermen clash with police during a protest against Advanced Semiconductor Engineering Inc at Greater Kaohsiung's Nanzih Export Processing Zone yesterday, alleging that the zone administrators helped cover up the company's wastewater pollution.
Photo: Chang Chung-yi, Taipei Times
Chang reiterated that the company never intended to discharge wastewater illegally, and that it stays committed to social responsibility through environment-related investment.
ASE will donate at least NT$100 million each year, beginning next year, through 2044, he said.
Chang said the company's daily operation would not be affected, adding that the company has begun constructing a green factory in Greater Kaohsiung's Nanzih Export Processing Zone at a cost of NT$72 billion and is planning to recruit 16,000 more workers as part of its business expansion plan.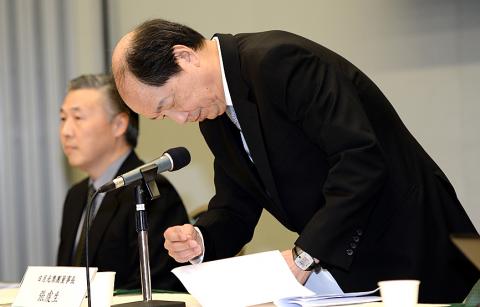 Advanced Semiconductor Engineering Inc chairman Jason Chang bows during a press conference in Taipei yesterday as he apologizes for the company's wastewater pollution.
Photo: Lin Cheng-kung, Taipei Times
In addition, ASE is set to launch its new wastewater treatment plant in Greater Kaohsiung as early as the second quarter of next year, he said.
The new wastewater treatment plant is being constructed at a cost of NT$750 million and will be capable of purifying up to 20,000 tonnes of wastewater discharged from ASE's plants in Greater Kaohsiung, he added.
Meanwhile, the Ministry of Economic Affairs yesterday said it supports Greater Kaohsiung's Environmental Protection Bureau's penalties for the company's misconduct.
"In regards to the ASE water-pollution issue, the ministry supports the Environmental Protection Bureau taking the severest measures against ASE," Minister of Economic Affairs Chang Chia-juch (張家祝) told the legislature's Economic Committee.
Comments will be moderated. Keep comments relevant to the article. Remarks containing abusive and obscene language, personal attacks of any kind or promotion will be removed and the user banned. Final decision will be at the discretion of the Taipei Times.