Taiwan declares ties with the Gambia 'terminated'
CASH GRAB? Gambian President Yahya Jammeh 'made a financial request' in January, said to be for US$10 million in cash, which went against Taiwan's policy on foreign aid
The government yesterday declared diplomatic relations with the Gambia had been terminated as it could not accept the country's "exorbitant demands" for aid, which went against the principles of the nation's foreign aid policy, Minister of Foreign Affairs David Lin (林永樂) said yesterday.
David Lin did not elaborate on what Gambian President Yahya Jammeh had asked for from Taiwan that was deemed "unacceptable," but in response to a question from Chinese Nationalist Party (KMT) Legislator Lin Yu-fang (林郁方), he confirmed that Jammeh "made a financial request" in January.
While he did not disclose the figure at yesterday's meeting of the legislature's Foreign Affairs and National Defense Committee, which began at 9am, the minister did not deny the lawmaker's assertion that the request was for more than US$10 million in cash.
The national flags of 15 of Taiwan's 22 remaining diplomatic alies fly outside the Diplomatic Quarter in Taipei yesterday.
Photo: David Chang, EPA
Later, when fielding questions from Democratic Progressive Party (DPP) Legislator Hsu Tain-tsair (許添財), David Lin said Jammeh's request in January was not in line with the principle that requires all aid resources contributed to diplomatic allies to be implemented "in a project-oriented manner."
Deputy Minister of Foreign Affairs Joseph Shih (石定) announced the severance of relations with the Gambia with immediate effect at 8:45am after a meeting at the Presidential Office called by President Ma Ying-jeou (馬英九).
The decision, made in response to Jammeh's abrupt announcement of a break-off of diplomatic relations on Thursday, was made after a delegation that left for the Gambia late that night to salvage ties had confirmed with Gambian officials that Jammeh's policy had been finalized, David Lin told the committee.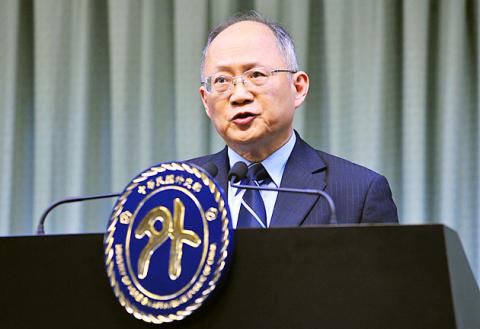 Department of West Asian and African Affairs Director Wang Chien-yeh speaks during a press conference in Taipei yesterday.
Photo: Mandy Cheng / AFP
In Jammeh's public statements, as well as in his letter to Ma, the Gambian leader said the decision to cut diplomatic relations with Taiwan after 18 years was due to "national strategic interests."
Taiwan was also told by Gambian officials that they believe "Taiwan doesn't need Gambia anymore" in view of cross-strait rapprochement and so Gambia decided to "follow its own course," the ministry said.
Since Jammeh's decision was announced, Ambassador to Gambia Samuel Chen (陳士良) and the delegation had tried in vain to meet with him to clarify "misunderstandings" he might have about Taiwan, the ministry said.
"The major reason [behind Jammeh's move] was that he thought that we no longer attach such great importance to [the Gambia] as we did before, but this is not true. We very much valued the relationship," David Lin said.
David Lin reiterated that the government will continue to press ahead with its policy of "flexible diplomacy," under which aid is provided to foreign countries based on three principles — justifiable purposes, legal procedures and effective implementation — although it regretted the loss of Banjul as an ally.
In two meetings with Gambian officials, the delegation did not make any offer to try to change Jammeh's mind, David Lin said.
One day after making the announcement, Jammeh posted on his official Facebook that he saw cutting ties with Taiwan as being in the country's national interests because he has envisioned that China could help his government to realize its national development agenda — "Vision 2020."
In the Facebook post, Jammeh said that severing ties with Taiwan was an "important step" toward advancing "Vision 2020" for all citizens of the Gambia.
The Gambia is proud of having been a very strong and reliable partner of Taiwan for the past 18 years and looked forward to have friendly dealings with Taiwan in the future, but declared the People's Republic of China to be the only China it recognized diplomatically as the Gambia goes forward, Jammeh wrote in the posting.
"This decision has been taken in our strategic national interest in order to bring further opportunities and prosperity to Gambian citizens," Jammeh said.
"This step will have concrete results in terms of advancing Vision 2020 for the Gambia, which as your President is my No. 1 priority," he said.
Democratic Progressive Party Legislator Chiu Yi-ying (邱議瑩) asked the foreign minister how the government was able to claim that Beijing was not behind Jammeh's decision when the Gambian leader had clearly suggested otherwise in his Facebook posting.
David Lin said the post did not mean that Jammeh's administration had been in touch with China, but just expressed his expectations for the future.
"I can guarantee they had had no contacts with China. We have cross-checked with various sources and were sure that the case had nothing to do with China. China has had no role in the case so far," the minister said.
However, David Lin said the ministry would pay close attention to see how the Gambia and China develop their relations.
Should China and the Gambia establish relations in the future, "it would surely be a very serious warning to us," David Lin said.
The ministry has instructed its embassies in diplomatic allies to pay close attention to how their host countries react to the severance of ties between Taiwan and the Gambia, as well as to review and strengthen the implementation of bilateral cooperation programs to prevent a "domino effect," he said.
Meanwhile, Taiwan Solidarity Union (TSU) Chairman Huang Kun-huei (黃昆輝) said that Ma's diplomatic strategy had proven to be "essentially 'kowtow diplomacy' rather than 'flexible diplomacy.'"
Citing Jammeh's Facebook post, Huang said "the China factor" had proven to be the reason behind the change.
"That told us that the 'flexible diplomacy' was fake and that Ma's description of cross-strait relations as 'the best they have been in decades' was also fake," Huang said.
The TSU leader said the diplomatic change reflected Beijing's two-handed strategy.
The timing of the Gambia's move to sever ties, which came right after the third plenum of the 18th Chinese Communist Party Congress, was "no coincidence," Huang said, adding that he suspected that Beijing tried to apply pressure on Ma for passage of the cross-strait service trade agreement.
Meanwhile, Taipei Mayor Hau Lung-bin (郝龍斌) said Taipei will maintain its sister city ties with the Gambian capital, Banjul, despite Taiwan's cutting diplomatic links.
He regretted the diplomatic ties had come to an end, but said Taipei and Banjul have maintained good relations since thet became sister cities in April 1997.
Taipei will maintain its relationship with Banjul as part of its efforts to promote city diplomacy, he told reporters.
Taipei has 46 sister cities in 32 countries.
Additional reporting by Chris Wang and CNA
Comments will be moderated. Keep comments relevant to the article. Remarks containing abusive and obscene language, personal attacks of any kind or promotion will be removed and the user banned. Final decision will be at the discretion of the Taipei Times.