Thousands take to Taipei streets for gay pride event
Tens of thousands of people yesterday took part in the annual gay pride parade in Taipei, calling on the public to give more support to equal rights not only for lesbian, gay, bisexual and transgender (LGBT) people, but also for all sexual minorities.
Not long after the parade departed from the square in front of Taipei City Hall, participants were asked to leave their palm prints with rainbow colors on the "wailing wall of the rainbow"— essentially six large white banners that bear the slogans "no to sexual oppression," "no to discrimination," "condemnation against bullying," "I want my fundamental rights," "I want my civil rights" and "I support diversity in family formation" — hoping to raise awareness among the public about sexual oppression and discrimination.
The crowd carried the banners with them after dying them with the colors of the rainbow as they marched.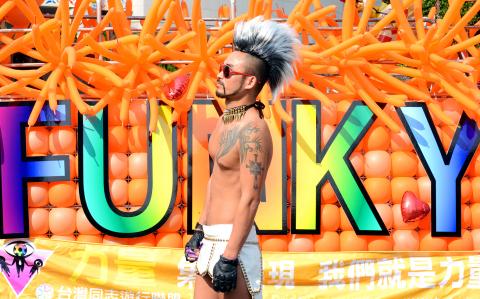 A man walks past a sign during the annual gay parade in Taipei yesterday.
Photo: Sam Yeh / AFP
As many as 60,000 people took part in the parade, with more than 4,000 from abroad, organizers said.
"Equal rights is everybody's business, not just LGBT people's," said a woman who wished to be known as Jenny and participated with her husband and their son. "We're taking our son to the parade, because we want him to learn the importance of respecting sexual diversity."
Hong Kong singer Anthony Wong (黃耀明), who publicly came out last year, also took part in the parade, and spoke to the crowd after the parade returned to the square in front of Taipei City Hall a little after 4pm.
Recalling his youth, the 51-year-old singer said that it was difficult to be gay in the 1980s, when Hong Kong society was very conservative regarding homosexuality, calling himself a "sexual refugee."
"During that time, I could only take refuge at places where other LGBT people gather, such as the New Park," Wong said, referring to the nickname of the 228 Peace Park in Taipei, which used to be a popular gathering place for LGBT people at night.
"Decades have passed. I'm glad that today, when I come to Taipei, I no longer have to hide in the New Park at night; rather, I can be here in front of the Taipei City Hall during the day," he said. "Although Taiwan and Hong Kong may face different political and social challenges, I believe that we should go hand-in-hand in the global movement for equal rights, because we share the same objective."
Tsai Yu-lin (蔡育林), who came to prominence after organizing a sex party in a private train carriage, showed up to voice his support for legalizing same-sex marriage.
"Love is not something that can be restricted by the law, and if the law makes people suffer instead of bringing happiness to the people, it should not exist," Tsai said.
"Many homophonic people consider homosexuality a disease, and therefore say that homosexuality or same-sex marriage should be prohibited by law," he said. "Well, as I am afraid of suffering a stroke, can I ask lawmakers to make a law to prohibit strokes, so that no one will ever suffer one?"
Representatives from other sexual minority groups — including bisexuals, intersexuals and handicapped homosexuals — also appealed to the crowd for protection of their rights, saying such groups are sometimes "minorities among minorities" when compared to mainstream LGBT groups.
Comments will be moderated. Keep comments relevant to the article. Remarks containing abusive and obscene language, personal attacks of any kind or promotion will be removed and the user banned. Final decision will be at the discretion of the Taipei Times.