DPP's Ker Chien-ming sues Ma, Huang
Democratic Progressive Party (DPP) caucus whip Ker Chien-ming (柯建銘) yesterday filed a lawsuit against President Ma Ying-jeou (馬英九) and Prosecutor-General Huang Shih-ming (黃世銘) over the leaking of secrets in a wiretapping scandal, saying that the Ma administration's "governance by secret agents" has to be stopped.
Accompanied by DPP lawmakers, Ker filed the lawsuits at the Taipei District Prosecutors' Office, accusing Ma of instigating the leaking of secrets and leaking secrets, and Huang of several offenses, including leaking secrets, defamation, leaking personal information, providing false statements, malicious persecution and suppression of evidence.
"This is the first lawsuit I have filed in my life, but it is one I have to file because I want to end the evil of governing by secret agents with this lawsuit and tell Taiwanese how the Ma administration has resorted to wiretapping and manipulation of the judiciary to oppress the DPP," Ker said.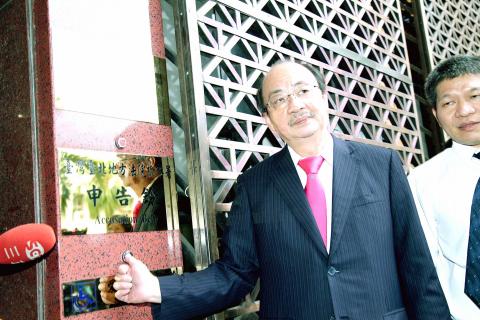 Democratic Progressive Party caucus whip Ker Chien-ming presses the accusation bell at the Taipei District Prosecutors' Office yesterday, before filing a lawsuit against President Ma Ying-jeou and Prosecutor-General Huang Shih-ming.
Photo: David Chang, EPA
Ker said he filed the lawsuit with the aim of securing evidence — the Special Investigation Division's (SID) wiretaps, which were used by Ma and Huang to accuse the veteran lawmaker of asking Legislative Speaker Wang Jin-pyng (王金平) to lobby for him in a legal case, as well as records of telephone calls between Ma and Huang, who he suspects of conspiring against Wang and himself.
Huang's announcement that Wang and Ker had been involved in misconduct at a press conference on Sept. 6 kicked up a political storm, in which Ma has been accused of pursuing a political vendetta against Wang and the DPP, and infringement of the constitutional mechanism. The SID has been accused of excessive and illegal wiretapping of the legislature.
Ma and Huang have also been questioned about their meetings and telephone conversations, which some legal experts say were a violation of the Constitution.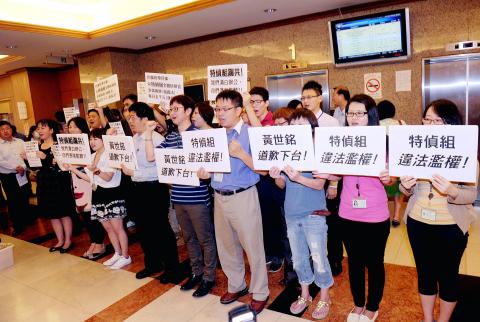 The Alliance of Wiretap Victims, consisting mostly of legislative assistants, yesterday holds a press conference in Taipei in which it announced plans to file a lawsuit against the Special Investigation Division.
Photo: CNA
Citing the example of the Watergate scandal in the US, Ker said former US president Richard Nixon was forced to resign when a court demanded that Nixon hand over the wiretaps and that was why securing the evidence would be important.
"I have never been someone who likes to sue people, but I can only secure the evidence and directly confront the defendants as a litigant," Ker said.
While the Bureau of Investigation claimed that it did not begin to tap the DPP caucus whip's phone until March 19 last year, Ker insisted that he has been bugged for more than five years.
Ker said he had not filed the lawsuits to benefit himself, but for the whole nation as "governance by secret agents should be eliminated and constitutional order restored."
Meanwhile, the Alliance of Wiretap Victims, most of its members assistants to lawmakers, yesterday told a press conference that it had launched a petition and plans to file a lawsuit against the SID demanding compensation of up to NT$300 million (US$10 million).
By wiretapping the telephone conversations of the entire legislature, the SID had violated the Communication Security and Surveillance Act (通訊保障及監察法) and the Personal Information Protection Act (個人資料保護法), the alliance said.
"[The wiretaps] are a disgrace to democracy and a disgrace to Taiwan. Ma, Premier Jiang Yi-huah (江宜樺) and Huang should immediately step down," said Chiang Chao-kuo (江肇國), a lawmaker's assistant.
Comments will be moderated. Keep comments relevant to the article. Remarks containing abusive and obscene language, personal attacks of any kind or promotion will be removed and the user banned. Final decision will be at the discretion of the Taipei Times.