Ma, Jiang summoned by prosecutors
TESTIMONY: The president, the premier and a former Presidential Office official were questioned individually, as was the prosecutor-general, who is listed as a defendant
President Ma Ying-jeou (馬英九) was summoned by the Taipei District Prosecutors' Office yesterday evening as a witness in a case involving Prosecutor-General Huang Shih-ming's (黃世銘) alleged leaks of details of an investigation into allegations of improper lobbying against Legislative Speaker Wang Jin-pyng (王金平).
Premier Jiang Yi-huah (江宜樺) and former Presidential Office deputy secretary-general Lo Chih-chang (羅智強) were also subpoenaed as witnesses last night.
Ma, Jiang, Huang and Lo were questioned individually.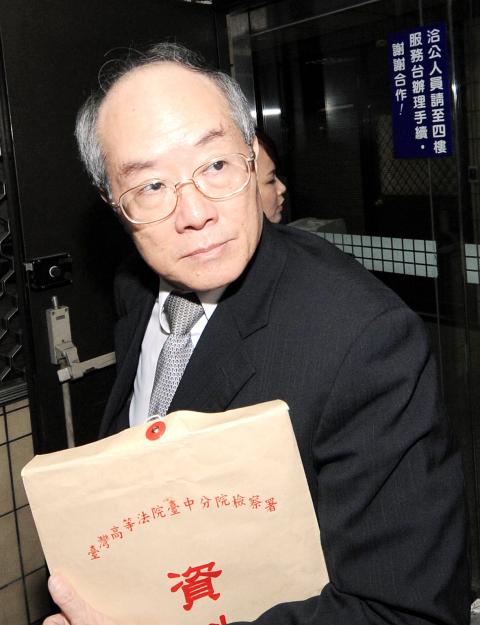 Prosecutor-General Huang Shih-ming
Photo: Taipei Times
Ma is the second sitting president to testify as a witness. Then-president Chen Shui-bian (陳水扁) testified in Hualien County as a witness in a corruption case in 2004.
Neither Ma nor Jiang appeared before reporters after their visits to the prosecutors' office and did not issue any statements.
However, Huang, who has been listed as a defendant in the investigation, said he is innocent.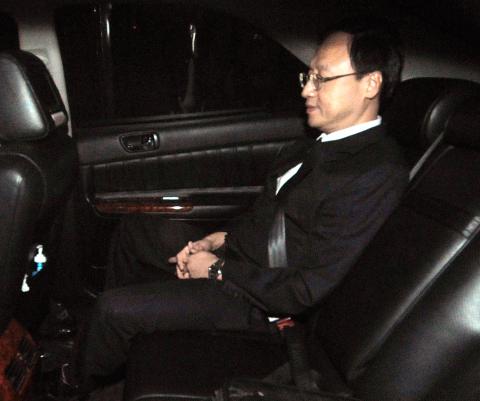 Premier Jiang Yi-huah
Photo: Taipei Times
"I have no regrets at all about what I did. I did not do anything wrong that let Taiwanese down, nor did I do anything that has tarnished the position of prosecutor-general. I am sticking to what I have done and I will keep doing it," Huang told reporters after he was questioned.
Lo declined to reveal details of his testimony, saying: "It takes courage to stand on the same side as Ma, which is the side of the minority at this moment."
He resigned on Sept. 12, citing the improper lobbying scandal, as well as family and personal reasons for his decision to quit.
The prosecutors' office began its investigation yesterday after several lawyers and citizens filed lawsuits against Huang over the alleged leaking of secrets in the Supreme Prosecutors' Office Special Investigation Division's (SID) probe into a case involving Wang and Democratic Progressive Party caucus whip Ker Chien-ming (柯建銘).
The prosecutors summoned Ma to clarify the details of meetings he had with Huang on Aug. 31 and Sept. 1, five days before Huang called a press conference to accuse Wang of the misconduct.
Ma has previously defended the legitimacy of his private interactions with Huang and dismissed allegations that he had instructed Huang on how to handle the allegations against Wang, but said that, as a citizen, he was obligated to testify in court. He also said that his testimony would be able to help prosecutors and he did not think his appearance before them would have a negative effect on the presidency.
The Presidential Office notified the Taipei District Prosecutors' Office yesterday afternoon that Ma was available to report to the office last night. Ma arrived at the prosecutors' office at about 8pm, taking a secret passageway to avoid reporters. Huang was already being questioned when Ma arrived.
Both Ma and Huang have said that the allegations against Wang involve administrative misconduct and that it is not a criminal case.
Comments will be moderated. Keep comments relevant to the article. Remarks containing abusive and obscene language, personal attacks of any kind or promotion will be removed and the user banned. Final decision will be at the discretion of the Taipei Times.