Ma denies interfering in Wang probe
ON THE DEFENSIVE: The president claimed the prosecutor-general did not breach the confidentiality of a criminal case because the probe was about administrative wrongdoing
President Ma Ying-jeou (馬英九) yesterday defended the legitimacy of his private interactions with Prosecutor-General Huang Shih-ming (黃世銘), at the center of a wiretapping incident, and said he is willing to go to court to dismiss allegations that he was giving instructions to Huang on how to handle the incident.
In an interview with News 98 radio show host Clara Chou (周玉蔻), Ma confirmed that Huang met with him on Aug. 31 and Sept. 1 at the presidential residence to report on the Supreme Prosecutors' Office Special Investigation Division's (SID) probe into alleged improper lobbying by Legislative Speaker Wang Jin-pyng (王金平) on behalf of Democratic Progressive Party (DPP) caucus whip Ker Chien-ming (柯建銘). He said he had also telephoned Huang several times between Sept. 6 and Friday last week.
The telephone calls were made to ask Huang to clarify public allegations and questions, including recent claims that the SID had been illegally monitoring telephone lines at the legislature, Ma said.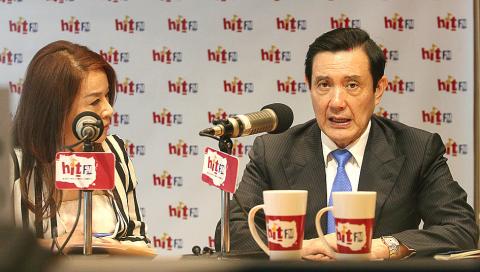 President Ma Ying-jeou, right, yesterday comments on Legislative Speaker Wang Jin-pyng's allegedly improper lobbying case during a radio interview in Taipei.
Photo: CNA
"I have not given any instructions to any probes. The SID is part of the government as a whole and when doubts are raised about any of the government's work, I have always asked government agencies for explanations," he said.
When asked whether his meetings and telephone conversations with Huang had intervened in the ongoing probe, Ma insisted that the SID's probe into Wang's alleged involvement in undue lobbying was an investigation of administrative wrongdoing, rather than a criminal case where confidentiality is required.
Ma said he would cooperate with the Taipei District Prosecutors' Office should they summon him as a witness in a probe of Huang's monitoring of the legislature's switchboard, but adding that he would not make public his telephone conversations with Huang.
"I am willing to cooperate with the prosecutors' investigation in any way [including a confrontation with Huang]," he said.
It has been reported that the prosecutors' office contacted the Presidential Office to ask when Ma would be available, and whether an interview could be conducted at the prosecutors' office or at Ma's residence.
The conversations between Ma and Huang were revealed by Huang on Sept. 9 at a press conference.
He said he had gone to Ma's residence to report on Wang's involvement in the case on Aug. 31, which was before the investigation had been completed.
He later told a legislative session on Sept. 25 that Ma had asked him to visit his residence again on Sept. 1.
Huang also confirmed that Ma had telephoned him after the Sept. 6 press conference, sparking concerns about Ma's role in the case.
Ma said he held a meeting with then-deputy secretary-general of the Presidential Office Lo Chih-chiang (羅智強) and Premier Jiang Yi-huah (江宜樺) to discuss the issue on Aug. 31 after Huang took the initiative to report the results of the probe to him. He asked Huang to explain the case further the next day.
Vice President Wu Den-yih (吳敦義) and Ma's top aide, Representative to the US King Pu-tsung (金溥聰), learned about the case after the SID press conference on Sept. 6, Ma said.
He shrugged off concerns about the motivation behind Huang's disclosure of the private meetings. He said he would respect the results of the inquiry into Huang's involvement in wiretapping when asked whether Huang should step down and take responsibility for the incident.
Comments will be moderated. Keep comments relevant to the article. Remarks containing abusive and obscene language, personal attacks of any kind or promotion will be removed and the user banned. Final decision will be at the discretion of the Taipei Times.