DPP seeks 'best constitutional option' to respond to Ma
Democratic Progressive Party (DPP) Chairman Su Tseng-chang (蘇貞昌) yesterday said the party was still weighing the best constitutional option against President Ma Ying-jeou's (馬英九) role in the ongoing political crisis, but that it did not rule out a motion of no confidence if Ma refused to step down on his own.
The party is gauging the most appropriate moment and the momentum before committing to one of the constitutional options, including recall, impeachment and motion of no confidence, to resolve the current political crisis, Su told an international press conference.
The press conference, titled "Congressgate — Constitution In Jeopardy. Democracy is Backsliding," was held to brief international media on the Ma administration's alleged abuse of wiretaps and infringement of the Constitution.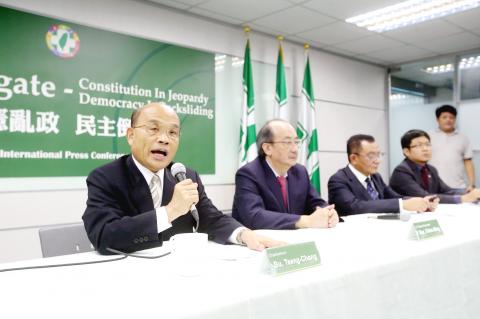 Democratic Progressive Party Chairman Su Tseng-chang, left, and other party officials brief international media at the party's headquarters in Taipei yesterday regarding allegedly unlawful wiretaps and infringements of the Constitution by President Ma Ying-jeou's administration.
Photo: CNA
The DPP chairman reiterated that both Ma and Premier Jiang Yi-huah (江宜樺) should step down over the damage they had done to the Constitution, adding that Prosecutor-General Huang Shih-ming (黃世銘) and the Supreme Prosecutors' Office Special Investigation Division (SID) must be suspended pending investigation.
"We believe that what Ma and his administration have done is far more serious than the Watergate scandal in the US," Su said.
The DPP also demanded the SID's abolition and the establishment of a document request committee in the Legislative Yuan to allow legislators to probe into the SID's wiretapping of the legislature, opposition politicians and prosecutors.
The Ma administration's violations of the law are very obvious, with the SID monitoring the legislature, the premier criticizing the speaker to gain political profit for his own party and the president interfering with an ongoing investigation and the judicial system to remove the speaker, Su said.
Asked if the party would resort to a motion of no confidence and the possible ensuing dissolution of the legislature, Su said it would be "an opportunity that is more than we could hope for."
Pressed by another reporter on whether he would take the risk that could lead to dissolution of the legislature, Su answered: "I do."
However, he added, "the scenario would be based on two conditions — the passage of the no-confidence motion in the legislature and the president's decision [to dissolve the legislature]."
DPP lawmakers yesterday proposed the establishment of a special investigation committee in the legislature to investigate Ma, with Legislator Chen Li-chiun (鄭麗君) saying that focusing on Huang without investigating Ma would not likely uncover the truth.
Comments will be moderated. Keep comments relevant to the article. Remarks containing abusive and obscene language, personal attacks of any kind or promotion will be removed and the user banned. Final decision will be at the discretion of the Taipei Times.