DPP reveals more wiretap details
The Democratic Progressive Party (DPP) yesterday held a press conference showing how the Special Investigation Division (SID) wiretapped the party's caucus whip Ker Chien-ming (柯建銘), and also revealed that it had inadvertently wiretapped the daughter and husband of High Prosecutors' Office Prosecutor Lin Shiow-tao (林秀濤).
Party legislators unanimously blasted the division for overreach and acting above and beyond the parameters of its given powers.
On Aug. 31 SID Prosecutor-General Huang Shih-ming (黃世銘) informed President Ma Ying-jeou (馬英九) of alleged lobbying involving Chinese Nationalist Party (KMT) Wang Jin-pyng (王金平), Ker, former minister of justice Tseng Yung-fu (曾勇夫), High Prosecutors' Office Head Prosecutor Chen Shou-huang (陳守煌) and Lin.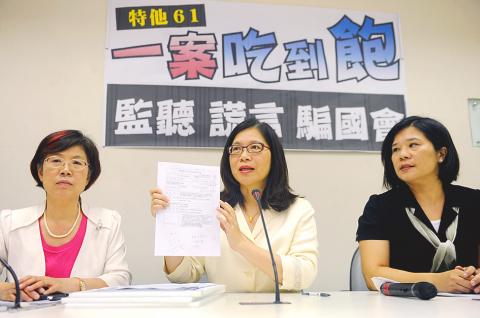 DPP Legislator Kuan Bi-ling, center, accuses the Special Investigation Division (SID) at an event in Taipei yesterday of using SID case No. 61 of 2011 as a ploy to obtain wiretap warrants.
Photo: Taipei Times
During the wiretapping of Lin, the division found that the telephone they believed to be Lin's was actually used by her daughter, and had quickly terminated the wiretapping before applying for another wiretap approval for the telephone Lin was using, the division said on Wednesday.
The SID said that the telephone used by Lin's daughter was tapped for less than a week.
Huang's admission on Wednesday that the division had tapped Lin's telephone sparked heated debate among legal experts and also drew fire from DPP Chairman Su Tseng-chang (蘇貞昌).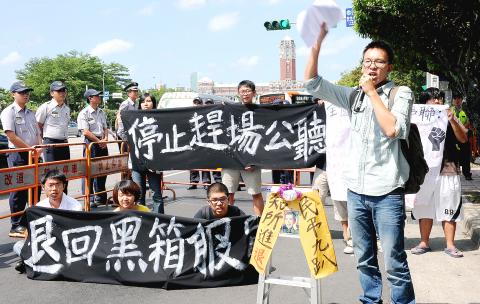 Members of a youth organization protest against the government, which they say is destroying the constitutional order, and the Cabinet, which they say is endorsing the government's actions, during a protest on Ketagalan Boulevard in Taipei yesterday. The protesters had prepared a ladder with the text "9.2 percent public support, time to step down" to encourage President Ma Ying-jeou step down as president.
Photo: Liu Hsin-de, Taipei Times
That a junior-high school student was placed under wiretap and surveillance is a great setback to the democratic values Taiwan holds dear, Su said, adding that Huang should step down as prosecutor-general and be investigated.
Su called on Ma to take responsibility and explain the situation.
DPP legislators also lambasted the division, with Kuan Bi-ling (管碧玲) saying that no one really knew how many wiretaps had been carried out, adding that the lack of knowledge was terrifying.
Kuan said that all her data had been provided by the division, and that the documents received on Sept. 17 had showed a total of only 28 wiretap approvals, six of which were related to Ker's case. She added that after Huang's admission on Wednesday that the division had also wiretapped Lin, two new cases were revealed.
Kuan also pointed to the four wiretap approvals that were to be sent to Ker provided by Huang and said they were only vaguely connected to Ker.
The approvals had been used to wiretap former KMT Tainan City councilor Wu Chien-pao (吳健保), Ker, Lin's husband, and Wu's lawyer Tu Ying-ta (杜英達). Wu was jailed for profiteering in 2006.
Aside from being accused of lobbying Wang to influence Tseng, Chen, and Lin to relieve legal pressure from himself, Ker was sentenced to six months in jail for violating the Business Accounting Act (商業會計法) in 1997 when he was general manager of Formosa Telecom Investment Co (全民電通). The court allowed the sentence to be commuted to a fine. The ruling was appealed twice. A retrial at the Taiwan High Court found Ker not guilty.
Kuan said the latest evidence indicated that Ker's wiretap had been approved because he was potentially involved in the bailing of Wu. This was tied to a bribery case in 2010 in which Taiwan High Court judges Chen Jun-ho (陳榮和), Lee Chun-ta (李春他), Tsai Kuang-chih (蔡光志), and Banciao District Prosecutor Office prosecutor Chiu Mao-jung (邱茂榮) had taken bribes to rule former KMT Legislator Ho Chih-hui (何智輝) not guilty in a graft case.
Kuan lambasted that the division had been using the 2011 SID case No. 61 (一百年特他字第六十一號), which had been filed to wiretap all possible suspects in the judges bribery case in 2010, as a ploy to use the judiciary system's shame that its members had been embroiled in bribery cases to ask for wiretap warrants, adding a call for the division to provide the data for every case that had been wiretapped by warrants applied for under No. 61.
DPP Legislator You Meinu (尤美女) also said that only cases that merited at least three years of imprisonment as a sentence, but the intentions for committing the crime and evidence linking the crime and the perpetrator could not be found outside of wiretapping could apply for wiretaps.
The four wiretap approval notices provided by Huang showed that lobbying itself was not an element necessitating wiretapping, You said.
DPP Legislator Wu Yi-chen (吳宜臻) also called for the division to bring out all the evidence, while Yao Pasuya (姚文智) also called for Huang to step down.
Additional reporting by Lee Hsin-fang.
Comments will be moderated. Keep comments relevant to the article. Remarks containing abusive and obscene language, personal attacks of any kind or promotion will be removed and the user banned. Final decision will be at the discretion of the Taipei Times.