Typhoon weakens, moves toward HK
NOT OVER YET: Severe torrential rain is expected to continue today in the eastern and southern areas, while the north may experience torrential rain
Typhoon Usagi came closest to Taiwan yesterday afternoon and is moving away from the nation in the direction of Hong Kong, but heavy rainfall is still expected to continue throughout today, the Central Weather Bureau said yesterday.
As of 7:15pm, Typhoon Usagi had weakened slightly, with its center 140km southwest of Oluanpi (鵝鑾鼻). The wind speed near its center was 48 meters per second in a radius of 280km and the typhoon was moving west-northwest at 19kph.
The bureau said that the land alert for Usagi may possibly be lifted as soon as this morning. The center of the typhoon is estimated to be about 510km west of Oluanpi by 5pm today.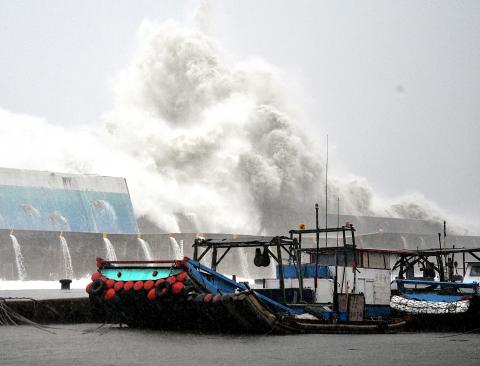 Waves break over the breakwater in Taitung during the onslaught of Typhoon Usagi yesterday.
Photo: CNA
However, the bureau warned that severe torrential rains may still hit areas including eastern Taiwan, Pintung County, Greater Kaohsiung and Nantou County, and torrential rains may fall in areas including northern Taiwan, Greater Taichung and Greater Tainan today.
People living in mountainous areas should especially watch out for landslides, falling rocks, mud flows or flash floods; and people living in low-lying areas should be prepared for flooding, it said.
It also warned that people should avoid heading to the ocean because waves and wind along the coastline are still very strong, and that strong wind gusts at level 10 on the Beaufort scale — 88kph to 103kph — are also likely to blow in the greater Taipei area.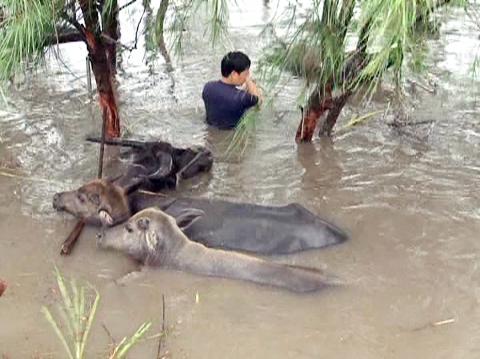 A firefighter frees some of a herd of 18 water buffaloes that a man in Taitung City had tied up under trees, apparently to protect them from the onslaught of Typhoon Usagi yesterday. When the water in a nearby river surged, the area flooded and the animals were at risk of drowning until the firefighters were called and came to their rescue.
Photo: Wang Hsiu-ting, Taipei Times
Seawater encroachment occurred at Jiupeng Village (九棚) in Pingtung County's Manchou Township (滿州) yesterday morning, leading to the evacuation of about 20 households in the village.
As of 6:21pm yesterday, the Central Emergency Operation Center said a total of 3,075 people from 36 townships in seven counties have been evacuated from their homes, with 1,043 people settled at temporary shelters, due to the strong winds and heavy rainfall brought by Typhoon Usagi.
In addition, the center said six people have been injured in the typhoon, 45,618 households experienced power outages and 5,210 households were without running water.
The Water Resources Agency said according to the Central Weather Bureau's 24-hour rainfall forecast for between 8am yesterday and 8am today, the average rainfall would be between 150mm and 300mm in Yilan and Pintung counties, 200mm to 400mm in Hualien and Taitung counties, and 300mm to 500mm on the Hengchun Peninsula (恆春半島) in Pingtung County, so people living in low-lying areas should take precautionary measures against flooding.
A total of 712 water pumps have already been distributed in various areas, while another 65 pumps are ready to be deployed depending on actual flooding situations, the agency said.
It added that it plans to release water at 10 major reservoirs across the nation according to the rainfall, so the public should not engage in water activities in downstream areas close to reservoirs.
Comments will be moderated. Keep comments relevant to the article. Remarks containing abusive and obscene language, personal attacks of any kind or promotion will be removed and the user banned. Final decision will be at the discretion of the Taipei Times.